Guy Ritchie: Mob Scene
With his new film, RocknRolla, Guy Ritchie makes gangsta chic.
---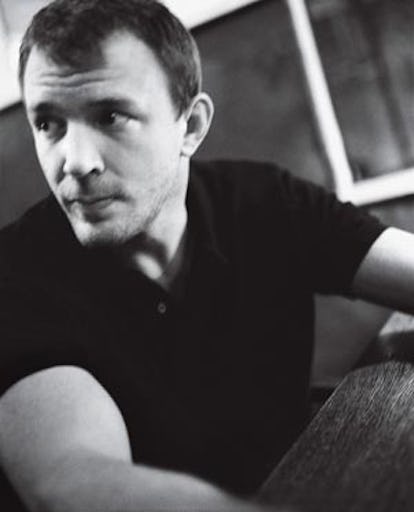 If there are a couple of things you can bank on in a Guy Ritchie film, it's that the plot will be complicated (Is that bookie the brother of his rival's boss? Does the gangster, who may or may not be a pimp, owe his father money? And what kind of accent is that, anyway?) and the men will be chic. Ritchie's underworld is a place where the hoods wear Savile Row suits and $400 jeans; their closets, one imagines, are stuffed with Prada trainers. It's the Sopranos gone Harrods—less flash, more class.
A still from RocknRolla.
Of course, in the 10 years since Ritchie blazed onto screens with his acclaimed Lock, Stock and Two Smoking Barrels—in which the working-class card sharks sport tailored trenches and little of the bling known to rest inside the open collars of such men-about-town—much has changed for the writer-director. He married one of the world's most famous women and style icons, started a family and suddenly found himself fighting the one-hit-wonder curse. He followed Lock, Stock with the labyrinthine Snatch in 2000 and then got the worst reviews of his short career with 2002's Swept Away (featuring Mrs. Ritchie, Madonna), after which he made Revolver, a 2005 film that returned to his Brit-mobster stomping ground but had a critical reception that was, well, tepid.
Ritchie's fifth feature film, RocknRolla, opens at the end of October, and while it is perhaps his most fashion-conscious work yet—at one point, the camera pans to Thandie Newton's red-soled Christian Louboutins click-clacking across the floor of an ultra­swank art gallery—it's also a rollicking return to form. There's plenty of quick-witted dialogue and a twisty plot involving a Russian oligarch, a sexy double-dealing accountant (Newton), a crook looking for the next big deal (Gerard Butler) and a London gangster (Tom Wilkinson) clinging to his territory in a city being bought up by sultans and Muscovites, a storyline inspired by Ritchie's own hometown observations.
"I was reading this article about how the food had improved here, about all the sort of things that the English are famous for doing badly, and how that has changed. [London has] stolen the mantle of the new capital of the world, and I thought it was time someone made a film about that," says Ritchie, speaking via phone from his London office. Perhaps because his public persona has been shaped by his gruesomely violent movies and by paparazzi photos, in which he is usually grim-faced, clutching his wife's elbow while exiting a car or restaurant, Ritchie's apparent cheerfulness—he muses blithely about the weather and refers to his extras as "fellas"—is surprising. He is openly fascinated with wealth, power and how the rigid class structure in England has gone suddenly soft. (Ritchie himself is an upper-class lad, the son of a successful advertising executive; severely dyslexic, he dropped out of school at 15.) "When the Russians did come to town, they changed the way business was done," he says, "and that percolated through the echelons of almost every form of business and society. There are houses going for 80 million pounds that are, you know, not so special. But if you have a couple of oligarchs fighting over one, they don't care what they pay. 'It's 10 million? All right, offer 'em 20.' It was probably good for England, because everyone got sort of busy and competitive."
A still from RocknRolla, in theaters in late October..
It's this social and economic volatility ("buzziness," Ritchie calls it) that he wanted to capture, albeit under the guise of a clever heist movie. Status symbols figure prominently: In a dealmaking scene, the shadows of glinting skyscrapers—the specter of changing commerce—frame the head of Wilkinson's struggling kingpin; elsewhere in the film, a Louis Vuitton Murakami bag becomes the conduit for a hefty exchange of cash. "It is a much more consciously styled movie than Guy's others," says RocknRolla production designer Richard Bridgland. And though Ritchie was intent on presenting what Bridgland calls "a very smooth, new London," when it comes to discussing RocknRolla's distinctive aesthetic—from felon One Two's (played by Butler) spare, tech-filled bachelor pad to the simple, understated wardrobe of Russian billionaire Uri (Karel Roden)—the director is frank about the fact that he doesn't spend lots of time pondering buttonholes and swatches.
"It's really not that complex," he says. "The costume designer comes up with a load of stuff that she throws on my desk, and I say I like that, and I don't like that. It's pretty straightforward."
Suzie Harman, the designer in question, says that despite his casual, see-what-sticks attitude about clothes, "Guy is such a sort of boy, and he gets really excited about the tiniest little thing." Harman's mandate was to keep modern the film's characters, who live in a city far more sophisticated than the one inhabited by the lowlifes of Lock, Stock in 1998; tweed plays heavily in the men's suits (for which she turned to venerable British tailor Crombie), while Newton's character, Stella, is clad in Valentino. "It was important to make the whole Guy Ritchie genre grow up a little bit…. If he had his choice, he'd have everything fabulous and wild onscreen at one time," says Harman.
Harman is hardly the only woman influencing Ritchie's tastes. From whom, after all, did he learn of Murakami bags and Christian Louboutins? "Probably my wife," Ritchie admits. "I don't know how long Vuitton has been making what I deem relatively humorous bags. 'Cause they're quite funny, right? They're so over-the-top, they're humorous." As if to swat away the image of himself chatting bags with Madge, Ritchie adds, "I'm relatively ignorant to fashion, unless it jolts a reaction out of me. So I quite like expensive kitsch; I quite like a bit of the kitschy side of Vuitton. For all the wrong reasons. Or perhaps the right reasons, I'm not really sure. But probably not the reasons they were designed for."
For his nattily attired crew of ne'er-do-wells, Ritchie drew from real-life inspirations. "Some of the vainest people I know are people who walk on the wrong side of the law," he says, laughing. "And they're more fashion-conscious than the average Joe. But I think that's true of all criminals, or criminals who are relatively successful. It's a thing, that villains like to dress well." As Susan Downey, one of RocknRolla's producers, explains, "When you're hiring Guy, that's part of what you're getting with the package: You know [the film is] going to have a great sense of style; you know that it's going to be really sexy."
The subject of dressing well comes up a few weeks later, when Ritchie calls from Los Angeles, where he is deep in meetings for Sherlock Holmes, which he's cowritten and will begin directing in October with Robert Downey Jr. in the title role. (Downey's wife, the aforementioned Susan, will produce.) Ritchie explains that while the film is not yet in the design stage, it will be a glamorized version of the Victorian era, with Holmes's relationship to Watson taking center stage. "It's going to be a heightened reality of that period," he says. Ritchie, in fact, has been weathering his own heightened reality when we speak, with claims that the missus has stepped out on the director with New York Yankees slugger Alex Rodriguez grabbing headlines for weeks. How, one wonders, does he cope with all the rag-mag gossip? "I ignore it," he says. Pressed on the issue, Ritchie, ever cheerful, sounds exactly like one of his fast-talking characters. "Listen, if I commented to you," he says, "I wouldn't be ignoring it, now would I?"
Grooming by Barbara Farman for Cloutier.
Stills from RocknRolla, in theaters in late October. center: Courtesy of Warner Bros. Entertainment Inc.; all others: Alex Bailey/Warner Bros. Entertainment Inc.