Gwen Stefani Measures Her Relationship with Blake Shelton in Cowboy Boots
Every relationship has its milestones.
---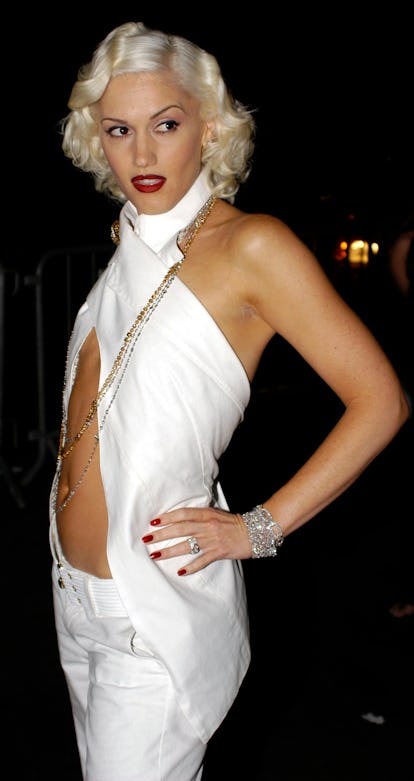 Photo courtesy of Myrna Suarez/Getty Images
As the age old question from Rent goes, how do you measure a year? Well, according to Gwen Stefani, you can measure time spent with your loved one in cowboy boots.
While Dua Lipa took over the (virtual) late night talk show hosting duties for Jimmy Kimmel, Stefani answered a few questions about Blake Shelton, with whom she has been quarantined on his Oklahoma ranch this summer.
After Lipa erroneously referred to Shelton as Stefani's husband while asking about their ranch, she politely corrected her "Physical" remix duet partner to remind her that they are actually not married. "Well, he's not my husband, but that sounded cool when you said it," Stefani laughed.
The couple has competed against one another as judges on The Voice, where they met in 2015, and at first the general public needed a little convincing that everything between the two was indeed real. But fast forward to this summer, when their duet "Nobody But You" managed to top the Billboard 100 Country charts. Now that Stefani has transitioned from alternative to pop to country, she finds herself wearing a certain type of shoe that she never envisioned herself walking in: the cowboy boot.
"It's funny because I would always think that was so foreign to me, that I would never wear cowboy boots," she said when Lipa asked if she owned a sparkly pair. "But yes, I actually have a bunch of cowboy boots now, and I have an old pair that are now five years old, because that's how long we've been hanging out, me and Blake Shelton."
Every relationship has its milestones, and for a country couple like Stefani and Shelton, an old pair of cowboy boots just makes sense.
Related: Dua Lipa's Remix Album Tease is Full of Easter Eggs