Gwen Stefani Assures You Her Relationship with Blake Shelton is Real
As if we needed more proof, Gwen Stefani assures us all that her relationship with Blake Shelton is the real deal.
---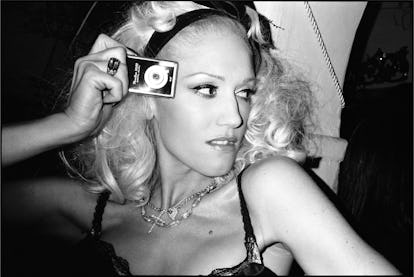 It is time to acknowledge and unpack the fact that we all slipped for maybe five whole seconds and while our heads were turned, Gwen Stefani fell head over heels in love with Blake Shelton and then People crowned him 2017's "Sexiest Man Alive," and suddenly this unreal hellscape of a year dipped even further into surreality.
As Blake Shelton is Gwen Stefani's third serious relationship—following her 20-year relationship with ex-husband Gavin Rossdale, and her seven year relationship with Tony Kanal, the bassist for her band No Doubt—she assures Marie Claire that she and Shelton are fully in love. Even though she told People, "Somebody that is funny and has a sense of humor is sexy," to comment on Shelton's new title—the equivalent of sheepishly replying, "Well, he has a nice personality…" when asked if you think an unattractive love interest of a friend is hot—Stefani would like us all to know that what she has with Shelton is absolutely real. And how do we know it's real? Because Blake Shelton has somehow inspired the ska pop princess to "get muddy and dirty" on his ranch in Oklahoma. "There are ATVs. Being a mother of three boys, it's kind of the perfect place. Everything is real now, whereas before, things didn't seem so real," said Stefani.
While Gwen Stefani's boyfriend Blake Shelton may have been the center of attention last week, this week is all about Stefani. Our "Orange County Girl" has left those California roots behind and transformed herself into an Oklahoma girl, in what seems like an overnight metamorphosis, but has really been going on for quite a long time.
At some point in the past, you might have thought, "Am I really suppose to believe that Gwen Stefani and Blake Shelton met at work and only have eyes for each other?" In case you were able to somehow look past the endless lovey-dovey posts on social media, the on-screen flirtation on NBC's The Voice or the Christmas album You Make it Feel Like Christmas (Blake's profile picture across social media is the album cover that features just Gwen's face) and still hold the belief that the relationship between Voice co-hosts and lovers Gwen Stefani and Blake Shelton was a farce, Gwen Stefani's cover interview with Marie Claire claims otherwise.
According to the new profile, she is also apparently really into prayer now and would love to write a musical one day. A musical about her time on the farm with her three kids and Blake Shelton's entire family might actually be something pursue. At least then we'd know it would be based on what's "real" between the two of them.
Related: 10 Men Who Should Be Named People's Sexiest Man Alive Over Blake Shelton
See W's most popular videos: