Gwen Stefani Paid Tribute to Rihanna Onstage, Officially Ending Their Alleged Feud
"No clouds in my stones."
---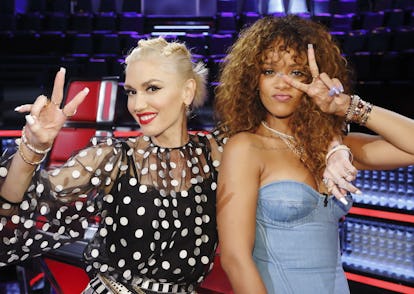 Trae Patton/NBC/NBCU Photo Bank via Getty Images
You'd be forgiven for not knowing that Gwen Stefani and Rihanna, reigning pop stars of recent years, were once rumored to be feuding. This gossip started after Stefani talked about what differentiates her from her pop peers like Rihanna back in 2011, saying, "I usually put pants on." Four years later, The National Enquirer—so take it with a grain of salt—speculated that, in light of that comment, Stefani was holding a grudge against Rihanna (despite being the one who "started it"). Never mind that Stefani's publicist denied it at the time. Whatever did transpire, before and after the pair worked together on The Voice, it's clearly in the past.
Last night, Stefani brought an official end to their alleged feud by paying tribute to Rihanna on the opening night of her Las Vegas residency, Gwen Stefani – I'm Just a Girl. "Wait a minute, this isn't my song," Stefani said when the beat for "Umbrella" began playing. "Las Vegas, we gonna do s–t." Her dancers came prepared, though, with umbrellas for a choreographed sequence. Stefani ended up keeping the song in line with the original, punctuating it with some guitar velocity—the kind that the "Kiss It Better" artist would clearly approve of. Who knows? If the cover makes its way to Rihanna, maybe the pair will team up for a duet.
Stefani has also gone on record talking about her admiration for Rihanna. Back in 2015, she said of RiRi potentially joining The Voice: "I loved working with her and I loved looking at her. So I wouldn't mind looking at her all day. But, yeah, it would be fun. It would be so different to have another girl. I would miss the other guys though. It's crazy, the chemistry that I think we have is so good, and I can't imagine it any other way."
These days, Stefani is sticking to mostly talking about her other Voice costar Blake Shelton. "He got sexier. It just keeps getting better and cuter and more country," she recently told Ellen DeGeneres, teasing, "I love weddings, the kids love him, we love him, he's lovable. I think about it all the time." If they need a wedding performer, no one would be better at the job than Rihanna.