Gwyneth Paltrow's Wellness Routine Involves 20-Minute Baths and Infrared Saunas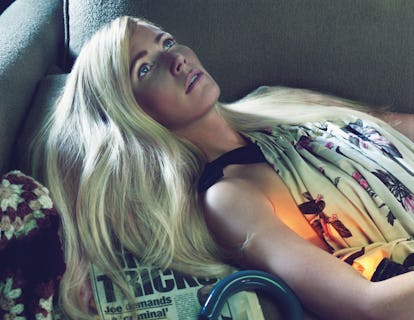 Photographed for W magazine by Steven Klein
In the worlds of beauty and self-care, no one has successfully managed to reach women the way Gwyneth Paltrow can. Whatever she eats or drinks, whichever products she fancies—there are millions of women who follow her regimens as gospel.
She was a macrobiotic devotee before it became cool, she cupped before your acupuncturist ever did, and she practiced intermittent fasting while you were still cleansing with lemon and cayenne pepper. Tabloids may see her as an easy target and take pleasure in mocking her, but they're often doing so because they know her name carries the equivalent of clickbait gold. Like it or not, no one can hold a (vagina-scented) candle to Paltrow in the wellness space.
We approached Paltrow to give us a candid perspective on the subjects of beauty, health, and aging. She also addresses her use of injectables, a subject that many women often consider taboo to discuss. Paltrow, who in the past has lamented her use of Botox, revealed she's turned instead to Xeomin: a uniquely purified injectable product—of which she's now the face. Below, the actor elaborates further on her current beauty and wellness practices, including the methods she implements to keep herself grounded during a challenging pandemic.
While there certainly are so many benefits to someone feeling more confident with their looks, why is there such a stigma around getting injectables?
Women stigmatize each other for the choices that they make, especially around beauty. It's interesting that women tend to be the ones that judge other women. I think we need to give ourselves permission to have autonomy over our own choices, but you also have to have an honest conversation with yourself about why you're doing it. We've all seen beautiful women who go overboard and end up looking even older. If you have integrity with yourself, there is a much smaller chance of doing something you'll regret—and that's true for most aspects of your life. I learned that lesson many times over when I was younger, but I think it finally stuck.
A while back, I remember you saying that it was unlikely you would get Botox again. This sentiment resonates with many who have had some less-than-desirable experiences with injectables. What made you give Xeomin a chance?
Aging brings up conflicting feelings for many women, including me. In many ways, I embrace it—there's a wisdom and beauty that comes with aging that allowed me to get more comfortable in my own skin. I always say that I feel like I got a valuable software upgrade when I turned 40. But there are also realities to aging, like seeing my frown lines or wrinkles.
About three years ago, I asked my doctor, who I've gone to forever, about the new options in the space, and she recommended an incredible natural-looking option that was less invasive than others. I loved the way it looked, and discovered it was Xeomin.
How is this product different than other products on the market right now?
Over the years, I've learned how important it is to read labels and know what's in a product before putting anything in or on my body. There can be so many unnecessary ingredients in products that we just don't need, and even scarier, there are a lot of toxic, harmful ingredients that are masked by product marketing. Xeomin has impressive clinicals, and the formulation is uniquely purified to remove unnecessary proteins, so you're not putting excess ingredients into your face. I also spoke to my dear friend, Dr. Julius Few, who is someone I constantly go to for recommendations, who helped me understand the science behind Xeomin.
Do you personally bruise when you get injectables? If so, do you take arnica or avoid caffeine before the treatment to cut down on bruises?
I rarely bruise, though staying away from caffeine and not drinking alcohol the day before helps.
In terms of beauty treatments, what are you finding that works particularly best for you these days?
I've found that a mix of Goop skincare products, great sleep, tons of water, and Xeomin treatments achieve a great balance for me.
What is your beauty routine like for morning and night? Is it pretty consistent?
I'm pretty consistent in my routine, though I am always testing out something or other for Goop. I start my morning, always, with Goopglow Morning Skin Superpowder in my water bottle. It's full of antioxidants and fights free radicals from the inside out. I'm religious about exercise, even if some days that means just a walk around the block with my husband. I wash my face with the G. Tox Malachite cleanser, which is foaming, clarifying, detoxifying goodness, and the corresponding G. Tox toner, and then I layer on Vintner's Daughter serum and our new Goopgenes Nourishing Face Cream. I'm so happy it's finally available to buy because I was hoarding samples for weeks.
What is your new favorite beauty product of the moment?
The Goopglow Microderm is still my desert island pick. It's a potent mix of chemical and physical exfoliants, which provides instant skin smoothing, glow-inducing magic. I also love the new Goopgenes nourishing line that I just mentioned, especially the face cream, which has jaw-dropping clinical results thanks to the mix of botanical extracts, oils, nutrients, ceramides, and collagen to address aging.
Let's talk facials. Who are your favorite aestheticians? Do you get one particular type of facial on a regular basis?
Christine Chin in New York and Anastasia Achilleos in London. They both have almost disparate techniques. At Christine's, I'm always getting a peel of some sort. Anastasia is more about a holistic experience. Since COVID, I haven't been able to see either of them, so I've been relying on Anastasia's facial massage technique (you can do it yourself in the shower and there's a great how-to video) to tide me over.
What is your favorite in-home mask?
The Goopglow microderm is pretty much the only mask I use. It's only three minutes, but it's a powerful little jar. Once a week, I'll skip the microderm and do the Goopglow 15% Glycolic Acid peel at night. It's akin to getting a chemical peel at the dermatologist, so it's not for the faint of heart. It refines, retexturizes, and brightens overnight, while moisturizing with hyaluronic acid, so you wake up with a covetable glow. We also made a version with 5% Glycolic Acid for those with more sensitive skin.
Do you have a favorite, secret drugstore item that still works wonders?
Weleda Skin Food. I've used it for years.
Do you get melasma or sunspots? How do you tackle or treat that?
AHAs and vitamin C are both good for that, though make sure you're wearing a clean SPF to keep them from getting worse. If you really want to fix melasma or sunspots, ask your dermatologist for a laser treatment.
What supplements do you take on a daily basis?
I've been in a perimenopausal state for the last few years, and the side effects of that can be taxing. I'm not there yet, but menopause needs a rebranding—it's a very natural part of our process as women. I take our Madame Ovary vitamins, which are a mix of herbs, adaptogens, phytonutrients, and vitamins to help support thyroid health and menopausal transition, most days. If I have a day of endless Zoom calls, I'll take our "Why Am I So Effing Tired" protocol. It's formulated for adrenal fatigue. The name says it all.
How has your wellness routine changed in the last few years?
For me, wellness has always been about a lot of sleep, hydration, exercise, sweating (I sit in an infrared sauna daily), walking and eating nutrient-dense foods. Sometimes—and especially during COVID—wellness can also include giving yourself the permission to have whiskey and French fries. But I always do a major cleanse in January to give myself a real reset.
In terms of your diet, are you still strict about avoiding red meat? Do you still eat poultry? Fish?
In the last few years, I've become a little more of an omnivore. But when I eat meat, I'm very strict about its origins: it has to come from a regenerative farm with great farming practices.
What has been keeping you sane these days? You have two kids who are at home as a result of the pandemic, similar to a lot of women. Like any family, there must be intense moments. Do you pray, do you meditate, is exercise your meditation? What keeps you calm when facing challenges?
I recommitted to a daily transcendental meditation practice during COVID. It's grounding and creates a 20-minute oasis of quiet.
What are you reading, if anything, that is inspiring you or mellowing you out at night?
I haven't read a fiction book in a bit unfortunately. It's been a lot of dense material about scaling businesses and creating remote culture. My favorite way to mellow out is a movie night with my husband Brad and my kids.
Do you have a nighttime routine to help you sleep?
I take a 20-minute bath every night. I need that ritual of unwinding from the day. In the bath, I also put on the Goopglow Microderm Instant Glow Exfoliator and leave it on for three minutes while I soak.
Related: