NYFW Men's: Fifty Shades of Gypsy Sport
Designer Rio Uribe is unapologetic about getting commercial.
---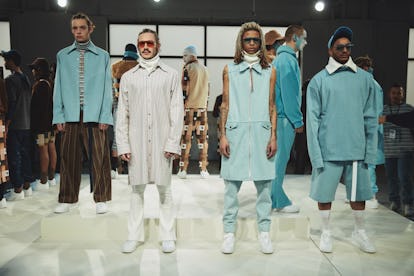 Gypsy Sport, the sportswear label founded by Rio Uribe, has been a consistent breath of fresh air since it first appeared in the New York Fashion Week calendar four years ago. With its gender-defying and youth-friendly clothes, the label is starting to pick up the right kind of attention, scoring a coup in November by winning the CFDA/Vogue Fashion Fund prize. For fall, he knew it would be futile to avoid the mainstream market. So, he made a conscious decision to pivot. Even jewelry designer Chris Habana, who for past collections has outfitted the models with bedazzled pacifiers and septum piercings galore, was given two instructions this season: "Streamline and refine." The same could be said for the designer.
"Usually, Gypsy Sport is about making a statement, but this season we wanted to streamline it and be as commercial as possible," Uribe said without hesitation at his presentation Wednesday afternoon at Skylight Clarkson. "It's a challenge to commercialize while still maintaining the brand identity. The way I do it is to take the best-selling items from past seasons and re-create them for the new season, so that they continue to sell. And then I also make the crazy stuff that I want to make, and just style them together."
He cited the sweatshirts with bolo ties as a signature. "But the skin tone print is a little more daring, so I styled that with the more commercial pieces so that it feels like something you've never seen before," he said.
So, there you have it. Uribe's unapologetic desire to commercialize seemed radical in comparison to, say, Public School's well-publicized attempt to "include everyone." To Uribe, making a statement about diversity is easy – it's convincing the rest of the world that's the hard part.
NYFW Men's: Backstage at Gypsy Sport Fall 2016
NYFW Men's: Backstage at Gypsy Sport Fall 2016
NYFW Men's: Backstage at Gypsy Sport Fall 2016
NYFW Men's: Backstage at Gypsy Sport Fall 2016
NYFW Men's: Backstage at Gypsy Sport Fall 2016
NYFW Men's: Backstage at Gypsy Sport Fall 2016
NYFW Men's: Backstage at Gypsy Sport Fall 2016
NYFW Men's: Backstage at Gypsy Sport Fall 2016
NYFW Men's: Backstage at Gypsy Sport Fall 2016
NYFW Men's: Backstage at Gypsy Sport Fall 2016
NYFW Men's: Backstage at Gypsy Sport Fall 2016
NYFW Men's: Backstage at Gypsy Sport Fall 2016
NYFW Men's: Backstage at Gypsy Sport Fall 2016
NYFW Men's: Backstage at Gypsy Sport Fall 2016
NYFW Men's: Backstage at Gypsy Sport Fall 2016
NYFW Men's: Backstage at Gypsy Sport Fall 2016
NYFW Men's: Backstage at Gypsy Sport Fall 2016
NYFW Men's: Backstage at Gypsy Sport Fall 2016
NYFW Men's: Backstage at Gypsy Sport Fall 2016
NYFW Men's: Backstage at Gypsy Sport Fall 2016