International Jetsetter Hailee Steinfeld Reveals Her Top Travel Tips
The multi-talented actress and new face of REEF sandals talks warm weather travel, just in time for spring break.
---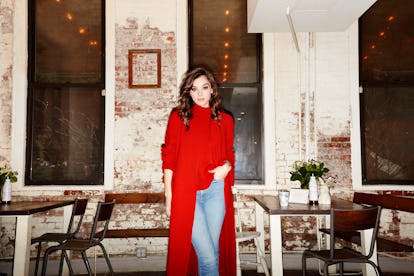 Jimmy Tagliaferri
Around this time of year, most 20 year-olds are gearing up for spring break. Hailee Steinfeld, however, is not a typical 20 year-old. While many of her peers are taking off to Mexico, the multi-hyphenate star is in the midst of filming Pitch Perfect 3, and balancing her pop music career. Should she ever need a beach vacation–or rather, have time for one–the actress is not lacking in the proper footwear department: Steinfeld was just named the face of REEF sandals. Here, the actress and singer shares her top warm weather travel tips, as well has her upcoming summer plans, and the eternal debate of to Coachella or not to Coachella.
What is your favorite warm weather vacation destination?
I was recently in Barbados for a job and I definitely hope to go back soon. The weather was perfect, the people were inviting, and the food was amazing.
What is your favorite mode of travel?
I happen to love driving. There's something about hopping in your car that gives off a choose your own adventure vibe. It's more on your own terms than other forms of transportation and I love an opportunity to be spontaneous. I do also love flying because I can catch up on movies and sleep.
Watch a video interview with Hailee Steinfeld:
Who is the best person you've ever been seated next to on a plane?
I love sitting next to my mom whenever I'm traveling. We laugh ourselves to sleep pretty much every flight.
What do you always pack for a day at the beach?
My headphones, a gigantic bottle of water, plenty of sunscreen, a comfy blanket, and my REEF Escapes.
What is your current beach read?
I wish I could say I was currently reading a book but I find that when I do have downtime to read, I'm catching up on scripts or reading the latest breaking news online.
Are you planning to attend any musical festivals this season?
I hope to be attending Coachella this year but it will all depend on my work schedule. I remain hopeful because some of my favorite acts are performing…
What is your favorite place you've ever traveled?
There are too many to choose. Paris and Tokyo both have special places in my heart for different reasons but I also know there are so many places I haven't even yet gotten to visit. I'm so lucky that my job takes me all over the world. It's surreal.
Hailee Steinfeld's Style Evolution, From Red Carpet Ingenue to International Pop Star
Hailee Steinfeld established her status as young Hollywood's sweetheart early in her career. At the 16th Annual Critics' Choice Awards, she opted for a charming pink mini dress by Marchesa. That night, she won her first major award for Best Young Performer for her role in True Grit. 2011.

Getty
At the 2011 Golden Globe Awards, Hailee Steinfeld was a vision in white. Her evening gown by Prabal Guring combined the youthful flare of a halter-top with a texturized fabric that added the perfect amount of sophistication. 2011.

Getty
Truly coming into her own style, Hailee Steinfeld wore a Miu Miu dress to the 2011 British Academy Film Awards. 2011.

Getty
In signature blush pink, Hailee Steinfeld wowed in a tea length tulle skirt by Marchesa at the 83rd Annual Academy Awards. 2011.

Getty
Wearing a nude, lace gown by Stella McCartney and metallic, platform sandals by Nicholas Kirkwood, Hailee Steinfeld proved she was part of the fashion crowd as she hit the red carpet at the Alexander McQueen: Savage Beauty Costume Institute Gala at the Metropolitan Museum of Art. 2011.

Getty
Steinfeld is never one to shy away from wearing color. At the 2013 Cinema Con, she gave us just that, wearing a fierce top and skirt by Kenzo with candy blue Nicholas Kirkwood heels. 2013.

Getty
Steinfeld's Donna Karen Atelier dress was true to the PUNK: Chaos to Couture' Costume Institute Gala theme, made of white leather and detailed with antique, gold safety pins. She completed the look with a shimmery Jimmy Cho clutch and matching shoes that gave just the right amount of sparkle to finish. 2013.

Getty
Later that season, Steinfeld brought back her love of playful patterns in this Suno dress, detailed with Swarovski crystals, at the 2013 CFDA Fashion Awards. She finished the look with shoes by Jimmy Choo and Jennifer Meyer Jewelry. 2013.

Getty
Sitting front row at Louis Vuitton for Paris Fashion Week Spring/Summer 2014, the actress stunned in the designer's dress. The look is chic, while maintaining a silhouette that plays to Steinfeld's youthful flair. 2013.

Getty
Celebrating Tory Burch at her Rodeo Drive Flagship opening, Hailee Steinfeld wore an embellished, A-line dress from the designer's Spring 2014 collection. The look had the fun and flirty vibes of the 60's, finished with Tory Burch mirrored sling backs and a ladylike top-handle bag. 2014.

Getty
In another nod to the 60's, Steinfeld wore a pink, printed Miu Miu coat from the Spring 2014 collection to the screening of the 7th Edition of Miu Miu Women's Tales: 'Spark & Light'. 2014.

Getty
Attending the Charles James: Beyond Fashion Costume Gala, with Prabal Gurung, Steinfled wore a custom black and white gown by the designer. The look was complete with jewelry by Van Cleef & Arpels. 2014.

Getty
Steinfeld brought this embroidered white dress, from Michael Kors Resort 2015, into autumn with tan platform sandals and belt. Truly making it her own, the actress wore a bright, fuchsia lip for a welcomed pop of color. 2014.

Getty
At the 2014 AFI Fest screening of The Homesman, Steinfeld tuned into her girlish charm, wearing a bright violet dress from Monique Lhuiller's Spring 2015 collection. 2014.

Getty
The actress attended Prada: The Iconoclasts in New York, wearing a look from the designer's spring 2015 collection. Her pants speak to the singer's love of fun prints, but her coat is what truly stands out, as it was the signature piece of Prada's collection. 2015.

Getty
At the 2015 Vanity Fair Oscar after party, Steinfeld charmed in a printed gown by Andrew Gn. 2015.

Getty
Steinfeld sat front row at Christian Dior during Paris Fashion Week wearing a bright dress and letting her white Dior bag be the pop in an otherwise colorful look. 2015.

Getty
On the red carpet at China: Through the Looking Glass Costume Institute Gala, Steinfeld kept her look sleek and elegant in a red ball gown designed by Michael Kors. 2015.

Getty
At the 2015 MTV Video Music Awards, Steinfeld stunned in a white Stella McCartney jumpsuit. The flare leg and open back of this look were a departure from the singer's look, but stayed true to her polished, feminine style. 2015.

Getty
Steinfeld was all glitz and glam, achieving ultimate sophistication, in glittering black Elie Saab at the Vanity Fair Oscar after party. 2016.

Getty
The actress wore an H&M emerald green gown that stayed true to the Met Gala's 'Manus x Machina: Fashion in an Age of Technology' theme in 2016. The gown was clean cut with a corset bodice embellished in sequins and giving the singer a bit of edge with a high central split. 2016.

Getty
At Swarovski's Turn Up the Style event, Steinfeld continued her sleek looks in a glittering jumpsuit by Julien MacDonald and crystal bangles and cuffs by Swarovski. 2016.

Getty
Ever girlish and charming, Steinfeld was a pop of color in a red Valentino dress as she sat front row during Valentino's Spring/Summer 2017 runway show at Paris Fashion week. 2016.

Getty
At the premiere for her own film, Edge of Seventeen, Steinfeld had all eyes on her in this dramatic, cutaway, black gown. 2016.

Getty
At the Hollywood Foreign Press Association Golden Globes celebration, Steinfeld tried out a short, flirty dress by Reem Acra's spring 2017 collection. 2016.

Getty
Steinfeld's bright yellow dress by J. Mendel played with a modest cut, but was chicly covered in sparkle. The orange carpet at the Nickelodeon Halo Awards was the perfect event for the singer to show off this fun, charismatic look. 2016.

Getty
At the Academy of Motion Picture Arts and Sciences' 8th Annual Governors Awards, Steinfeld stunned in a dreamy gown by Elie Saab. 2016.

Getty
Steinfeld visited Sirius XM in New York City wearing a multi-colored brocade dress by Alice & Olivia. The look is sweet and certainly plays to the singer's affection for ultra feminine style. 2017.

Getty
Steinfeld dazzled the crowd on the red carpet in a flowing ball gown by Ralph & Russo Couture. The crystal and floral embellishments and high neckline of the scalloped halter captured the new romance that was trending on the red carpet this award season. 2017.

Getty
What is on the top of your vacation bucket list?
Great question. I'm currently trying to figure out where my next vacation will be. Tulum seems to keep resurfacing…
What is the best souvenir you've ever picked up on a trip?
I can't pinpoint just one. Whenever I'm visiting a new place I always try to grab something that will always remind me of the trip. I've got a great collection of memories that includes even the smallest items like match books or postcards.
What beauty products do you always use when traveling?
When I'm in vacation mode, I like to be as relaxed as possible so as long as I have a great SPF, a moisturizer, and some sea salt spray so that I can air-dry my hair, I'm set.
What are your go-to travel snacks?
There's usually chocolate involved. My last flight included a bag yogurt-covered pretzels which are a favorite of mine.
Watch Hailee Steinfeld, Felicity Jones, and Dakota Fanning audition for a part in Jerry Maguire: