Hailey Baldwin Is Obsessed with Watching Online Beauty Tutorials
But she's still too afraid to attempt a winged eyeliner look. All in due time.
---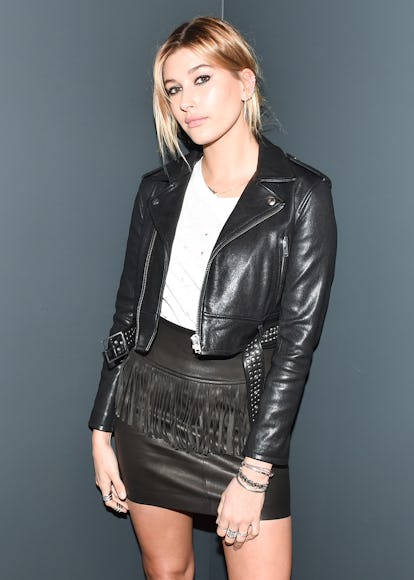 Before jetting off to the Bahamas with a brood of gorgeous supermodels, Hailey Baldwin was hard at work in Australia promoting her latest endeavor: a collaboration with Australian beauty brand ModelCo. Baldwin is only the most recent model to work with ModelCo–Elle MacPherson and Rosie Huntington-Whitely have both created limited-edition capsule collections in the past.
There's a reason so many models are devotees of the cult-favorite brand–it was founded by Shelley Sullivan, a former model agent, with models' skincare needs in mind. "Shelley really understood my desire to create my go-to beauty products," Baldwin explained. Here, the model talks about her favorite beauty products, highlights of 2016, and more:
What is your favorite product in the collection? I love glowing, fresh skin so I really love all the products in my collection that help me to achieve that look. Glow Beauty Balm really illuminates your skin and is amazing for wearing on its own or as a primer. The Filter Contour and Glow is great for adding definition and On-the-Glow Highlighter in Spotlight gives that added sheen to your skin. I also have always been obsessed with coconut oil, so I was super excited to feature this in my collection. Coconut Luxe Body Oil is 100% natural and I use it all over my body and hair.
Do you have any unusual beauty secrets that you prescribe to? They are not really secret, but I swear by taking a lot of vitamins and drinking a ton of water every day.
What are your must-have beauty products? For makeup, I literally created my ModelCo range to represent all my go-to beauty products. I have to say that Kiss Pot Rose Lip Balm is always in my handbag and I love Perfect Pout Lipstick in Bendo. For hair I love Jen Atkin's OUAI products. I use these every day: I love the Shampoo, Conditioner, and the Wave Spray for texture. I wear a perfume from Bond No. 9 store in New York. I love that it is unisex, I actually first smelt it on a guy!
Do you follow any Instagram accounts for beauty inspiration? Yes I am obsessed with watching beauty tutorials; I love those videos that are sped up!
How do you keep your skin healthy with all of the traveling you do? For skincare I use EltaMD skincare products; my dermatologist recommended these for my skin. I also make sure I take vitamins when I'm traveling and I like to do a work out to get my blood pumping!
Are there any beauty trends you're dying to try? I am a huge fan of the winged eye but could never actually do this on myself!
Do you know what you're doing for New Year's Eve? If so, what are you wearing? I don't have any plans as yet! My look is tomboy sexy so it will most likely be something along that vibe.
What have been the highlights of 2016 for you? Professionally, I would have to say modeling for Karl Lagerfeld, Guess, and walking in the Dolce and Gabbana show during Milan Fashion Week. I am also super proud to launch my first beauty range. I am really interested in the business side of fashion and beauty.
Watch W's most popular videos here: