Hailey Baldwin, Soko and Hari Nef Wore their Glitziest Gold Outfits to L'Oreal's Paris Fashion Week Party
Inside the L'Oreal Paris "Gold Obsession" party, where the brand celebrated its official sponsorship of Paris Fashion Week, as well as their recently opened flagship on the rue Caumartin.
---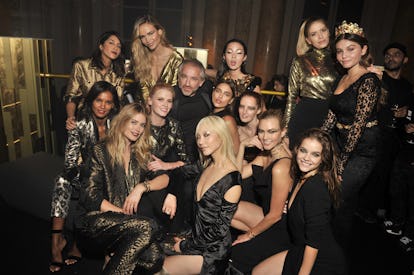 "I think it's so awesome that L'Oréal is really going against the grain and supporting queer artists, supporting radical artists," said Mykki Blanco moments after his performance at L'Oréal's Paris Fashion Week bash on Sunday night, which celebrated the brand's official sponsorship of the week, as well as their recently opened Paris flagship. "I really congratulate them for not playing it safe," Blanco continued. "When you have a global brand like L'Oréal saying 'F all the politics,' that's a good sign. It means we're in a good place in the world or we're getting there."
The party – inside the jaw-dropingly opulent Monnaie de Paris, the oldest institution in the world – brought out a long list of recognizable names, including Naomi Campbell, Natalia Vodianova, Hailey Baldwin, Hari Nef, singer Cheryl Cole, Soko, Gabriel Day-Lewis, Brandon Maxwell, Balmain's Olivier Rousteing, who arrived with Kris Jenner and boyfriend Corey Gamble, and Ellen von Unwerth.
"Amazing – I was like who is this?" said von Unwerth of Blanco. "I never saw him before, really wild."
The dress code was gold and black for the "Gold Obsession" fête, and many guests and L'Oréal spokesmodels, including French actress Leila Bekhti, Karlie Kloss, Irina Shayk, Lara Stone, Doutzen Kroes, Xiao Wen, Barbara Palvin, Liya Kebede, Soo Joo Park, Lucky Blue Smith and Alexina Graham stuck to the night's theme, wearing glamourous gowns.
"I just got announced today, so I'm like, at last, I'm in," said Graham, the company's newest spokesmodel. "I'm really happy to be part of the family now."
Partygoers ascended a grand staircase to the upper level, where they wandered around the many different rooms — there was a mirrored room, a disco room (selfies galore) but the main attraction was in the central room, a grand space where a DJ spun tunes and guests let loose on the dancefloor under enormous, twinkling chandeliers.
"I want to be incognito," said von Unwerth, donning mirrored aviators. "It's not really working, but I tried." Earlier, the photographer had shot images of the spokesmodels pre-party.
"I feel like I own this house, because I was here since 1 p.m., getting ready," said Soo Joo Park. "We all got ready together. We had some photo shoots, behind the scenes, social media."
Her highlight of the night?
"Hanging out with Miss Fame," she said. "She's fabulous."
Back in May, L'Oreal invited American drag artist Miss Fame to walk the red carpet at the Cannes Film Festival, and now here she was, representing the brand yet again in France, this time in Paris.
Inside the L'Oreal Gold Obsession Party in Paris
Karlie Kloss and Doutzen Kroes

Courtesy of L'Oréal Paris
Alexina Graham, Bianca Balti, Xiao Wen

Courtesy of L'Oréal Paris.
Alexina Graham and Natasha Poly

Courtesy of L'Oréal Paris
Kris Jenner and Olivier Rousteing

Courtesy of L'Oréal Paris
Courtesy of L'Oréal Paris
Courtesy of L'Oréal Paris
Courtesy of L'Oréal Paris
Soo Joo Park and Hari Nef

Courtesy of L'Oréal Paris
Courtesy of L'Oréal Paris
Inside the L'Oréal Paris Gold Obsession Party.

Courtesy of L'Oréal Paris
Courtesy of L'Oréal Paris
Courtesy of L'Oréal Paris
Doutzen Kroes and Liya Kebede

Courtesy of L'Oréal Paris
Olivier Rousteing and Gabriel Kane Day Lewis

Courtesy of L'Oréal Paris
Courtesy of L'Oréal Paris
Courtesy of L'Oréal Paris
Inside the L'Oréal Paris Gold Obsession Party.

Courtesy of L'Oréal Paris
Courtesy of L'Oréal Paris
Courtesy of L'Oréal Paris
Courtesy of L'Oréal Paris
Courtesy of L'Oréal Paris
Courtesy of L'Oréal Paris
Courtesy of L'Oréal Paris
Courtesy of L'Oréal Paris
Courtesy of L'Oréal Paris
Courtesy of L'Oréal Paris
Courtesy of L'Oréal Paris
Courtesy of L'Oréal Paris
Courtesy of L'Oréal Paris
Courtesy of L'Oréal Paris
See the best fall fashion with h Irina Shayk, Joan Smalls, and Stella Maxwell: