Hailey Gates, "States of Undress" Host, Is Using Fashion for Access
The TV host has visited some of the world's toughest places.
---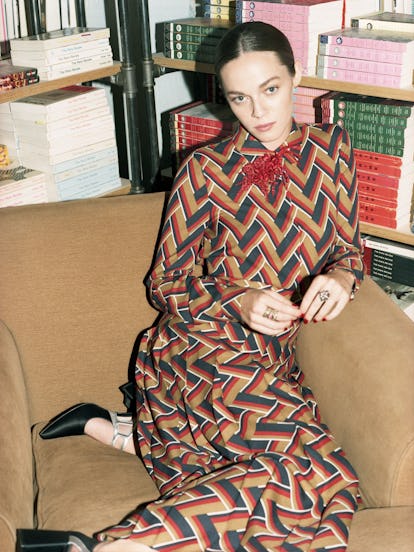 Photography by Jeff Henrikson. Styled by Nora Milch.
Fashion is not without its despotic figures, but Karl Lagerfeld is not exactly Hugo Chávez. "I had just come out of the most dangerous barrio in Venezuela," Hailey Gates says one afternoon in September. "And there's a message on my phone from Pat McGrath"—the famous makeup artist, of course—"saying, 'The Miu Miu campaign's out!'  " She laughs—chortles, really. We're sitting in a corner booth at the Neue Galerie's stately Café Sabarsky, on Manhattan's Upper East Side, and it's a little startling to see the 25-year-old model-actress's teeth, which in pictures are often concealed, as they are in the Miu Miu ads in which she currently appears, behind a disinterested scowl. "I hadn't eaten; I hadn't slept," she goes on. "And I'm looking at this picture of myself, and I'm like, 'Who is this?'  "
In recent months, Gates's passport has also been stamped in Pakistan, Palestine, and the Democratic Republic of Congo. She traveled to those hotbeds of conflict to film an unscripted TV series for Vice, covering the unlikely fashion weeks that have sprung up there. But that premise is really just a port of entry. "We are using the guise of fashion to talk about political and social issues," she says.
In Pakistan, she sat down at the Osama bin Laden memorial library with a cleric who has ties to Al Qaeda. In Gaza, she resisted the instinct to phone her loved ones in the middle of an air raid. In Venezuela, she met with a black-market dealer to obtain the most unobtainable of items in the post-Chávez state: tampons. "Usually, I'm incredibly WASP-y about my bodily functions," Gates says. "But now all bets are off. " She slides her fork into a ­glassine-like slice of torte and takes a tiny sip of her wine. Although Gates is now safely home—she lives nearby, just across Central Park—she admits that "coming back here is so hard."
Dressed in shades of off-white—vintage Ralph Lauren slacks, a Petit Bateau tee, Robert Clergerie platforms—Gates has a raven beauty that brings to mind the Gustav Klimt paintings of Adele Bloch-Bauer hanging upstairs in the museum. (Bloch-Bauer was 25 when the portraits were done­—the same age as Gates.) And Gates has artistic pedigree: Her family tree includes the famed screenwriter Joan Tewkesbury, who penned Robert Altman's 1975 classic Nashville. Growing up in Los Angeles, Gates moved constantly after her parents separated—she lived in 16 houses, including Elvis Presley's former Bel-Air bachelor pad. (She and her sister held a séance in the bathroom to conjure the King, during which she accidentally lit herself on fire.)
Gates came to New York in 2012 to study theater—she has one major film credit as an actress, in Jonathan Demme's Ricki and the Flash, which premiered this past summer while she was in the Congo—and quickly fell into a job at The Paris ­Review, the literary journal founded by the late gadabout George ­Plimpton, who launched the whole notion of "participatory journalism." "I think George would've been very amused by what Vice is doing," Gates says.
In Gaza, she went surfing with a young Muslim girl. When Gates arrived, she was presented with her swimming costume: a long red button-down shirt and a bright red hijab—"this kind of Islamic Baywatch look," Gates recalls. Suddenly, everything—the scent of the sea, the talk of surfing—reminded Gates of her childhood. "I kind of lost it. I'm basically on the moon, and it smells like home."
The café is closing, and we find ourselves out on East 86th Street. As Gates unchains her bicycle, she brings me up to speed on her travel plans: Soon, she's off to St. Petersburg, followed by Paris (to attend the Miu Miu show), then to China. Along the way, possibly, there will be a stop in Kazakhstan. "I'll be gone a long time," she says. She waves and glides away.