Haim Is Finally Here
The California girls discuss their long-awaited debut album, Days Are Gone.
---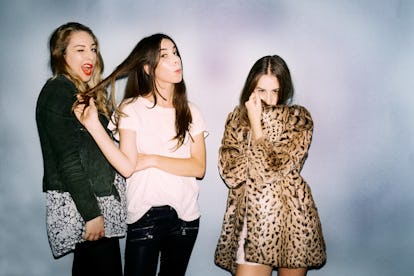 If there's something you should know about Haim—the band comprised of three singing sisters, whose sweet-but-tough, '90s radio pop-infused debut Days Are Gone (Columbia) hits the Internet later this month—it's that they're not just some overnight success.
"We've been around the block a few times," jokes Alana, the youngest Haim sister and the group's percussionist. After years of performing in their hometown of Los Angeles—they've been playing together as Haim since 2007—and several unsuccessful attempts at recording, the band finally broke out in 2012 with the free-spirited EP Forever.
The long-awaited album Days Are Gone sparkles with the eclectic, genre-blending sounds that influenced their musical upbringing. Days Are Gone (which the band worked on with the Vampire Weekend producer Ariel Rechtshaid) is heavy on attitude (lead singer Danielle can shred on guitar), catchy vocal hooks, and unexpected rhythms.
Haim's "The Wire"
And even as new opportunities speed their way—they played the European festival circuit this summer and will hop on tour with their heroes Phoenix in November—the Haim girls aren't letting any of it go to their heads. Or are they? Take the video for their latest single, "The Wire," in which they break the hearts of three young men (including The Lonely Island's Jorma Taccone), leaving them in exaggerated tears. "I've actually only been broken up with," Alana admits. "I've never broken up with someone so it was kind of my revenge on the male race."
So look out, boys.
Photos: Haim Is Finally Here
Days Are Gone will be available in full on September 30th
With their unshakable melodies and waist-skimming locks, Haim are bringing new meaning to the term hair band. "I don't think I could ever have short hair." Alana says. "Maybe like record seven when we have to do something crazy. We'll all go bald."
Photo: Bella Leiberberg
Being in a family band was inevitable, Alana says: "we were in band with my parents growing up, no joke, called Rockin' Haim. Like no 'g.' It was Rockin' Haim."
Photo: Bella Leiberberg
"We hang out every day," Alana said, "People get, like, freaked out when they don't see the three of us together."
Photo: Bella Howard