Haim Slides Back Into the Spotlight With a Low-Key New Single, "Right Now"
It's been almost four years.
---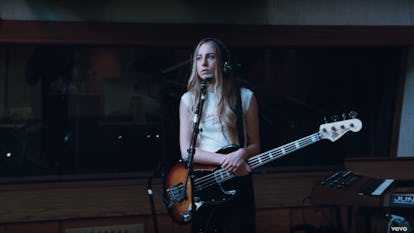 HaimVEVO/Youtube
Haim, the band most likely to inspire you to grow out your hair, is finally back with new music. The return of the group, which quickly managed to become synonymous with West Coast cool following its 2013 debut Days Are Gone, comes after the quartet took a restorative break in the form of a nearly four-year hiatus. Now Haim is happening again, dropping a new song called "Right Now." It's the first single from the band's upcoming album Something to Tell You, its sophomore release.
Haim premiered the song with a music video that shows the group in the studio, developing and eventually recording the tune in question. The three Haim sisters, Este, Danielle, and Alana, are all in view, while drummer Dash Hutton remains as elusive as ever. Academy Award nominee Paul Thomas Anderson, who has only previously worked with a select group of musician before that includes Radiohead and Fiona Apple, directed the "Right Now" video, proving all the more that Haim is back and the group means business. Still, for all of the labor on display, "Right Now" is actually a dreamier track than some of Haim's most recognizable tunes. It has a stripped-down arrangement and a slower vibe than the band, particularly its live, rock-infused persona, is known for. Between Haim's newish sound, Lorde's Melodrama, and Lana Del Rey's Lust for Life, we are in for quite the ethereal few months of indie pop/rock.
Something to Tell You is due, naturally, in the summer (July 7 to be precise). There's no doubt, though, that we're sure to get more tastes of the album before then. The band is set to serve as the musical guest on Saturday Night Live on May 13, and odds are decent that the group will premiere a new song then. Harry Styles did the same in advance of his solo album's release a couple of weeks ago, taking to Studio 8H with the already-out "Sign of the Times" before debuting "Ever Since New York" live.
Related: Fiona Apple Recruits Paul Thomas Anderson To Direct 'Hot Knife'
See What's Trending in W Video: