Hairstylist James Pecis Is Unbelievably Zen During Fashion Week
Thanks to yoga, some fruit and nuts, and some bad music.
---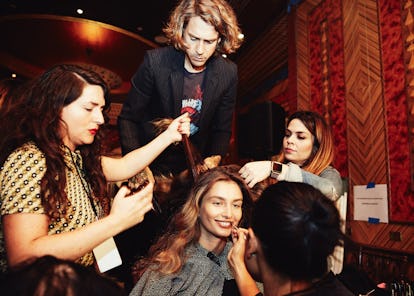 Photo by Katie Thompson.
Love was in the air backstage before Brandon Maxwell's Spring 2017 show, and hairstylist James Pecis was all too happy to go with the blissful vibe. "Brandon is all about having fun," mused Pecis. "He's kind of floating through the room in a very positive mood."
That is not a sentiment one hears too often backstage before a show, but maybe it's due to the company Maxwell keeps. Makeup artist Tom Pecheux is known for being chill, as is manicurist Deborah Lippmann. Like his co-horts, Pecis may be one of the most skilled hairstylists on the scene, but imagining him pulling a hissy fit backstage is, well, laughable. At Maxwell, he combed some girls' hair into high ponytails, while he celebrated the natural curl of models like Imaan Hammam, Karly Loyce and Alanna Arrington, enhancing their waves. "It's a mixed bag" he explained. "Brandon wants the girls to look sexy, but in a cool, fun way."
Taking a moment between shows, Pecis shares how he stays healthy, both mentally and physically, during this hectic week.
What is your fashion week uniform? "Justin" boots from boot barn and 50 shades of black.
Are there one or two products that you always have with you? I love superfine hair spray from Oribe and my water sprayer. What's your favorite backstage horror story? For one show, I thought the models who were wearing hats were supposed to have them removed for the finale. So as they were lining up, I took them all off and the stylist came rushing up yelling "Where are the f**king hats???" I had my arms full of them.
What do you love most about fashion week? Seeing a designer's vision that's taken months to prepare come to life.
Aside from probing editors, most annoying peeve backstage? People Instagramming when they should be working.
Music or no music? I love music! DJ, turn it up! Adlena, who works with me, is the Dj and plays hits and crap…. It's a gamble.
Go-to snack or drink? Nuts and fruit. My spirit animal is a squirrel.
How do you stay healthy during this crazy time? I do yoga and drink lots of water. I carry dumbbells in my backpack and do some reps at any spare moment. Over the summer I really beefed up.
Backstage with Brandon Maxwell's Disco Beauties at His Spring 2017 Show
Watch W's most popular videos here: