Fancy a Shag? Hairstylist Martial Vivot Reveals How to Get the Hottest Men's Hairstyle of the Season
It's all about the right products–and how you use them.
---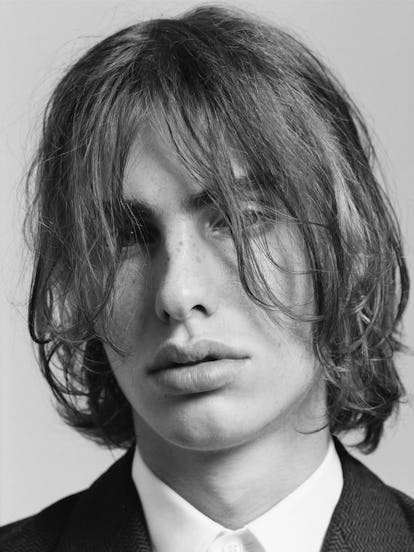 Hair by Martial Vivot; Makeup by Emi Kaneko for Nars at Bryant Artists; Model: Lucas Ucedo at Ford Models; Photography Assistants: Jordan Zuppa, Matt Baffa; Fashion Assistant: Kevin Yanes; Makeup Assistant: Yohsuke Hiraka; Emporio Armani blazer; Saint Laurent shirt.
Martial Vivot wishes more men would come into his salon wanting to look like Mick Jagger. "All they go for is shaved sides and big beards," gripes the hairstylist, who is opening his second Manhattan space, in the West Village, this month (martialvivot.com). If you've got wavy hair, instead of cutting it off like everyone else, he recommends mixing a cocktail of two parts styling cream to one part gel and working it through with your fingers from the roots. "You will not see a fashion show without the shag," Vivot says. And, judging from the spring 2017 runways—most notably, Gucci, Hermès, and Raf Simons—he's absolutely right.
Here, a guide to the must-have products for maintaining a shag haircut:
10 Products for Guys with Shag Hairstyles
Watch the best videos from fashion week: