The New Guard: Haley Bennett
Haley Bennett leads the next generation of talented go-getters.
---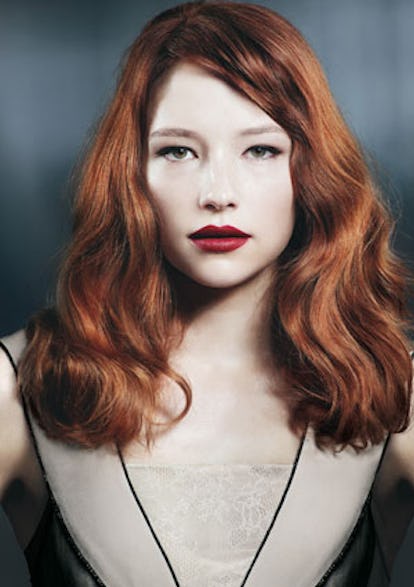 When she was 19, Haley Bennett was, in the actress's own words, "like a deer caught in the headlights." Not long after arriving in Los Angeles from Akron, Ohio, she was discovered by Drew Barrymore, who cast her as a Britney Spears–esque pop vixen in the 2007 rom-com Music and Lyrics. Suddenly Bennett was being touted as a rising star. (Haley's Comet, went one magazine headline.) » "I had no idea what I was doing," Bennett recalls of her whirlwind welcome to Hollywood. "But I'm a lot more comfortable with myself now."
At 25, Bennett is claiming her turf. In the past year and a half, she's carried a film (Kristy, a thriller that the Weinstein Company is releasing this fall), starred in a pedigreed indie (the forthcoming Deep Powder), and tangled with Christian Bale and Michael Fassbender in a love triangle in Terrence Malick's next opus.
Redheads Sissy Spacek and Jessica Chastain were propelled to superstardom via Malick's films, and coincidentally or not, Bennett, a natural blonde, recently went ginger. "Everybody wanted me to go back to blonde, but I refused," she says. "And now I feel like I kind of own it."
Click here to read the full article.

Photograph by Mark Segal Styled by Tracey Nicholson

Photographer: Willy Vanderperre
Since graduating from London's Central Saint Martins in 2004, the 27-year-old multimedia artist has been on a fast track, with solo shows in Zurich, Switzerland; Paris; London; and, in June, at Bard College, in New York. Marten mines the digital universe for random images and data and also constructs objects by hand, creating humorous visual stories that force the viewer to make meaning of these hyper-networked times. In Geological Amounts of Sober Time (Mozart Drunks), a 2012 assemblage, the composer's cartoonlike head has been silk-screened on leather and ostrich-skin panels, and liquor bottles dangle by strings. Creative euphoria? Barely hanging on? You decide.—Diane Solway

Photographer: Willy Vanderperre
This 30-year-old Brazilian-born, London- based designer eschews what she calls "loud ideas" in favor of the subtleties of fabric, cut, and texture—an approach that the Central Saint Martins grad honed while working on Savile Row for six years and continues to follow with 1205, her two-year-old line. Gerbase's spring collection, inspired by photographer Marcel Gautherot's images of the construction of Brasilia, plays with notions of modernity and tradition: Slim trousers are cut from mohair; three-piece suits are constructed from ribbed jersey. And almost everything is unisex. "I leave it up to the customer to decide," she says.—Karin Nelson

Photographer: Willy Vanderperre
Ioanna Gika, 27, is a blonde Greek-American who croons in colorful Jeremy Scott kimonos; Leopold Ross, 28, is a dark-haired Brit who plays guitar in head-to-toe black. As Io Echo, the two infuse electro-pop with Far Eastern instrumentation to create a unique sound critics are calling New Orientalism. Gika and Ross have opened for Florence + the Machine; curated a music festival at MoCA; collaborated with choreographer Benjamin Millepied; and scored a Harmony Korine short film—all before releasing their debut album, Ministry of Love, out this month.—Fan Zhong

Photographer: Willy Vanderperre
The 30-year-old Canadian designer describes himself as a nonlinear thinker, but one wouldn't know it from the thoughtful, pared-down products he creates. Take, for example, Mr. Mitre, a beech-wood box that cuts bread in perfect 90- and 45-degree angles; or Gridlock, a collection of furniture and lights inspired by architectural cross- bracing. Then there's Hanger Chair, a sleek fold-up piece that can be hung in a closet when not in use. He came up with the idea for the chair while he was studying at the Design Academy Eindhoven and living in a 200-square-foot apartment. "It's a good example of adapting to a new situation and making more with less," says Malouin, who set up his London studio in 2009, after working for the English design star Tom Dixon. A solo show of Malouin's work, appropriately titled "Simple," opens this month at ProjectB gallery in Milan.—K.N.

Photographer: Willy Vanderperre
The Paris native studied fashion design at the Ecole de la Chambre Syndicale de la Haute Couture Parisienne, but when a friend asked her to make jewelry for a magazine shoot, a new passion was sparked, and in 2010 she launched a line of richly textured and somewhat offbeat pieces. Michelson, 29, says her spring collection, which includes metal ear cuffs and lace-and-chain-melded collars, reminds her of "soft, delicate fabric draped around your arm, ear, or finger."—K.N.

Photographer: Willy Vanderperre
At Design Miami in December, Asif Khan made a big impact with a little glass house. The London-based designer set 1.4 million Swarovski crystals into the walls of a 20-by-20-by-12-foot structure, creating parhelia, light halos that occur when airborne ice crystals refract the sun. The result: a twinkling cube that was literally the brightest spot at the fair.

The natural world has long been a source of inspiration for Khan, 34, who once constructed furniture from resin-coated baby's breath flowers and made indoor clouds with helium, water, and soap suds. It's a somewhat unexpected fascination for a city boy who was raised in South London by a Tanzanian-Indian mother and a Pakistani father. But Khan, who graduated from the prestigious Architectural Association, has also designed, with Pernilla Ohrstedt, Coca-Cola Beatbox, a pavilion for the 2012 Olympics that could be played like a musical instrument. Among his current projects is a "portable town" for a Russian client. "All of our work involves research," Khan says. "Now, clients are coming to us who want that kind of innovation in permanent structures."—Fred Bernstein

Photographer: Willy Vanderperre
Designing accessories is more art endeavor than vanity project for this 27-year-old French-Italian girl about town. Peduzzi, who majored in architecture, founded TL-180, a luxe-handbag line, three years ago with her best friend, Luisa Orsini. Perhaps Louis Vuitton was feeling the heat—last year the brand signed her on as an ambassador.—Vanessa Lawrence

Photographer: Willy Vanderperre
Lummi Island, 100 miles north of Seattle, has a population of around 900 and is accessible only by boat—not the sort of place one would expect to find the culinary world's latest wizard. But in the two years since he signed on as chef at the Willows Inn, a century-old former fishing lodge, Blaine Wetzel, 27, has been attracting big-city-calibre buzz. Food & Wine named him a 2012 best new chef; Rene Redzepi, the genius behind Copenhagen's Noma, called Wetzel, "a rare and amazing talent"; and the New York Times deemed the Willows Inn one of 10 restaurants "worth a plane ride."

Wetzel got his start when he was 14 in an Iowa City steak house. Recently, he spent two years at Noma, as Redzepi's chef de partie. These days, when he's not behind the stove, he's chopping wood to smoke salmon, mussels, and venison; collecting seaweed off the rocks to serve pickled with Dungeness crab; and foraging in the hills around the inn for porcini mushrooms and tender pine needles.

With his repertoire so tied to the tiny island he calls home, it's hard to imagine the Washington native cashing it in to, say, open a mega-bistro in Vegas—despite his potential to draw crowds. "I think we pretty much have a good thing going here," Wetzel says.—Jenny Comita

Photographer: Willy Vanderperre
Rhythm and blues is enjoying a renaissance, and its latest auteurs aren't just interested in pumping out soundtracks for the bedroom—this generation is also after emotional truth. Miguel's high-energy New Wave look and unique voice powered his latest album, Kaleidoscope Dream, to No. 3 on the Billboard 200 chart. His fellow Grammy nominee Elle Varner is not as avant-trendy as Autre ne Veut and How to Dress Well—two white guys from Brooklyn who create low-key sexual charge with their cool ambient sounds—but her appeal is direct and irrepressible. It's harder to classify Dawn Richard, whose recent debut, Goldenheart, dips into Euro- pop and rock. By traditional standards, Goldenheart might not even be considered full-on R&B, but who cares? Richard, along with her cohorts, is breaking down tradition in the best of ways.—F.Z.

Photographer: Willy Vanderperre
It's the small, quotidian moments that illuminate the cosmic issues in the precisely observed, dialogue-driven plays of Amy Herzog, 34, a Yale Drama School graduate widely considered one of the most urgent voices of her generation. On the heels of her critically acclaimed 2012 play 4000 Miles—about the evolving relationship between a grandson and grandmother who spend a few weeks together in her Greenwich Village apartment—comes Belleville, Herzog's thriller about a young American couple whose relationship unravels when they move to Paris. Herzog is half of a theater power duo: Her husband, Sam Gold, is one of the hottest American stage directors.—D.S.

Photographer: Willy Vanderperre
Having written and directed In a World, a comedy about voice-over actors, Bell, 34, has gone from being the wisecracking sidekick in chick flicks to a legitimate multi-hyphenate.—Lynn Hirschberg

Photographer: Willy Vanderperre
In the past two decades, contemporary Dutch design—and its fulcrum, the Design Academy Eindhoven—has become famous for bucking minimalism in favor of all things handmade, decorative, and ironic. Early stars like Studio Job and Marcel Wanders may still be churning out frenetically patterned human-anatomy cabinets and doily-embossed cookware, but as times have changed, so has the Eindhoven aesthetic: A second, more understated generation of Dutch design is emerging, funneling conceptualism and handicraft back into abstract, geometric forms. Recent graduate Max Lipsey (3) has been investigating the possibilities of steel, using old-school bicycle-making techniques to create superlightweight, colorful, angular furniture and celebrating the material's more natural state with a series of bowls he's introducing this month at the Milan Furniture Fair. Oskar Peet and Sophie Mensen, the designers behind Os & Oos (2), are best known for their concrete lamp that looks like a modernist sculpture and is meant to evoke a solar eclipse; in Milan they'll present a clock that connects to Wi-Fi and dims and brightens in accordance with the weather report. The most salient example of Eindhoven's new direction, though, might be the work of Mieke Meijer (1), whose lattice-girder room divider and crane-inspired wooden lamps shrink industrial architecture down to a domestic scale. In an age of sustainability and conservation, Meijer says, "Dutch design isn't about gimmicks anymore. It's about doing more with less."—Monica Khemsurov

Photographer: Willy Vanderperre
His lushly colored sculptures and works on paper have an instant appeal that belies the multiple stages Sam Falls invests in their making. The 28-year-old Los Angeles artist takes photographs, paints swatches of color over them via Photoshop, prints them, and then applies another tier of paint by brush. Or he uses materials like linen and aluminum in outdoor sculptures. "My art is about time passing," says Falls, who has a solo show at Laxart in Los Angeles November 9 through December 21. "And it's also about life passing by. The art changes and decays as the viewer does. I believe seeing art can be like having a dog—it has therapeutic value."—F.Z.

Photographer: Willy Vanderperre
Bright, fun, and crafted from couture-worthy fabrics, Ostwald Helgason's designs don't blend in with the scenery, which explains why they've become a hit with the street-style pack. "They have a lot going on," admits Susanne Ostwald, 33, who started the London label in 2008 with her boyfriend, Ingvar Helgason, 33 (both above), and showed it for the first time in New York last fall. The spring collection (below) referenced the modernist tastes of the late art maven Frances Lasker Brody.—K.N.

Photographer: Willy Vanderperre
The 27-year-old poster boy for the new MTV has reported from the 2012 presidential campaign trail, embedded himself in a Florida retirement home and spent eight months in Japan filming a documentary for ESPN on American baseball manager Bobby Valentine.—L.H.

Photographer: Willy Vanderperre
Equal parts performance artist, pop singer, and cultural anarchist—not to mention partner in crime to the artist Ryan Trecartin and the musician Nick Weiss of Teengirl Fantasy—the 30-year-old Devine is, in that most postmodern of ways, enthusiastically all over the map. In her words: "I'd have to call myself a pop star gay icon muse."—F.Z.

Photographer: Willy Vanderperre
When the first-time writer-director accepted this year's Grand Jury prize at Sundance for Fruitvale, Tom Rothman, the former chairman of Twentieth Century Fox, said, "This will not be the last time you walk to a podium." Fruitvale is based on the true story of a young African-American shot dead by a cop in Oakland, California, in 2009. —L.H.

Photographer: Willy Vanderperre
This 26-year-old Catalan-French-American actress made her Hollywood debut in Pirates of Caribbean: On Stranger Tides, for which she learned to speak English, and has appeared onscreen alongside Isabelle Huppert, Vincent Perez, and Daniel Auteuil. Of course, like any good Parisian girl, she is also known for her dedication to Chanel, trotting out looks from the label at red carpet events and striking a pose in the front row at Karl Lagerfeld's runway shows.—V.L.

Photographer: Willy Vanderperre
The 23-year-old British actress first received notice as a seductress in the 2009 film Solitary Man, a role she followed up with 2012's A Late Quartet, in which she was cast as an aspiring—and seductive—concert violinist. It doesn't look like she will be changing her tune soon: This year, Poots has at least five major movies coming out, in which she will play, variously, the wife of a notorious '70s raconteur, the daughter of a bipolar junkie cop, and Jimi Hendrix's complicated object of desire. Prepare to be seduced.—L.H.

Photographer: Willy Vanderperre
"I don't think much about my story," says the 20-year-old rapper. Yet some details of her life—early sexual abuse, a religious upbringing—have found their way onto confessional tracks, like the ultrapersonal "Cleaning Out My Closet," which have made her the latest female hip-hop sensation. "I would rather be a rock star than a rapper," Haze admits. "That way, you don't have to deal with street cred and all that boring shit. It's all about what you put out." Her debut album drops later this spring.—F.Z.

Photographer: Willy Vanderperre
The subject of a recent solo show at Mass MoCA in North Adams, Massachusetts, and a group exhibition at New York's Mitchell-Innes & Nash, the Alabama-born, New York–based artist Anna Betbeze, 32, turns Greek flokati rugs into dyed, scorched, shredded, and shaved wall reliefs that at once call to mind 20th-century abstract painting, Minimalist felt sculptures, and mangy Muppets.—D.S.

Photographer: Willy Vanderperre
Although he has had small parts—usually as a complicated villain, like the one he played in 2011's Drive—Isaac's performance (which includes singing folk songs) in the Coen brothers' latest film, Inside Llewyn Davis, has people talking new leading man. His character was inspired by Dave Van Ronk, an early mentor to Bob Dylan.—L.H.

Photographer: Willy Vanderperre
The Paris-born 20-year-old junior at Yale (and godson of Numéro editor Babette Djian) says it was basically boredom that led him to launch Out of Order, arguably the most ambitious (and maybe the only) undergrad fashion magazine we've ever seen. His second annual issue, out this month, includes contributors both young (he discovered the South African photographer Lea Colombo on Twitter) and seasoned (Tierney Gearon, Larry Clark), as well as profiles of a range of characters from rap newbie (and fellow W up-and-comer) Angel Haze to Paul Watson, the controversial environmental activist currently wanted by Interpol.—K.N.

Photographer: Willy Vanderperre
Just 29, the Los Angeles–based artist was featured in the Hammer Museum's 2012 "Made in L.A." exhibition and was one of the standouts at the New Art Dealers Alliance fair during Art Basel Miami Beach in December. Manley, who works in painting, sculpture, performance, and video, concocts dense landscapes of obscured letters, words, and images. His stop-motion videos are composed of thousands of photographs he shoots in the studio and act as a kind of frame for viewing his paintings—which (like the one above) are really two-sided: one side canvas, the other glass.—D.S.

Photographer: Willy Vanderperre
The Royal Academy Schools–trained artist doesn't use models for her breathtakingly powerful oil paintings of black men and women dressed in simple clothes and set against saturated backgrounds. Working from her imagination, scrapbooks, and her own life studies, she depicts fictional figures unfixed in time whose stories are left to the viewer to fill in. "The paintings are composites," says Yiadom-Boakye, 35, who rarely spends more than a day making a piece. "It's the painting part that I'm interested in, rather than capturing specific people." Her rise has been steady since appearing in a group show at the Studio Museum of Harlem in 2008. In 2011, she showed in the Lyon Biennale; in 2012, in New York's New Museum's Triennial; and in December, she won the $100,000 Pinchuk Foundation Future Generation Prize. Her latest works are on view March 1 through April 13 at London's Corvi-Mora gallery; another show is slated for the Pinchuk Art Center in Kiev, Ukraine, this fall.—D.S.

Photographer: Willy Vanderperre
The moment this 28- year-old London shoe designer presented her first collection, for spring 2013, she had the world's top retailers tripping over themselves to scoop it up. The draw? Deliriously cheerful heels that are also relatively affordable (prices start at $395).—K.N.

Photographer: Willy Vanderperre
When it comes to talent, age really is just a number. Kiernan Shipka, 13, landed her role as Sally on Mad Men when she was 7. Now she's walking red carpets in Oscar de la Renta. Violinist Claudius Agrippa, 13, was discovered playing Bach on the subway by New York Concerti Sinfonietta founder and artistic director Julie Jordan. Agrippa appeared in a Dior Homme video by Bruce Weber and is currently enrolled in the Juilliard School's MAP program. And Romeo Beckham, 10, offspring of David and Victoria, stole the spotlight in Mario Testino's spring 2013 campaign for Burberry. At this rate, Lena Dunham is starting to look practically geriatric.—V.L.

Photographer: Willy Vanderperre
Few gallerists set out with a blue-chip résumé like Hannah Hoffman's: The daughter of the renowned arts patron (and National Lampoon founder) Robert K. Hoffman, she studied art history at Boston University, interned with art adviser Allan Schwartzman, and took family trips to Rome, where her father once "rented" the Sistine Chapel for a private viewing with the artist Cy Twombly, who served as a guide. Having further honed her eye during stints in the New York galleries Luxembourg & Dayan and, recently, Gavin Brown's Enterprise, Hoffman, 27, is going it alone, opening a 3,500-square-foot shop in Hollywood in mid-May. "I wouldn't have opened a gallery if I'd stayed in New York, because I understood what my path would look like," says Hoffman, who plans to "bounce" between historical and contemporary shows. She's kicking off her program with an exhibition devoted to the late Brazilian artist Mira Schendel before moving on to a group show of young Los Angeles artists (among them, W up-and-comer Sam Falls). "Not only is L.A. new to me, but the role of galleries here is less codified—there's so much space both physically and conceptually."—D.S.

Photographer: Willy Vanderperre
In 2012, the British artist staged a soccer match between two teams of men—none of whom wore a stitch of clothing, save for socks and sneakers. Peake, 31, has also photographed himself and others in the buff, combining the images with colorful graffiti, such as 2001's I Get Ratings, You Get Hatings. His art pieces and performances (like the one pictured), comment on the human form, gender norms, and our Internet-age appetite for voyeurism and have been a hit at very serious establishments like London's Tate Modern. Still, the multimedia artist's brand of provocation is decidedly playful.—F.Z.

Photographer: Willy Vanderperre
Hair by Laini Reeves for Tracey Mattingly; makeup by Fara Homidi for Chanel Beaute at Frank Reps; special thanks to Siren Studios-Tower, Hollywood, CA; Digital Technician: Justin Ruhl; Photography Assistants: Seth Gudmunson, Justin Schaefers; Fashion Assistant: Nicole Deutsch