Halle Berry Shuts Down Pregnancy Rumors with a Side of Sass: 'Can a Girl Have Some Steak and Fries??'
Let Halle eat in peace, people.
---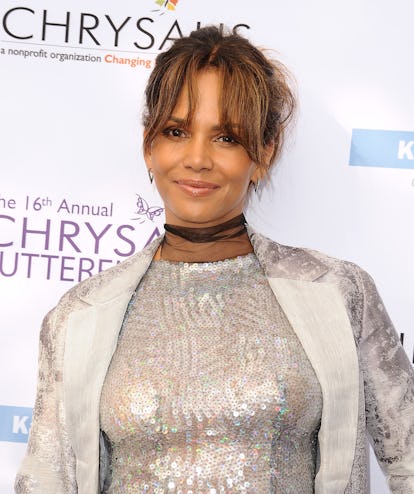 Jason LaVeris
Halle Berry is not here for your jumping to conclusions based on her red-carpet pose of choice.
On Sunday, Berry attended the 16th Annual Chrysalis Butterfly Ball, a fundraising event for nonprofit organization Chrysalis, which helps homeless and low-income individuals in California find employment. The actress wore a silver, sequined dress with black mesh detailing around the neck and hemline, a metallic silver jacket, strappy silver shoes, and a matching silver pedicure.
On her way into the event, Berry, 50, stopped to show off her monochromatic look on the red carpet and, while doing so, inadvertently struck a pose that looked very much like the celebrity shorthand for, "I'm pregnant, look at my tiny baby bump" (shoulders back, hands resting lightly on stomach, Mona Lisa smile). The rumor mill kicked into high gear, of course, with countless publications and websites speculating that the X-Men: Days of Future Past star was preparing to welcome her third child.
The rumors, however, are "absolutely not true," Berry's rep told Us Weekly. On Monday, Berry jumped to her own defense with a coy Instagram post. "Can a girl have some steak and fries??" she captioned a sultry close-up shot of herself, adding the eye-rolling and winking emoji, which capture what it undoubtedly feels like to respond to false rumors about your personal life.
Berry's used to sticking up for herself, though. In W's 2016 Royals portfolio, Berry revealed that she had to beg to be taken seriously in Hollywood. "I came from the world of beauty pageants and modeling, and right away when people heard that, I got discounted as an actor," she said. "So, I had the job of trying to eliminate that part of my persona, and Spike [Lee] gave me a chance to do that. And I took on roles early on that really didn't rely on my physical self at all and that was a good way to sort of get some credibility within my industry."