With a New Name and New Music, Hana Starts Fresh
She's won over Grimes, Lorde, and Shamir. Now, Hana Pestle, 26, is making music on her own terms.
---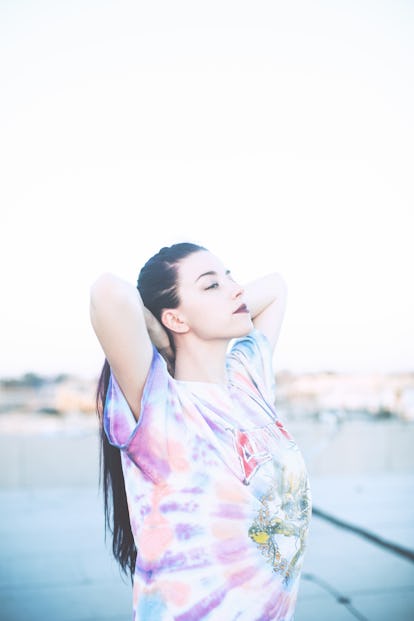 When a track called "Clay" surfaced on Soundcloud last May, its author, singer-songwriter Hana, was a relative unknown with a mysteriously short internet history. Lorde tweeted about her; she had Grimes's approval; but Hana was still something of an enigma.
That wasn't entirely by accident; Hana Pestle, who now records under her first name, had quietly wiped the previous six years of her recording career from her online presence, dropping her last name and changing the handles for her Facebook page and Instagram to @hanatruly.
"I just wanted kind of a clean slate," Pestle explained, sitting in the green room below Manhattan's Mercury Lounge. It was mid-afternoon, about eight hours before her first headlining show in New York, and Pestle had just finished her sound check. Dressed in a Pokémon t-shirt and black leggings, with dark, purple-tinged anime character hair, she was energetic and laughed easily. "I didn't hate my old music, it was just that I made it when I was really, really young, and I made it with people who affected my life in a lot of negative ways."
The 26-year-old, who released her debut EP in her current incarnation, March's self-titled HANA, has been playing music her entire life, much of it professionally. (Though, somehow, she's still unsigned.) She got her start playing the Montana State Fair around age 13, graduating to farmer's markets and eventually solo coffee shop gigs when she was 15. She bounced back and forth from Los Angeles to record her music while in high school, honing her voice in choir and with a vocal coach.
"I was taking my music pretty seriously, and I would come back and I would play it for her, and she was never really that impressed. She wanted me, more than anything, to pursue being an opera singer," Pestle recalled. It's high praise, from a singing instructor: "At the time, I was like, God, you don't even understand me. But I should have just been flattered."
She eventually released an EP and the 2009 full-length This Way, but you'd be hard-pressed to find either online. Following a bad breakup with one of her co-writers, whom she had dated since she was 18, a 23-year-old Pestle needed to start anew.
"I am proud of some of the songs that I wrote before," she said. "I had just kind of gotten into this hole where I didn't feel connected to my music in a way that I knew I needed to."
Still, the toxic relationship that prompted her to erase her previous work proved fruitful when writing her new EP.
"I think I'll probably always be able to pull from that, but I definitely feel like a chunk of these EP songs have gotten out a lot of the bad juju," she said. First, there's the opener "Clay," which is at its core a moving-on song; "When I'm lonely and tired, I'm holding on / 'cause now I'm out of your fire," she sings. Then there's the final track "Chimera," in which Pestle channels a bloodthirsty monster — it's drawn in part from a real breakup, but with a few supernatural embellishments.
"I'm not a demon vampire woman," she said, but if she were, "I would be a chimera, and I would be able to snap your spine in one second." She paused and laughed. "I was just kind of going with it."
Over the course of our conversation, Pestle conveyed the impression of a person totally at home in the studio and on stage — she was effusive and candid, admitting that she tends to write dark songs because she, as a person, tends to be pretty positive. "Music has just always been the thing where I get out all of my bad energy," she said — though lately, she has started exploring lighter, brighter themes.
She had co-written much of her earlier work, but HANA is the musician on her own terms. (There are fewer guitars and more synthesizers than before, too.) She now produces her own music, with an assist from BloodPop, alias Mike Tucker, who she met during a session in 2013. They hit it off immediately and began dating soon after, and he remains her go-to consultant when she's working out a song idea. (Tucker, too, has undergone a bit of rebranding — he changed his pseudonym from Blood Diamonds to BloodPop last year, around the time he produced Justin Bieber's "Sorry.")
"I have just found so much joy in taking matters 100 percent into my own hands and being able to craft whole songs by myself," she said.
It's also through Tucker that she was introduced to a whole cadre of musicians, including Claire Boucher — Grimes — and Megan James and Corin Roddick of Purity Ring, who have acted as cheerleaders, collaborators, and support as Hana comes into her own. Over the past year, she has toured with Grimes, both as a solo act and opening for Lana Del Rey and Florence and the Machine, with Purity Ring, and with Shamir, occasionally playing her own headlining sets in the interim.
Hana might be a relatively recent invention, but Pestle has been touring pretty much relentlessly for eight years. Her Mercury Lounge headliner Friday night kicked off a series of festival dates across Europe, where she'll play both her own set and Grimes's.
"When I'm playing both shows, I'm just like, 'Okay, I'm emotionally spent, and now I'm also physically spent,' and it feels great," she said. "Leave it all out on the stage."
When she stepped out on stage later that night — it was almost midnight — she was swapped the Pokémon tee out for a sequined chartreuse crop top; a few narrow braids ran through her waist-length hair. Illuminated pink parasols flanked her on the stage, pulsating with the bass, and, as the final echoes of "Clay" faded out, Pestle bobbed along with the music, scanning the crowd with a faint smile. She commanded the audience as she ripped through a nine-song set that includes the entirety of her EP, three yet-unreleased works in progress, and a cover of Eurythmics's "Here Comes the Rain Again."
She closed with "Chimera," and once its eerie, cartoon-voiced hook gave way to the house music, the lights came up and she bent down to clear out her gear. Someone called out for one more, a group of young fans crowded toward the stage, and Pestle immediately crouched down to chat with them. She was in her element.
Photos: With a New Name and New Music, Hana Starts Fresh
Hana. Photo by Jasmine Safaeian.
Hana performs at the Lyric Theater in Los Angeles, California, March 2016. Photo by Tibrina Hobson/Getty Images.
Hana, far left, performs with Grimes, center, in Gulf Shores, Alabama, May 2016. Photo by Getty Images.
Hana. Photo by Jasmine Safaeian.
Hana. Photo by Jasmine Safaeian.
Hana. Photo by Jasmine Safaeian.
Hana, second from left, performs on The Tonight Show Starring Jimmy Fallon with Grimes (all in Zac Posen), May 2016. Photo by Andrew Lipovsky/NBC/NBCU Photo Bank.