Majestic Moorea
Model-turned-swimwear designer Hanalei Reponty shares the source of her inspiration.
---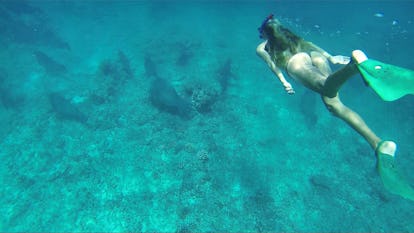 What is your favorite beach and why? My favorite beach is a hidden gem called Temae located on the island of Moorea, in French Polynesia. It is raw and beautiful, surrounded by vibrant colors with green from the mountains reflecting on water as crystal clear as you can imagine. Whales, sharks and dolphins cruise in the channel while perfect waves crash on the reef. Every time I step on this beach, I feel a sense of freedom, of untouched beauty, and I feel like Mother Nature is surrounding me. What is your favorite insider tip about this location? Moorea is accessible via ferry, from the main island, Tahiti. The ride is 30 minutes, and my favorite part is the sense of being lost on the ocean between two islands. Bring a lot of sunscreen and water, as you won't find any shops around! It is as wild as it gets. Be aware, it's a tough break to surf, as it is set on sharp reef—not for beginners! How does it inspire your work? I was born and raised in Tahiti, so the Polynesian landscape and its marine life has been a constant source of inspiration. My first collection was designed with its aesthetic in mind, as both of my prints are inspired by the underwater world and the beautiful inhabitants that roam our oceans.
What is your favorite beach memory? They are countless. I grew up on the beach, spending hours in the ocean, surfing and swimming all day, surrounded by my family and friends. Surfing led me to travel the four corners of the world and I got to surf in places I never thought I would. Every single trip is a memory that I will cherish for the rest of my life. An amazing memory of this past month: My boyfriend (Patrick Gudauskas) and I got to travel to the Maldives, where we surfed empty waves by ourselves for a week straight. On the first day, we paddled across the tiny lagoon and over the reef, and as we reached the pass, a huge pod of thirty Napoleon fish followed us into the waves. I felt so small and humble. It was surreal.
What do you always bring to the beach? Surfboard, as I can't stay on the beach if the waves are fun; my Abysse wetsuit to keep me warm; wax; a ton of sunscreen; hat and sunglasses; a huge towel; a couple liters of water; and a good book
Photo courtesy of the designer.
Photo courtesy of the designer.
Photo courtesy of the designer.
Photo courtesy of the designer.
Photo courtesy of the designer.
Photo courtesy of the designer.
Photo courtesy of the designer.