Open Sesame
Swedish artist Hanna Liden talks about her carb-heavy installation.
---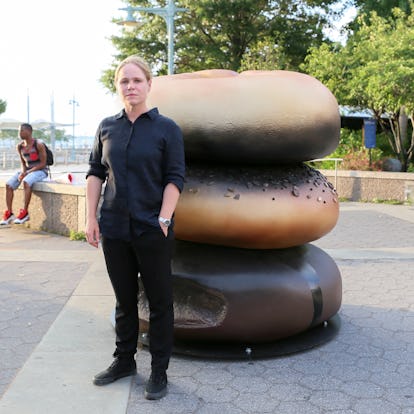 On Monday night, a group of artists, collectors, and curators watched the sunset over Hanna Liden's "Everything," a new site-specific installation sponsored by Kiehls and the Art Production Fund on New York's Hudson River Park. The title refers to the project's unusual muse, the bagel, which Liden deploys as a universal symbol of the city. "It was something I didn't encounter until moving here," explains Liden, a transplant from Stockholm. "It's the great icon of New York, it crosses every demographic, every time—from board meetings to funerals."
In the works for a year, the mammoth public sculptures represent a first for the artist—who until now has only shown her work in galleries and museums. "I'm so honored," she says. " When I moved here 17 years ago, I decided to make New York my home. Now I have a chance to give something back."
Hanna Liden. Photo by BFAnyc.com.
Casey Fremont, Dustin Yellin, and Doreen Remen. Photo by BFAnyc.com.
Liden's "Everything". Photo by BFAnyc.com.
Klara Liden and Clarissa Dalrymple. Photo by BFAnyc.com.
Michele Maccarone. Photo by BFAnyc.com.