5 Minutes With Hannah Bronfman
The DJ-turned-entrepreneur reveals her beauty secrets.
---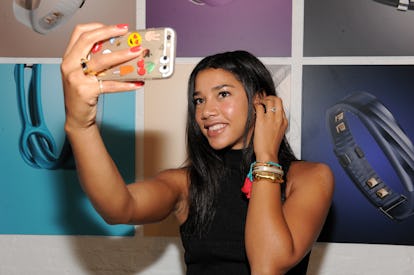 What is your favorite beauty hack? ASAP silver gel is great for scars!
What beauty products are currently in your purse? Clinique Chubby Sticks, Air Repair Balm, Urban Decay All Nighter Long-Lasting Makeup Spray, MSM vitamins, Anastasia Brow Gel, and Tarte smooth operator powder in tan.
What's your five-minute beauty routine? Clinique 3-Step System, swipe my brows with Anastasia Brow gel, quick strokes of Tom Ford blush and some Clinique Chubby Stick in Blossom.
If you had an extra ten minutes to devote to your routine, how would you spend it? My hair! I usually just brush it when I get out of the shower and pull it back, but if I had time I would dry it with a diffuser and then go over the curls with a curling iron.
What product are you currently obsessed with? My new UP3 activity tracker from Jawbone! I use it to make sure I'm getting enough beauty sleep as well as keeping an eye on my steps and heart rate. It's great because it blends right in with my bracelets!
What is your first beauty memory? I put my mom's foundation all over my face. Her skin is much darker than mine so you can imagine how that turned out. I looked like a tiger!
What is your worst beauty mistake? I got a round brush stuck in my hair and had to cut it out… I was 5.
What is your beauty pet peeve? Pencil thin eyebrows!