Hannah Bronfman, Bride-to-Be and Fitness Extraordinaire, Is Getting Ready For Her Wedding By Working Out Less
A few weeks off from getting married to fellow DJ Brendan Fallis, Bronfman advises a pre-wedding fitness routine that's much heavier on saunas and sleep than classes with Tracy Anderson.
---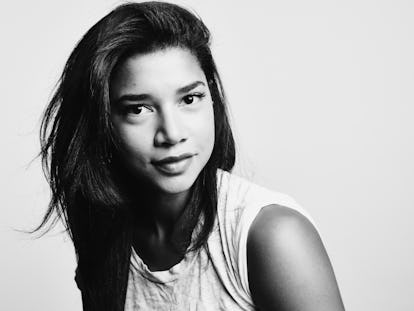 Ben Rosser
Given her enviable set of abs and surprising amount of Instagrams featuring her husband balanced on top of them, one might expect Hannah Bronfman, who's a DJ, an entrepreneur, and essentially a professional exerciser, to spend her pre-wedding days working up even more of a sweat. As it turns out, though, Bronfman has an extremely refreshing approach to the unfortunate pressure for brides-to-be to lose weight: "It seems like #sheddingforthewedding and #slimmingdownforthegown have become huge trends lately, and the marketing craze of the pre-wedding slim down has really started getting on my nerves," she wrote on her fitness website, HBFIT. With just a few weeks to go until the big day, Bronfman talked more about how she's actually taking a step back from her usual routine—unlike her fiancé, fellow DJ and fitness obsessive Brendan Fallis—here.
You're getting married in three weeks, and you've been engaged since August 2015. Have you changed up your fitness routine at all in that time—and have you felt a pressure to change it up, as most brides-to-be do?
I've definitely been shocked by how many people have asked me if I was planning on losing weight, whether it was the tailor or parents or friends, but I've really been trying not to give into those pressures. Normally I work out six days a week, but these days, for the last two months or so, I've actually been trying to work out a little bit less than I normally do, and doing three or four. Not only do I think that working out creates cortisol in the body, but it also causes inflammation.
What do you do on the days you do end up working out?
If I end up doing something high-intensity, I really try to pair it with something lengthening, like pilates at Sal Anthonys Movement Salon, or classes at ModelFIT. I've actually started doing a different class because I just DJ-ed for the opening of Tracy Anderson's new boutique, so they've been treating me, and I have to say, I really like them. But I'm not going crazy working out every single day—I'm really trying to be cautious of, say, waking up at 8 a.m. and getting a workout in. I'm taking sleep a bit more seriously too, because I feel sleep is as key to looking and feeling your best, and it's good to switch it up by working out in the afternoon sometimes, because your body gets used to things if you're constantly working out every morning.
Have you picked up any new habits in the time you used to use for exercise?
I have an infrared sauna from Higher Dose that's like a sleeping bag that I use on the days when I don't work out, especially on the weekends. I really do want to sweat, but not overworking my body can be difficult, so the sauna is a sweet spot—the perfect middle ground. It also releases toxins and is really key to good skin, and I think that's also a common thing people kind of get tripped up on—when they start working out a lot, their skin tends to break out because there can be bacteria and cortisol spikes that increase your hormones. So making sleep a priority and sweating and washing right after a workout has really helped me maintained clear skin, which has also been more of my goal than working out. I'm not too nervous, but I also have been doing acupuncture, which I feel like really helps with your nervous system and just general well being and keeping everything super in tune.
Has it been nice to take a bit of a break?
I'm the type of person who's more comfortable on the go, being super busy, running from place to place, and of course working out, so it's definitely been challenging to just take a step back—but it's also been really nice. It's a very busy season for me, with a lot of travel, and the lack of consistent routine has almost helped my cause at this point. Plus, there are so many random things and loose ends I need to tie up, work-wise, before we embark on our wedding, and I'm not stressing about when I'm working out, so it's actually quite nice. I've been keeping a pretty clean diet, too, so I actually feel great; for me, it's all about maintaining, and I feel like I have definitely maintained.
Do you ever work out with your fiancé?
I take him to my pilates place; he loves it there. He'll make a private with this kind of gyrotonics biometric instructor, so sometimes we just walk to the studio together, or we'll take a class. But other than that, Brendan's really on his own regimen, and he's loving it. It's funny—I feel like he's totally changing up his routine and shedding for the wedding while I'm taking a different approach. And I can totally understand the pressures: Everybody is like their own celebrity the day of their wedding, because everyone wants to take photos of you and surround you with love and happiness. It can be a lot, so I can understand someone feeling very self aware and struggling with their confidence, especially for someone not keen on being center of attention.
My advice, though, would be to focus more on your mental health and well being as opposed to physical, because you're going to look back on your wedding photos in 40, 50 years, and you want to look like you. I feel like there's so many brides that lose so much weight, and then after the wedding their weight goes back up, and they're like, "damn, I wish I looked like that again." I'd rather look back at my photos and just think, "Look how happy I was."
Watch an Intimate Moment with Ciara, Before Her Wedding to Russell Wilson: