Happiest Season: The Trailer for Kristen Stewart's Big, Gay Christmas Film Is Here
Dan Levy and Aubrey Plaza round out the cast.
---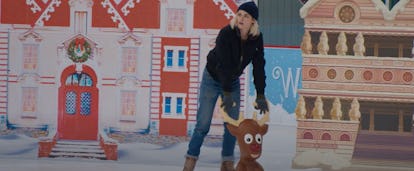 If you wanted to live in a world where the last four years didn't just happen, well, the trailer for the Kristen Stewart-starring feel-good lesbian holiday rom-com Happiest Season is here!
The two-minute 28-second clip feels like both a throwback to the most traditional of family-centric holiday movies, but also a step forward by grace of the fact that queer-centered traditional family holiday movies really haven't been much of a thing before. Especially with such a mainstream cast.
Stewart stars as Abby, a woman with the "perfect relationship" with her girlfriend Harper, played by Mackenzie Davis. The pair live together, but Abby has two big relationship milestones left to cross off her list: actually meeting Harper's family for the first time, and proposing. Naturally, there's a hitch: the moment before they roll up to the family home, Harper reveals that she never came out to her family and Abby is going to have to pretend to be her orphaned roommate who had nowhere else to go for the holidays.
The cast is also packed with familiar faces. Dan Levy plays K-Stew's best friend. Alison Brie is Harper's ultra-competitive sister. Mary Steenburgen and Victor Garber play the parents (named Ted and Tippy, of course). Aubrey Plaza also pops up as a character that seems to be Harper's ex (it would make sense to have the character have a definite type).
The film is also arguably Stewart's first turn as a romantic lead in a mainstream film since her days at the center of the Twilight universe. And while it's not Stewart's first time playing a woman in a same-sex relationship on screen, it certainly might be her happiest (the last lesbian-themed film Stewart starred in was about the axe murderer Lizzie Borden).
The film was originally set for a theatrical premiere, but instead will be released on Hulu on November 25th.
Related: Actually, Kristen Stewart "Relishes" Being Photographed With Her Girlfriend