Au Revoir, Paris! Hari Nef, Eva Chen, and Imran Amed Sound Off On Paris Fashion Week
In Paris, Anne Hidalgo, the city's mayor, and Imran Amed, founder and CEO of The Business of Fashion, co-hosted a cocktail reception at Hôtel De Ville, celebrating the launch of the fourth annual #BoF500.
---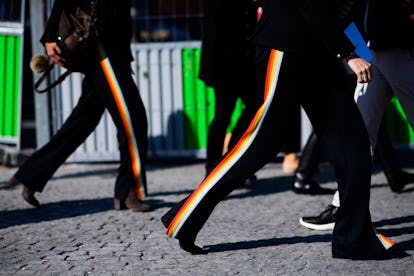 "I've been getting to know the Federation much better in recent years, and we wanted to do an event in Paris for a very long time, so they introduced me to the mayor's office, and it was like magic," said Imran Amed inside Hôtel de Ville on Tuesday night. "It's been a real pleasure."
The Business of Fashion founder was co-hosting a cocktail event with Paris mayor Anne Hidalgo to celebrate the fourth annual #BoF500 – a list of the top names shaping the fashion industry.
"It is very kind of them to open the doors of this incredible, historical building to the fashion industry," said Amed. "For me, it speaks in a wider way about Paris being an open city and trying to show that despite some of the challenges that have been happening here, the fashion industry is so important to this country. It's 150 billion euros industry, so for them to welcome all of us here, I think it's a significant gesture."
Highlights of Paris Fashion Week?
"It was a really surprising week in a lot of respects," he said. "There were a lot of debuts, a lot of new designers in old houses, and I think that in a lot of cases, we still have to wait and watch what's going to happen, so I'm not passing judgement just yet. What's clear to me, I don't think it's an accident that fashion month ends in Paris – we end on a high note."
"Seen a lot of friends, made new friends, got sleep, partied, worked a little bit – feels like it's all about Paris right now," said model and actress Hari Nef. "I loved Vejas. [Vejas Kraszewski is] 19 years old, showed his first collection in Paris this week, and I'm just so proud of him," she continued. "We met on Tumblr when he was 16, I was 20. I used to steal contacts from my internships for lookbooks for him, and he'd come down from Toronto, and we would put it all together. I was walking his presentations in New York before I was signed, and now we're in Paris together."
Pigalle designer Stéphane Ashpool summed it up with: "Hectic, a lot of people, a lot of creativity. Paris is the best place in the world for fashion. The quality of the work that the designers give us is just crazy."
He has a project in the works with Bruno Pavlovsky, president of Chanel, he said, "and something coming out with Nike." In other words, "It's going well…"
"Many new beginnings," said Trend Micro CEO Eva Chen. "For me, one of the moments that stood out has been the support that a lot of designers are showing other designers. How at Pierpaolo Piccioli's first show for Valentino, Olivier [Rousteing] came and Maria Grazia [Chiuri]. Pierpaolo Piccioli went to Maria Grazia [Chiuri]'s show. And then, when Alber [Elbaz] received the Legion of Honor, other designers were there as well. To me, a lot of the time people think fashion is about divisiveness, but this season – maybe it's my pregnancy hormones – there have been a lot of moments where it's so wonderful to see people supporting each other."
Sofía Sanchez de Betak kept it short: "My highlights were the times off, going to the flea market and buying vintage. Living more now…"
"I've been coming to Paris Fashion Week for many, many years, and this is as good as it's ever been," said man about town James Goldstein, the American millionaire and seasonal front row face – always with two young blondes by his side. "Fantastic shows, great parties, the most beautiful city in the world. This is a highlight right now."
Photo by Victor Boyko/Getty Images for The Business Of Fashion
Imran Amed and Gaia Repossi

Photo by Victor Boyko/Getty Images for The Business Of Fashion
Photo by Jacopo Raule/Getty Images for The Business Of Fashion
Photo by Jacopo Raule/Getty Images for The Business Of Fashion
Photo by Jacopo Raule/Getty Images for The Business Of Fashion
Photo by Jacopo Raule/Getty Images for The Business Of Fashion
Photo by Jacopo Raule/Getty Images for The Business Of Fashion
Photo by Jacopo Raule/Getty Images for The Business Of Fashion
Photo by Victor Boyko/Getty Images for The Business Of Fashion
Photo by Jacopo Raule/Getty Images for The Business Of Fashion
Photo by Jacopo Raule/Getty Images for The Business Of Fashion
Alexandre and Sofia Sanchez de Betak

Photo by Victor Boyko/Getty Images for The Business Of Fashion
Princess Deena Aljuhani Abdulaziz

Photo by Jacopo Raule/Getty Images for The Business Of Fashion
Photo by Jacopo Raule/Getty Images for The Business Of Fashion
Photo by Jacopo Raule/Getty Images for The Business Of Fashion
Photo by Jacopo Raule/Getty Images for The Business Of Fashion
Photo by Jacopo Raule/Getty Images for The Business Of Fashion
Photo by Jacopo Raule/Getty Images for The Business Of Fashion
Photo by Victor Boyko/Getty Images for The Business Of Fashion
Watch: Chanel Spring 2017 Was All About "Timeless Femininity"