Hari Nef Teams Up with Gucci, Again, for a Mystery Project
One of the perks of being a close personal friend of Alessandro Michele.
---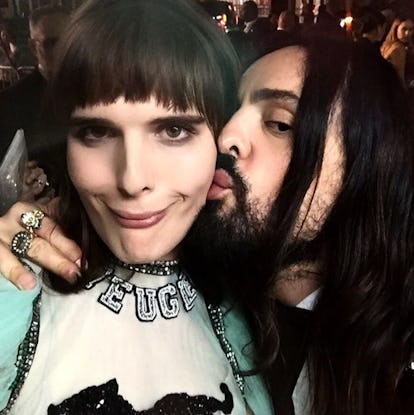 Dad, Art Tremain Emory and Acyde, founders of No Vacancy Inn and newly minted Off-White collaborators, explain. Here's one thing: It's not a wardrobe for the Trump inauguration.
Gabbana, Dolce & Just one of the brands — including Prada, Bottega Veneta, Gucci, and DSquared2 — incorporating womenswear into its menswear shows. Sure, one show is cheaper than two, but does it signal a more mainstream acceptance of gender fluidity?
Nef, Hari Joining Dakota Johnson, the current face of Gucci, and Petra Collins, a frequent model for the brand and the face of its Fall 2016 campaign, on a mystery project for Alessandro Michele.
Trump, Donald Will be inaugurated today. And he's adding to his agenda, threatening to slash funding for the National Endowment for the Arts — which wasn't even on his campaign platform. Not that that makes a difference for Trump. In other inauguration news, Ralph Lauren has turned coat, outfitting future first lady Melania Trump for the inauguration ceremony.
Versace Reportedly eyeing Givenchy's Riccardo Tisci to succeed Donatella Versace as its creative director.
Vuitton, Louis Though the storied French house feuded with Supreme over copyright infringement a few years back, it seems that they've kissed and made up; the Supreme logo made a less-than-subtle appearance on the Louis Vuitton Fall 2017 menswear runway, part of a new collaboration between the brands.
Meet the women behind the Women's March on Washington: