Harlequin Romance
Viktor & Rolf, the avant-garde Dutch duo, have teamed up with Shu Uemura on three sets of fantastical faux eyelashes.…
---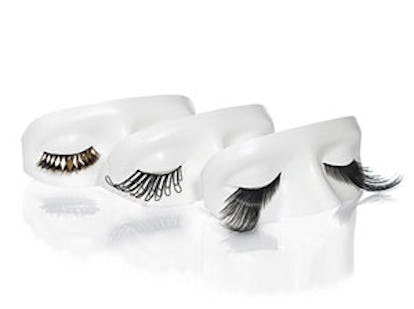 For their spring 2008 collection, Viktor & Rolf took inspiration from Marcel Marceau and Commedia dell'Arte, riffing on Pierrot-style collars and Harlequin prints. Now, the avant-garde Dutch duo have teamed up with Shu Uemura on three sets of fantastical faux eyelashes in the same whimsical vein.
The style dubbed Wing is inspired by the feathers of a dove, while Swirl is a sweeping, flirtatious fringe. The most theatrical of the trio is Rhombus, a lush lash adorned with a strip of diamond-shaped mirrored gold sequins.
"When we were young, by coincidence, we both had the same picture of a Pierrot on our walls," explained Rolf Snoeren. "This Pierrot had roses, violins and flying doves, and it was something we wanted to translate through the Wing and Swirl." The idea was to "play with those very simple clichés of romance," added Viktor Horsting.
And yes, the designers do imagine real women wearing the lashes. "They can be worn as an accessory, when a woman is feeling festive," said Snoeren of the flutterers, which will be available in August ($95 per pair, shuuemura-usa.com). Then again, nothing's quite ordinary in their world. "We rarely have the feeling that anything is too much," he admitted.
Photo: Courtesy of Firstview.Com