Harry Styles Is Narrating Bedtime Stories Now, Because None of Us Can Sleep Anymore
Allow the British musician to wish you sweet dreams as he reads a bedtime story on Calm, a popular meditation app.
---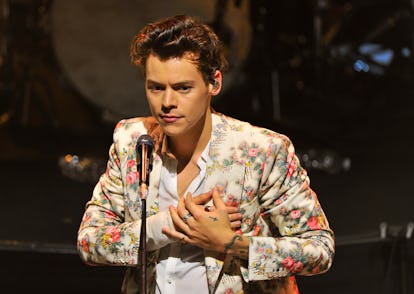 Steve Jennings/Getty Images
With so much going on—a global coronavirus pandemic, political and social unrest, to name a few—most people would probably agree that it's become increasingly difficult to fall asleep at night lately. At this point, fewer things sound more tantalizing than being sedated (not literally) by a soothing voice at bedtime.
That's where Harry Styles comes in. No, he won't literally be able to travel to everyone's homes like some sort of British Santa Claus to actually sedate them, but his voice will help you fall asleep as you listen to him read a bedtime story.
Calm, a popular meditation app has tapped the musician to read a 30-minute tale as part of their "Sleep Story" vertical. In "Dream With Me," Styles will narrate a story to help you fall fast asleep.
Just two days ago, the Calm Instagram account teased this new addition to their voice roster by sharing a string of emojis that included the watermelon, which fans of Styles will recognize as a reference to his Fine Line single "Watermelon Sugar." Styles is also an investor in the Calm app, so it should not have come as a surprise for him to eventually give his voice to one of the app's features. The following day, Calm confirmed Styles's involvement on social media.
"Sleep and meditation are a huge part of my routine, whether I'm at home, in the studio, or out on the road," Styles said in a press release from the app. "Rest and recovery is as important as doing the work. Finding a balance has been endlessly beneficial to both my physical and mental health. It's changed my life. I'm so happy to be collaborating with Calm at a time when the world needs all the healing it can get. Treat people with kindness."
If you've ever been skeptical about the power of meditation and mindfulness, now is your chance to test it out. And if the soothing voice of Styles is not your thing, there are other celebrities who have lent their voices to the app, including LeBron James, Lucy Liu, Kelly Rowland, and Laura Dern. There's really something for everyone.
Related: Harry Styles Really Loves Watermelons in His New Video