Harry Styles May Be Dating Victoria's Secret Model Camille Rowe, Sources Say
And fans are already in her mentions.
---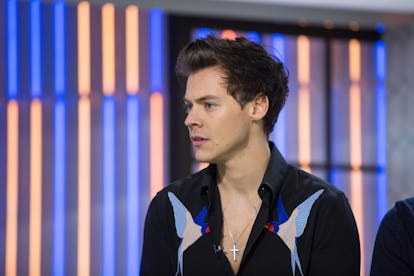 NBC
A few weeks ago, Harry Styles played the Heart Rate Challenge with radio host and BFF Nick Grimshaw, who grilled him on a number of things. Throughout the segment, we learned that Harry's heart spikes when someone mentions Ryan Gosling and really gets going if you bring up Chelsea boots.
But in the mix of questions was Camille Rowe, who walked the Victoria's Secret Fashion Show in 2016. Of Camille, who is also an actress, Harry told Nick that "I don't know her," but added that "I'm sure she's wonderful. I'm sure she's a wonderful person."
Now, however, The Sun is reporting that there could be more to this than people first thought. The paper published photos of Styles and Rowe at a party together in New York City over the weekend of July 28. What's more, a source told them that "Harry and Camille are in the early stages of dating. He's very protective of his relationships so isn't going to want to make a big show of things. They are well suited and seem happy." The source added that "She's a real star on the rise" and Harry "seems besotted."
Given that all of these comments came from an unnamed source and not from Styles or Rowe themselves, it's important to take these rumors with a grain of salt. After all, being photographed together at a party means, generally, that you were photographed together at a party, no more. And there's nothing wrong with that, either — everyone needs friends, and having friends that go to parties with you almost guarantees you'll have a good time. Reading any further is dangerous, and until Harry or Camille set the record straight, we don't know what — if anything! — is going on.
Unfortunately, that hasn't stopped Harry's fans from heading into Camille's mentions and leaving a number of snake emoji and other comments. Others are leaving comments alleging that "Larry" — the ship name for Harry Styles and One Direction bandmate Louis Tomlinson — is "real", even though Louis dispelled that rumor again last week.
"People can believe what they want to believe, but I just think it comes across some times as a little bit disrespectful, to the ones that I love," he said.
The comments come in stark contrast to #RespectHarry, a hashtag that was trending last week after several fans reportedly showed up at Harry's door with flowers. At the time, fans implored each other to:
"Respect his privacy Respect his sexuality Respect his girl friends Respect his family Respect his band mates Respect HIM."
That respect should extend to Camille Rowe, whether or not they are dating.
Related: Camille Rowe, One-Time Playboy Model and Face of Dior's New Fragrance, Is a Self-Described "Nasty Woman"
Harry Styles' Fashion Style Evolution: See 32 of the Pop Star's Best Looks
Harry Styles attends the "DUNKIRK" premiere in New York City.

Getty
Harry Styles attends "Dunkirk" Premiere at Ocine on July 16, 2017 in Dunkerque, France.

Getty
Harry Styles attends the 'Dunkirk' World Premiere at Odeon Leicester Square on July 13, 2017 in London, England.

Getty
Promoting his new album, Styles wears a red plaid suit out in London.

Getty
Styles stays committed to Gucci in a logo sweatshirt while out in Paris in 2017.

Getty
Styles performs on NBC's "Today" at Rockefeller Plaza wearing a shocking pink suit.

Getty
Harry Styles performs "Sign of the Times" in a Gucci suit on Saturday Night Live.

Getty
Styles shows off his dramatic haircut, but keeps it classic in his fashion choices with a perfect fitting black suit and crisp white shirt.

Getty
For the BBC Music Awards, Styles wore black and white vertical striped pants and a black shirt. Here he is on the red carpet with his bandmates from One Direction.

Getty
Not ever afraid to take a risk on the red carpet, Styles wears a floral Gucci suit with wide-legged trousers.

Getty
Styles greets his adoring fans in a navy spring coat and gray jeans on his way into BBC Radio 2.

Getty
Fearlessly wearing a Gucci geometric print two-piece suit and black leather boots, Styles attended an event in London.

Getty
Styles wears a bold Saint Laurent bomber jacket to perform One Direction's latest single as part of Good Morning America's summer concert series.

Getty
Attending the Capital FM Summertime Ball with One Direction, Styles wears a chevron-printed shirt with a skinny scarf.

Getty
Styles attends the Glam Rock Christmas Party in London in a revealing black shirt and long, striped trousers.

Getty
Taking a major fashion risk on the red carpet, Styles wears a Lanvin striped suit and black boots.

Getty
Performing with One Direction at the 2014 American Music Awards, Styles wears a gold embellished jacket and low-rise jeans.

Getty
Styles, along with the other boys of One Direction, attend the Royal Variety Performance with the Royal family. Styles wears an animal print jacket over a black low-cut shirt.

Getty
Styles goes full rock-and-roll at LAX in all black jeans and t-shirt, accessorized with a blue scarf, wide-brimmed hat, and sunglasses.

Getty
At the launch for One Direction's fragrance, Styles wears a oversized plaid shirt, unbuttoned in his usual manner, tight jeans, and a large hat.

Getty
Seen out with friends (Hi, Ed Sheeran), Styles wears a Calvin Klein sweatshirt and a head scarf wrapped around his famous locks.

Getty
For the 2013 British Fashion Awards, the London megastar shows up in a sheer black shirt, blazer, and a scarf.

Getty
Styles wears a dark wool coat over an animal print shirt and black jeans at the Burberry Spring/Summer 2014 show.

Getty
For the World Premiere of One Direction This is Us, Styles wears a heart print Burberry shirt under a black suit.

Getty
Styles, showing off his tattoos in an unbuttoned shirt, and Miley Cyrus pose together backstage at the 2013 Teen Choice Awards.

Getty
Seen in Miami Beach to film a One Direction music video, Styles steps out in unbuttoned plaid shirt and a tan hat.

Getty
Styles gets buttoned up in a double-breasted suit and patterned shirt at a dinner in London.

Getty
Harry Styles' fashion for a 2012 taping of the Late Show With David Letterman with his band One Direction featured a monochromatic ensemble completed by leather moto boots.

Getty
True to the trends, Styles wears a blazer with pushed up sleeves over a gray shirt at BBC Radio 1 Teen Awards.

Getty
Styles goes casual with black jeans, a gray t-shirt and Converse while hanging out with Nick Grimshaw at the Shoreditch House in London.

Getty
Watch: Leonardo DiCaprio's Notorious Dating History