Harry Styles's Debut Album Cover Is Here and It's Millennial Pink
In true "my boy band days are over" form, he's also shirtless.
---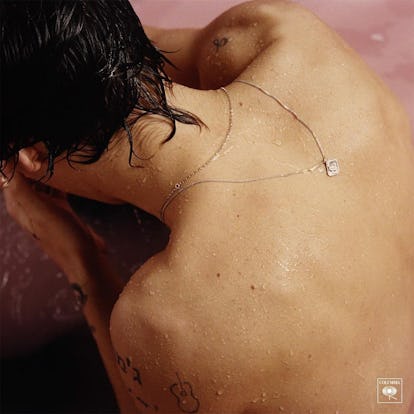 That distant, piercing sound you heard off in this distance wasn't you imagination. No, it was the sound of a thousand teenage girls around the world shrieking. Harry Styles has officially revealed his new album cover, and it is shirtless.
The One Direction singer took to social media early this morning to announce that his highly-anticipated solo album finally has a release date…and it's a lot sooner than expected. According to his Twitter and Instagram posts, the singer's first-ever album will drop on May 12, which is less than a month away.
Styles also posted the cover art and a track lis for the album (queue more shrieking). The photo on the cover features a shirtless, wet Styles, pictured from the back, with a couple of gold chains draped around his neck (perhaps from Kanye West's new collection). From what he posted on Insta, it looks like there will be 10 songs on the album, with his debut single "Sign of the Times" coming in at Track 2.
Perhaps most notable, in terms of Internet fads, is that the album cover reveals that, like you, Styles is a fan of 'Millennial pink,' the blush-toned hue that has risen to popularity thanks to use with brands appealing to, well, millenials (See: Glossier, The Wing, etc.).
But back to the music. If previous rumors hold true, the singer's upcoming album will have a totally new sound for the singer (or should we say a brand-new style). His solo music has been compared to '70s British rock, like David Bowie or Queen, evident in"Sign of the Times," which dropped last week. Luckily, the masses won't have to wait much longer to get a further taste: Styles is set to perform on this weekend's Saturday Night Live, alongside host Jimmy Fallon. If you have any teens nearby, now may be the time to stock up on noise-cancelling headphones.
Related: Gigi Hadid, Karaoke Star, Takes On "Baby" by Justin Bieber
Harry Styles' Fashion Style Evolution: See 32 of the Pop Star's Best Looks
Harry Styles attends the "DUNKIRK" premiere in New York City.

Getty
Harry Styles attends "Dunkirk" Premiere at Ocine on July 16, 2017 in Dunkerque, France.

Getty
Harry Styles attends the 'Dunkirk' World Premiere at Odeon Leicester Square on July 13, 2017 in London, England.

Getty
Promoting his new album, Styles wears a red plaid suit out in London.

Getty
Styles stays committed to Gucci in a logo sweatshirt while out in Paris in 2017.

Getty
Styles performs on NBC's "Today" at Rockefeller Plaza wearing a shocking pink suit.

Getty
Harry Styles performs "Sign of the Times" in a Gucci suit on Saturday Night Live.

Getty
Styles shows off his dramatic haircut, but keeps it classic in his fashion choices with a perfect fitting black suit and crisp white shirt.

Getty
For the BBC Music Awards, Styles wore black and white vertical striped pants and a black shirt. Here he is on the red carpet with his bandmates from One Direction.

Getty
Not ever afraid to take a risk on the red carpet, Styles wears a floral Gucci suit with wide-legged trousers.

Getty
Styles greets his adoring fans in a navy spring coat and gray jeans on his way into BBC Radio 2.

Getty
Fearlessly wearing a Gucci geometric print two-piece suit and black leather boots, Styles attended an event in London.

Getty
Styles wears a bold Saint Laurent bomber jacket to perform One Direction's latest single as part of Good Morning America's summer concert series.

Getty
Attending the Capital FM Summertime Ball with One Direction, Styles wears a chevron-printed shirt with a skinny scarf.

Getty
Styles attends the Glam Rock Christmas Party in London in a revealing black shirt and long, striped trousers.

Getty
Taking a major fashion risk on the red carpet, Styles wears a Lanvin striped suit and black boots.

Getty
Performing with One Direction at the 2014 American Music Awards, Styles wears a gold embellished jacket and low-rise jeans.

Getty
Styles, along with the other boys of One Direction, attend the Royal Variety Performance with the Royal family. Styles wears an animal print jacket over a black low-cut shirt.

Getty
Styles goes full rock-and-roll at LAX in all black jeans and t-shirt, accessorized with a blue scarf, wide-brimmed hat, and sunglasses.

Getty
At the launch for One Direction's fragrance, Styles wears a oversized plaid shirt, unbuttoned in his usual manner, tight jeans, and a large hat.

Getty
Seen out with friends (Hi, Ed Sheeran), Styles wears a Calvin Klein sweatshirt and a head scarf wrapped around his famous locks.

Getty
For the 2013 British Fashion Awards, the London megastar shows up in a sheer black shirt, blazer, and a scarf.

Getty
Styles wears a dark wool coat over an animal print shirt and black jeans at the Burberry Spring/Summer 2014 show.

Getty
For the World Premiere of One Direction This is Us, Styles wears a heart print Burberry shirt under a black suit.

Getty
Styles, showing off his tattoos in an unbuttoned shirt, and Miley Cyrus pose together backstage at the 2013 Teen Choice Awards.

Getty
Seen in Miami Beach to film a One Direction music video, Styles steps out in unbuttoned plaid shirt and a tan hat.

Getty
Styles gets buttoned up in a double-breasted suit and patterned shirt at a dinner in London.

Getty
Harry Styles' fashion for a 2012 taping of the Late Show With David Letterman with his band One Direction featured a monochromatic ensemble completed by leather moto boots.

Getty
True to the trends, Styles wears a blazer with pushed up sleeves over a gray shirt at BBC Radio 1 Teen Awards.

Getty
Styles goes casual with black jeans, a gray t-shirt and Converse while hanging out with Nick Grimshaw at the Shoreditch House in London.

Getty