Harry Styles Brings Back Driving Gloves in New "Golden" Video
Harry Styles released his music video for "Golden" and it's a much needed ray of sunshine—as well as a demonstration of his eye for vintage accessories.
---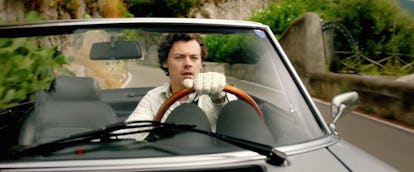 Harry Styles in "Golden" courtesy of YouTube.
Perhaps the best way to film a truly socially distant music video in quarantine is to just simply star in the music video all by yourself. At least that's what Harry Styles seems to have done in his music video for "Golden," which he just dropped today.
At some point, presumably during the pandemic, Styles was running up and down a hill along the Amalfi Coast, all by his lonesome in an over-sized white button up shirt and some terry cloth running shorts for the music video to accompany his Fine Line single, "Golden." It's quite the opposite aesthetic from "Watermelon Sugar," which featured a clique of bikini clad babes fawning over the musician while he takes a bite into some watermelon, suggesting that the song is about exactly what you thought it was about. The lyrics of "Golden" are quite different than the ones in "Watermelon Sugar," too, as he croons all about not wanting to be alone in this one.
But if there's one thing about Hazza, he's going to give you a gender-neutral accessorized moment. His relationship to his pearl necklace has already been analyzed, but how about these crocheted cream-colored driving gloves he wears in the "Golden" video?
Well, of course they are Gucci—that should be a given at this point for the musician muse of Alessandro Michele's vision for the Italian luxury brand. We also know know the man loves his knits, and the driving gloves seem to be the latest addition to his collection of eccentric accent pieces. Plus, that's not the only chic accessory worn by Styles in this video—he also gives us a Paddington Bear moment with a yellow bucket hat perched atop his head. Surely, the passersby at the end of the video weren't prepared for this ray of sunshine to hop on top of the hood of their car, and give them a good reason to get on the driving gloves trend.
Related: We Need to Talk About Harry Styles's Pearl Necklace