From Justin Timberlake to Harry Styles: Why Fashion In Music Videos Is So Important For Boy Band Members Going Solo
When it comes to cultivating your image as a solo male artist, post boy-band fame, fashion matters. Here, what five singers wore in their first music video.
---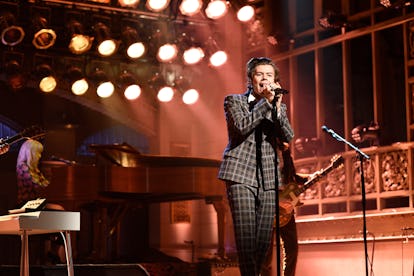 NBC
Two lines into his first single as a solo artist, Harry Styles sings about fashion: "Welcome to the final show/Hope you're wearing your best clothes." It's a fitting ode, as Styles ventures into a new stage of his career when his overall image matters just as much as the music he produces: the oh-so-delicate transition from boy-bander to individual phenomenon. It's a journey that doesn't get quite the same painstaking over-examination as its female counterparts (think Disney stars becoming pop princesses: Miley with her foam finger; Christina Aguilera getting "Dirrty," etc.), but one that is is just a prevalent in the pop culture landscape.
Think of that solo first music video as these singers' sartorial bar mitzvahs, as boys become men. After years of sharing every stage, photoshoot, and interview with several other similarly marketed guys, this is finally the moment to shine. Sure, the song matters, but it's the look that will stick in the fans minds as who they are—and what they look like—as a solo artist. No pressure, right?
Today, Styles released his first video post-One Direction for the aforementioned song "Sign of the Times," a five minute clip that sees the 23-year-old quite literally taking flight (how's that for heavy-handed symbolism) in a Gucci ensemble. Here, a look back at what four other boy-banders gone solo wore in their debut music video.
Paul McCartney in "Maybe I'm Amazed" (1970)
After a decade in The Beatles, McCartney went solo in 1970 with the release of his first record, McCartney. The lead single off the album, "Maybe I'm Amazed," would go on to be one of his most famous hits of all time. Written for his wife at the time, Linda, the video very much relates to the adoring nature of the lyrics. Directed by David Puttnam and produced by Charlie Jenkins in 35mm colour, the clip is less of a music video (officially, it wasn't even called a music video, but a "promotional film") and more of moving scrapbook of images taken by Linda. The message, however, was clear: gone was the perfectly polished mop-top and sharp suits, and in it's place, scruffy facial hair and relaxed button-downs. A folky McCartney for some folky music.
Michael Jackson in "Don't Stop 'Til You Get Enough" (1979)
It may not be Michael Jackson's most iconic music video look (that honor, of course, goes to 1982's "Thriller"), but his first solo video certainly had a vision: Jackson grows up, and boy is he fancy. The singer ditched his afro and colorful jumpsuits in favor of a classic tuxedo. But don't let the buttoned up look fool you: those sleeves bunched up at the elbows indicate a man who is not afraid to bust a move, a trait that would come to define much of Jackson's career.
Justin Timberlake in "Like I Love You" (2002)
With a saccharine saturated past (the one-two punch of The Mickey Mouse Club and 'Nsync's bubble-gum pop will do that), it came as no surprise the Timberlake opted to go in a completely new direction for his debut album, Justified. His strategy? Team with Pharrell Williams and feature rap duo Clipse on "Like I Love You," a track that mixed in hip-hop references to Timberlake's pop-leaning tendencies. For the video, the singer stayed far away from the turtlenecks and all-white ensembles of his 'Nsync days, in favor of leather jackets, baggy jeans, and, for whatever reason, a crocheted beanie. Other accent pieces include a 7-Eleven t-shirt (worn while dancing in front of an actual 7-Eleven), a fedora, fingerless gloves, and layered turquoise necklaces. It was a lot of look, but Timberlake has since made a very successful career on being, well, a lot.
Zayn in Pillowtalk (2016)
Soon after leaving One Direction, Zayn made it quite clear that he never much liked being in a boy band to begin with, and his first solo video said just as much. What's more anti-teen heartthrob than cutting and bleaching your beloved locks? Add in a makeout session with one of the world's most famous supermodels, and you can kiss your teeny-bopper days behind. The wardrobe choices reflected the mission: a simple black t-shirt and leather bomber jacket. Very grown-up.
Harry Styles in "Sign of the Times" (2017)
Styles's ensemble may be one of the most understated, but its also one of the most impactful. During his One Direction days, Styles made bold sartorial choices, favoring brands like Burberry and Saint Laurent. Recently, he's embraced the quirk of Gucci, wearing the label on numerous important public outings. But while some of those appearances have allowed for the more eccentric of Alessandro Michele's designs—including a pink satin blouse with a pussy-bow necktie for his Saturday Night Live promo images—the video sees a pared down Styles, dressed in a cream crew-neck sweater, blue peacoat, and skinny black pants. The message is clear: he's a serious artist, damnit. Now stop asking questions about his hair.
Related: Kendall Jenner and Gigi Hadid Dramatically Reading "Baby" By Justin Bieber Will Blow You Away
Harry Styles' Fashion Style Evolution: See 32 of the Pop Star's Best Looks
Harry Styles attends the "DUNKIRK" premiere in New York City.

Getty
Harry Styles attends "Dunkirk" Premiere at Ocine on July 16, 2017 in Dunkerque, France.

Getty
Harry Styles attends the 'Dunkirk' World Premiere at Odeon Leicester Square on July 13, 2017 in London, England.

Getty
Promoting his new album, Styles wears a red plaid suit out in London.

Getty
Styles stays committed to Gucci in a logo sweatshirt while out in Paris in 2017.

Getty
Styles performs on NBC's "Today" at Rockefeller Plaza wearing a shocking pink suit.

Getty
Harry Styles performs "Sign of the Times" in a Gucci suit on Saturday Night Live.

Getty
Styles shows off his dramatic haircut, but keeps it classic in his fashion choices with a perfect fitting black suit and crisp white shirt.

Getty
For the BBC Music Awards, Styles wore black and white vertical striped pants and a black shirt. Here he is on the red carpet with his bandmates from One Direction.

Getty
Not ever afraid to take a risk on the red carpet, Styles wears a floral Gucci suit with wide-legged trousers.

Getty
Styles greets his adoring fans in a navy spring coat and gray jeans on his way into BBC Radio 2.

Getty
Fearlessly wearing a Gucci geometric print two-piece suit and black leather boots, Styles attended an event in London.

Getty
Styles wears a bold Saint Laurent bomber jacket to perform One Direction's latest single as part of Good Morning America's summer concert series.

Getty
Attending the Capital FM Summertime Ball with One Direction, Styles wears a chevron-printed shirt with a skinny scarf.

Getty
Styles attends the Glam Rock Christmas Party in London in a revealing black shirt and long, striped trousers.

Getty
Taking a major fashion risk on the red carpet, Styles wears a Lanvin striped suit and black boots.

Getty
Performing with One Direction at the 2014 American Music Awards, Styles wears a gold embellished jacket and low-rise jeans.

Getty
Styles, along with the other boys of One Direction, attend the Royal Variety Performance with the Royal family. Styles wears an animal print jacket over a black low-cut shirt.

Getty
Styles goes full rock-and-roll at LAX in all black jeans and t-shirt, accessorized with a blue scarf, wide-brimmed hat, and sunglasses.

Getty
At the launch for One Direction's fragrance, Styles wears a oversized plaid shirt, unbuttoned in his usual manner, tight jeans, and a large hat.

Getty
Seen out with friends (Hi, Ed Sheeran), Styles wears a Calvin Klein sweatshirt and a head scarf wrapped around his famous locks.

Getty
For the 2013 British Fashion Awards, the London megastar shows up in a sheer black shirt, blazer, and a scarf.

Getty
Styles wears a dark wool coat over an animal print shirt and black jeans at the Burberry Spring/Summer 2014 show.

Getty
For the World Premiere of One Direction This is Us, Styles wears a heart print Burberry shirt under a black suit.

Getty
Styles, showing off his tattoos in an unbuttoned shirt, and Miley Cyrus pose together backstage at the 2013 Teen Choice Awards.

Getty
Seen in Miami Beach to film a One Direction music video, Styles steps out in unbuttoned plaid shirt and a tan hat.

Getty
Styles gets buttoned up in a double-breasted suit and patterned shirt at a dinner in London.

Getty
Harry Styles' fashion for a 2012 taping of the Late Show With David Letterman with his band One Direction featured a monochromatic ensemble completed by leather moto boots.

Getty
True to the trends, Styles wears a blazer with pushed up sleeves over a gray shirt at BBC Radio 1 Teen Awards.

Getty
Styles goes casual with black jeans, a gray t-shirt and Converse while hanging out with Nick Grimshaw at the Shoreditch House in London.

Getty