Harry Styles's TikTok Sweater Will Be Immortalized In the Victoria & Albert Museum
Harry Styles's multi-colored J.W. Anderson cardigan that sparked a TikTok trend will be added to the Victoria & Albert Museum's permanent collection.
---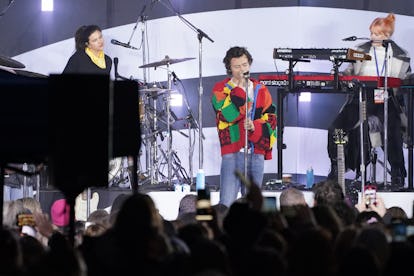 Getty Images
In recent years, Harry Styles has let us all know that he is not one for conventionality or predictability. Whether he's accessorizing with a pearl necklace, painting his nails, bringing back the classic driving gloves trend, or wearing a sheer blouse to the Met Gala, the former boy band member and his gender-bending sense of fashion step outside of the norms of what could be considered traditionally masculine.
And now, he takes his unconventional approach to fame to new heights by covering the December issue of Vogue all by his lonesome—something no man has never done before.
In the accompanying cover interview, Styles talks about how his fondness for playing dress-up goes all the way back to childhood, when his mother would put him and his sister Gemma into costumes, and when he was cast as a church mouse in a school play. "There's so much joy to be had in playing with clothes. I've never really thought too much about what it means—it just becomes this extended part of creating something," the musician said.
That playfulness he's developed over the years seems to be paying off as he becomes the arbiter of what could constitute a viral trend. Styles could wear just about anything and it would become a global sensation. Don't believe that? Just take, for example, the sweater he wore for a rehearsal of the Today show in February. The color-blocked J.W. Anderson cardigan was reminiscent of a Rubik's Cube, and in typical Styles fashion, it was accessorized with his signature pearl necklace. Naturally, the sweater adorned by Styles went viral, with fans knitting and crocheting their own interpretations of the cardigan and sharing the results on TikTok, which then "impressed" the designer Jonathan Anderson so much that he shared the pattern and a tutorial on YouTube so that anyone could have the Harry Styles Rubik's Cube cardigan dupe for free.
If that's not enough to make you believe in the extent of Styles's impact, the Victoria & Albert Museum in London has requested to place the original J.W. Anderson cardigan in their institution. "It's going to be in their permanent collection," Styles's stylist, Harry Lambert, excitedly told Vogue. "Is that not sick? Is that not the most epic thing?"
Let's put the pearl necklace in the Smithsonian, next.
Related: Harry Styles Brings Back Driving Gloves in New "Golden" Video