Harry Styles Is Here to Soothe You in These Trying Times
Allow his powder-blue chicken sweater to distract you from the chaos of the coronavirus.
---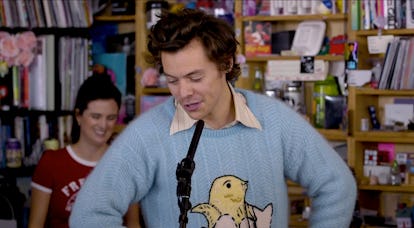 Courtesy of NPR.
In these trying times, this week was all but guaranteed to get off to a bleak start. The timing couldn't have been better, then, for NPR to release nearly 20 joyous minutes' worth of an intimate Harry Styles Tiny Desk concert, which finds him performing songs like "Adore You" from his latest solo album, Fine Line. Of course, doing so marked something of a personal sacrifice. But let's take solace in the fact that Styles was actually filmed in such close quarters with his bandmates back in February, before the coronavirus had much of a presence in the U.S.
Mysteriously enough, Styles's signature pearl necklace is absent throughout the video. This time around, the 26-year-old singer put the focus on a powder-blue mohair intarsia sweater by Gucci, featuring a chick hatching from an egg emblazoned with the words "mon petit." Gucci styled it as a crop top on the runway, but unfortunately Styles chose to go a different route, pairing it with a Gucci striped shirt and pair of herringbone pants. (He also briefly topped it all off with a Green Bay Packers jersey, as a show of allegiance to his favorite American football team.)
https://twitter.com/gucci/status/1233714773939957760/
When it came time to perform "Watermelon Sugar," Styles first shared the song's backstory, debunking the rumor that it's about oral sex. According to Styles, he wrote the song on a day off in a studio in Nashville, where he noticed a copy of Richard Brautigan's In Watermelon Sugar lying on a table. Styles's ex Camille Rowe has long cited the book as one of her all-time favorites, though there are plenty more explicit shoutouts to the model on Fine Line.
If your schedule deprives you of basking in all 19 minutes and 13 seconds, Hazza fans have benevolently been sharing a number of choice excerpts to Twitter and Instagram.
Related: How Tim Walker Convinced Harry Styles to Pose Naked