Harry Styles Wears Jorts for GucciFest, Utterly Delights His Fans
Gucci has delivered a splendid Hazza moment once again.
---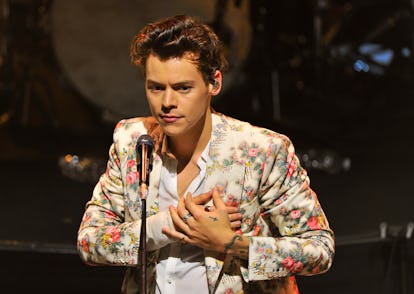 Steve Jennings/Getty Images
Like so many others who've appeared in Vogue, Harry Styles recently posed for the magazine wearing a dress. The resulting photo has dominated this week's headlines—thanks in no small part to the conservative provocateur Candace Owens, whose call to "bring back manly men" incurred the wrath of Hazza fans. To their delight, there's already another photo shoot starring Styles in a bold and occasionally controversial clothing item. This time, it was a denim pair of short shorts, aka jorts, which have surprisingly been getting designer makeovers as of late.
The jorts, of course, are by Gucci, a reliable source of delightful Styles content. (See: his photo shoot with tiny piglets and the tiny tank top that reduced Rome to tears last year.) The pair in question is unhemmed and thigh-skimming, allowing fans to zoom in on his sizable thigh tattoo of a tiger head. A pastel pink t-shirt, black loafers, and white socks pulled up to mid-calf round out the ensemble, which Styles wore for a cameo in the house's week-long fashion and film festival. And according to several Twitter users, the page views were potentially the reason why the GucciFest website briefly crashed.
But wait—there's more! The photos are from a 10-minute video that's the third episode in a series directed by Gus Van Sant. Overtoure of Something That Never Ended takes place at a post office in Rome, where the Italian art critic and theorist Achille Bonito Oliva is passing the time in line with a phone call to Styles's character. (The singer speaks in English, but seems to understand Oliva's musings in Italian.)
"I think when it comes to making art, it's about finding the thing that you've always wanted to see or you've always wanted to listen to but like has never been made," Styles tells Olivia, kicking around gravel in a garden in Los Angeles. "It's always like an uncomfortable moment, I think, when you find the thing. You don't know if you love it or hate it because you don't know what it is. But I think that's the most exciting place to work in."
Styles's next acting gig is playing the husband of Florence Pugh in Don't Worry Darling, Olivia Wilde's second feature. From the sound of it, the film will also be delivering some quality looks; Wilde, who called Owens "pathetic" for her criticism of Styles, is working with the master costume designer Arianne Phillips. "She and I did a little victory dance when we heard that we officially had Harry in the film," Wilde told Vogue, "because we knew that he has a real appreciation for fashion and style."
Related: We Need to Talk About Harry Styles's Pearl Necklace