Harry Styles Finally Opens Up About Dating Taylor Swift
Harry Styles spoke candidly to 'Rolling Stone' about his time dating Taylor Swift and the romantic inspirations behind his new solo album.
---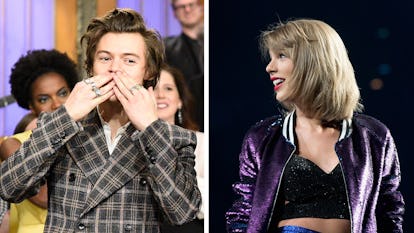 Composite. Getty Images
With a new album on the way, it was unavoidable that Harry Styles would be asked about his much discussed, though short lived, relationship with Taylor Swift. It turns out, however, that Styles has nothing but good things to say about his famous ex (and even some of the songs she purportedly wrote about him).
But don't expect Styles' album to deal much with Swift. It's more inspired but another relationship, one that may or may not have been with Kendall Jenner.
In a new interview with Rolling Stone magazine, the singer gets real about how complicated it can be dating someone constantly in the spotlight, including the frenzy that came when he was spotted on one of his first dates with Swift walking through Central Park all the way back in 2012.
"When I see photos from that day I think: Relationships are hard, at any age. And adding in that you don't really understand exactly how it works when you're 18, trying to navigate all that stuff didn't make it easier," he said, adding, "I mean, you're a little bit awkward to begin with. You're on a date with someone you really like. It should be that simple, right? It was a learning experience for sure. But at the heart of it — I just wanted it to be a normal date."
Styles's candid response is a bittersweet admission that he did have real feelings for the 1989 pop star — and hopefully silences any conspiracy theorists who marked the short pairing as merely a publicity stunt.
Styles also spoke up about being the recurring root of inspiration for Swift's music. When asked if he was aware that songs like "Style" and "Out of the Woods" were penned about him, the singer acts coy but manages to truly commend Swift for being frank about her life experiences.
"I mean, I don't know if they're about me or not …" he says. "But the issue is, she's so good, they're bloody everywhere. I write from my experiences; everyone does that. I'm lucky if everything [we went through] helped create those songs. That's what hits your heart. That's the stuff that's hardest to say, and it's the stuff I talk least about. That's the part that's about the two people. I'm never going to tell anybody everything."
He continues on, praising Swift's music. (It's also not the first time; In 2014, he shared similar sentiments.)
"She doesn't need me to tell her they're great. They're great songs…. It's the most amazing unspoken dialogue ever."
Harry Styles' Fashion Style Evolution: See 32 of the Pop Star's Best Looks
Harry Styles attends the "DUNKIRK" premiere in New York City.

Getty
Harry Styles attends "Dunkirk" Premiere at Ocine on July 16, 2017 in Dunkerque, France.

Getty
Harry Styles attends the 'Dunkirk' World Premiere at Odeon Leicester Square on July 13, 2017 in London, England.

Getty
Promoting his new album, Styles wears a red plaid suit out in London.

Getty
Styles stays committed to Gucci in a logo sweatshirt while out in Paris in 2017.

Getty
Styles performs on NBC's "Today" at Rockefeller Plaza wearing a shocking pink suit.

Getty
Harry Styles performs "Sign of the Times" in a Gucci suit on Saturday Night Live.

Getty
Styles shows off his dramatic haircut, but keeps it classic in his fashion choices with a perfect fitting black suit and crisp white shirt.

Getty
For the BBC Music Awards, Styles wore black and white vertical striped pants and a black shirt. Here he is on the red carpet with his bandmates from One Direction.

Getty
Not ever afraid to take a risk on the red carpet, Styles wears a floral Gucci suit with wide-legged trousers.

Getty
Styles greets his adoring fans in a navy spring coat and gray jeans on his way into BBC Radio 2.

Getty
Fearlessly wearing a Gucci geometric print two-piece suit and black leather boots, Styles attended an event in London.

Getty
Styles wears a bold Saint Laurent bomber jacket to perform One Direction's latest single as part of Good Morning America's summer concert series.

Getty
Attending the Capital FM Summertime Ball with One Direction, Styles wears a chevron-printed shirt with a skinny scarf.

Getty
Styles attends the Glam Rock Christmas Party in London in a revealing black shirt and long, striped trousers.

Getty
Taking a major fashion risk on the red carpet, Styles wears a Lanvin striped suit and black boots.

Getty
Performing with One Direction at the 2014 American Music Awards, Styles wears a gold embellished jacket and low-rise jeans.

Getty
Styles, along with the other boys of One Direction, attend the Royal Variety Performance with the Royal family. Styles wears an animal print jacket over a black low-cut shirt.

Getty
Styles goes full rock-and-roll at LAX in all black jeans and t-shirt, accessorized with a blue scarf, wide-brimmed hat, and sunglasses.

Getty
At the launch for One Direction's fragrance, Styles wears a oversized plaid shirt, unbuttoned in his usual manner, tight jeans, and a large hat.

Getty
Seen out with friends (Hi, Ed Sheeran), Styles wears a Calvin Klein sweatshirt and a head scarf wrapped around his famous locks.

Getty
For the 2013 British Fashion Awards, the London megastar shows up in a sheer black shirt, blazer, and a scarf.

Getty
Styles wears a dark wool coat over an animal print shirt and black jeans at the Burberry Spring/Summer 2014 show.

Getty
For the World Premiere of One Direction This is Us, Styles wears a heart print Burberry shirt under a black suit.

Getty
Styles, showing off his tattoos in an unbuttoned shirt, and Miley Cyrus pose together backstage at the 2013 Teen Choice Awards.

Getty
Seen in Miami Beach to film a One Direction music video, Styles steps out in unbuttoned plaid shirt and a tan hat.

Getty
Styles gets buttoned up in a double-breasted suit and patterned shirt at a dinner in London.

Getty
Harry Styles' fashion for a 2012 taping of the Late Show With David Letterman with his band One Direction featured a monochromatic ensemble completed by leather moto boots.

Getty
True to the trends, Styles wears a blazer with pushed up sleeves over a gray shirt at BBC Radio 1 Teen Awards.

Getty
Styles goes casual with black jeans, a gray t-shirt and Converse while hanging out with Nick Grimshaw at the Shoreditch House in London.

Getty
The former One Directioner also shared what he would say to Swift if he spoke with her now — and it boils down to "thank you." Does that mean there a chance of reconciliation?
"I don't know," he finally said. "Certain things don't work out. There's a lot of things that can be right, and it's still wrong. In writing songs about stuff like that, I like tipping a hat to the time together. You're celebrating the fact it was powerful and made you feel something, rather than 'this didn't work out, and that's bad.' And if you run into that person, maybe it's awkward, maybe you have to get drunk … but you shared something. Meeting someone new, sharing those experiences, it's the best shit ever. So thank you."
Of course, all of this only further stokes the flames for fans who are busy theorizing which songs on Styles's highly anticipated solo album could be about Swift. Some have made (albeit far-fetched) connections between his track "Ever Since New York" — which he debuted on Saturday Night Live — to Swift. Styles was relatively mum on if she was the inspiration behind the song, but he did allude to a girl being a major influence. (The Rolling Stone interviewer seems to believe he is speaking about Kendall Jenner.)
"She's a huge part of the album," Styles says the unnamed woman. "Sometimes you want to tip the hat, and sometimes you just want to give them the whole cap…  and hope they know it's just for them."
The mysterious girl could also be his high school sweetheart, with whom Styles described a painful breakup after an intense relationship.
"My first proper girlfriend used to have one of those laughs," he shared. "There was also a little bit of mystery with her because she didn't go to our school. I just worshipped the ground she walked on. And she knew, probably to a fault, a little. That was a tough one. I was 15."
Swift, Jenner, or high school girlfriend aside, one thing is for sure: Styles promises his new album will be unfailingly "honest" portrayals of his experiences.
"I wanted to write my stories, things that happened to me. The number-one thing was I wanted to be honest. I hadn't done that before."
Related: See Harry Styles' Acting Debut in the First Trailer for WWII Drama Dunkirk
Kendall Jenner Rented Out Magic Mountain on Her Birthday: