Harvey Weinstein Reportedly Has the Coronavirus
The convicted rapist was tested on his 68th birthday.
---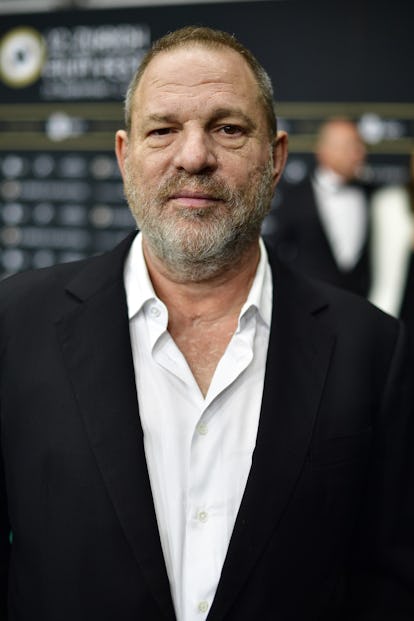 Alexander Koerner/Getty Images
Eleven days after being sentenced to 23 years in prison for rape and sexual assault, Harvey Weinstein has reportedly tested positive for the coronavirus. According to the report, the convicted rapist was tested for the virus on Thursday—which also happened to be his 68th birthday—on the occasion of his transfer from Rikers Island Jail in New York City to Wende Correction Facility in Erie County, where he is being processed into the New York prison system. Upon his arrival, he was held in isolation with another inmate who tested positive.
The news was first reported by the Niagara Gazette, and Deadline and Page Six each say they've confirmed it with an unnamed official. Contacted by Deadline, New York State's Department of Corrections would not confirm the news, citing a blanket policy to not discuss individual inmates' medical status, though WKBW Buffalo has confirmed that two Wende inmates have indeed tested positive for Covid-19. Variety reports that Weinstein's team is not able to confirm or deny.
The ACLU has repeatedly warned that people in prisons and jails are uniquely vulnerable to coronavirus. ("Like a nursing home, a jail is a perfect setup for an outbreak," a Rikers Island geriatrician recently told the New Yorker.) To date, 38 people in New York City's jail system have tested positive for the virus. They include at least one Department of Correction officer and detainee on Rikers Island, where Weinstein was held between his sentencing and transfer to Wende. (He also occasionally made visits to a hospital in New York City, where he was being treated for chest pain and high blood pressure.)
Between his age, medical conditions, and incarceration status, Weinstein was at a particularly high risk of contracting the illness. Those factors all also increase his risk of dying from Covid-19. Weinstein's lawyers have long been vocal about their concern for his health. Ahead of his sentencing, they wrote a letter to New York Supreme Court Justice James Burke pleading that it be limited to the mandatory minimum of five years: "The grave reality is that Mr. Weinstein may not even outlive that term."
Weinstein is one of 31,772 people who have so far tested positive for the coronavirus in the United States. As of Sunday, he is also the second high-profile man whom tens of women have accused of sexual misconduct to contract the disease. Several hours before the news of his diagnosis broke, the 79-year-old opera singer Plácido Domingo—whom 20 women have accused of sexual misconduct—announced that he had tested positive on Facebook.
Related: Harvey Weinstein Gets 23 Years in Prison, and That's Just the Start