Stop and Shop: Hasbeens & Willbees
Kai Kuhne and John Mollett partner on a quirky restaurant and store in upstate New York
---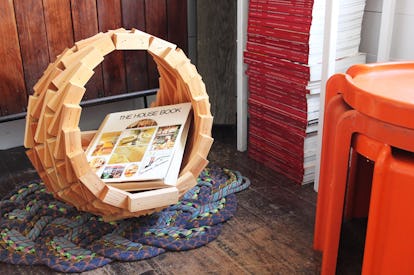 This past weekend, the Catskills region got an injection of whimsical unconventionality courtesy of the former fashion designer and original Asfour member Kai Kuhne and his partner, former gallery director John Mollett. The co-founders of Hasbeens & Willbees, an unusual auction house coming to Long Island City in the near future, have opened a restaurant-cum-store under the H&W banner in Andes, a tiny, quirky town in Delaware County, New York. Kuhne and Mollett have ambitious plans for the H&W brand, including ongoing series of truly experiential auctions—complete with elaborate dinners—of the vast, motley assortment of stuff they've been snatching up around the world over the last two years, including vintage Body Glove gear, multiple stuffed egrets, and an extraordinary collection of folk, outsider, and contemporary art.
In the meantime, a small sample of this bounty (as well as goods donated from friends and family) is available in the duo's Andes outpost, which is part curiosity shop and part Whistle Stop Café. Taxidermy not to your taste? Then try the white balsamic-marinated beets with cilantro and goat cheese yogurt.
Hasbeens & Willbees, 22 Lee Lane, Andes, New York is open Thursday through Sunday, from "around noon to after dinner."
Inside Hasbeens & Willbees
The restaurant can accommodate 20 inside but it's the outdoor seating that is most prized. Over the weekend our group stayed well past midnight, and caught not one but three shooting stars.
From the outside, the place looks like a nondescript shanty. Inside, it's a truly bizarre bazaar, where one can find an assortment of stuff from this stuffed baby deer and a full tiki-bar set to vintage Gaultier sportswear and knits by VPL.
An awe-inspiring collection of old Sotheby's catalogues (yes, they're for sale, too) perfectly accompanies a hand woven rope mat by Sophie Aschauer of Serpent Sea. Everything, okay, everything except maybe one or two items too difficult to part with, is available for purchase.
On the walls is an assortment of vintage oddities and contemporary art, like this whimsical Martin Kippenberger and Marko Lehanka piece which came from Leo Koenig and Maggie Clinton Koenig, whose place is five doors down. Also seen here: Butt Magazine's racy beach towels and a series of framed honeycombs.
A simple and fresh menu culled from local farmers (including nearby Dan Finn and Tom Monroe) and prepared by Mollett serves to "lower the carbon footprint, but boost the taste level," according to Kuhne.
The incredibly fresh jumbo lump crab comes from Coopers Island, Maryland. The recipe has been in Mollett's family for generations.