Battle of the Premieres: "The Hateful Eight" vs. "Star Wars"
Channing Tatum, Adrien Brody and Sam Rockwell were among those who chose Quentin Tarantino over a little indie called The Force Awakens.
---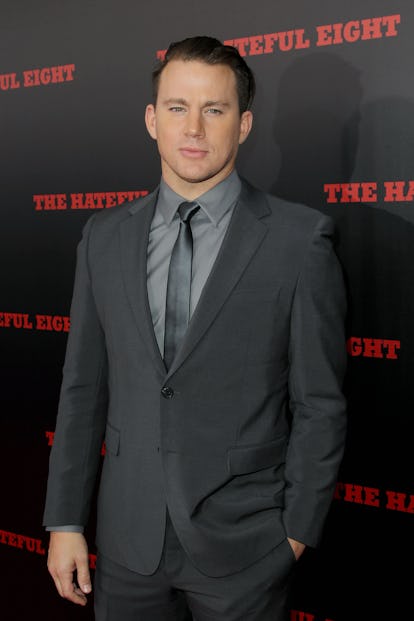 Although you may not have realized it, there was something of an East coast-West coast battle raging in the world of the movies on Monday night.
In New York, Quentin Tarantino's The Hateful Eight premiered at the Ziegfeld Theatre in Manhattan. And in Los Angeles? Oh, a little indie called Star Wars: The Force Awakens enjoyed a lavish opening over three theaters on Hollywood Boulevard, pitting geeks of all stripes against each other. In the end, those who worship at the house of Lucas camped outside the El Capitan, Grauman's Chinese and Dolby theaters while those who prefer a little more blood and gore waited under a light drizzle for a sight of Tarantino in midtown New York.
At the Ziegfeld, they included Adrien Brody, Sam Rockwell, Jack White filmmakers Michael Moore and Joel and Ethan Coen, and hall-of-fame members of Tarantino's inner circle, like Steve Buscemi and Tim Roth, who stars alongside Samuel L. Jackson, Jennifer Jason Leigh and Kurt Russell in the filmmaker's latest. Among the regular fans, there were some holding up signs that said things like "Stop Police Brutality and Murder."
That was a reference to the recent controversy that threatened to hijack both the film's box office and its press coverage before it even hit theaters. Angered by the filmmaker's appearance at an anti- police violence rally in October, some police unions have urged a boycott of the film. (The film's rollout has also hit another roadblock: Hateful didn't fare as well as expected at the Golden Globes – two nominations against four from the other snow Western in contention this year, Alejandro González Iñárritu's The Revenant, which is up for both Best Picture – Drama and Best Director.)
In a signature boxy suit and uneven tie, Tarantino addressed the brouhaha as soon as he hit the red carpet.
"I didn't do anything except speak my mind and help put a light on something," he told a group of reporters."And because of that, a lot of people started talking about it. I'm very proud of that. When this movie's over, I hope we can do even more. Basically, stop all these killings."
As he enters his fifth decade, Tarantino seems to be more preoccupied with violence than ever before. His latest, a sort of No Exit with rifles, pits eight scheming, vicious characters – the unmagnificent eight of the title – inside a cabin in the mountains in a fight to the death. Its bleak worldview is one apparently shared by its filmmaker.
Asked with whom he would want to be caught in a blizzard with, he responded drily: "I don't like people, so probably nobody."
Photos: Battle of the Premieres: "The Hateful Eight" vs. "Star Wars"
Channing Tatum. Photo by Marion Curtis/StarPix.
– New York, NY – 12/14/15 – The New York premiere of "The Hateful Eight".
-PICTURED: Goldie Hawn, Adrien Brody -PHOTO by: Marion Curtis/StarPix -FILENAME: MC_15__01020078.JPG -LOCATION: The Ziegfeld
Startraks Photo New York, NY For licensing please call 212-414-9464 or email sales@startraksphoto.com Image may not be published in any way that is or might be deemed defamatory, libelous, pornographic, or obscene. Please consult our sales department for any clarification or question you may have. Startraks Photo reserves the right to pursue unauthorized users of this image. If you violate our intellectual property you may be liable for actual damages, loss of income, and profits you derive from the use of this image, and where appropriate, the cost of collection and/or statutory damages.
Jennifer Jason Leigh and Quentin Tarantino. Photo by Marion Curtis/Starpix.
Georgina Chapman. Photo by Marion Curtis/StarPix.
Michael Diamond and Jack White. Photo by Marion Curtis/StarPix.
Walton Goggins. Photo by Marion Curtis/StarPix.
Tim Roth. Photo by Marion Curtis/StarPix.
Dana Gourrier and Zoe Bell. Photo by Marion Curtis/StarPix.
Demian Bichir. Photo by Marion Curtis/StarPix.
Goldie Hawn and Kurt Russell. Photo by Marion Curtis/StarPix.
Christian Slater. Photo by Marion Curtis/StarPix.
Alan Cumming. Photo by Marion Curtis/StarPix.
Richard Kind and Laura Michelle Kelly. Photo by Marion Curtis/StarPix.