The Haunting of Bly Manor Has a Message: Listen to the Children
The Haunting of Bly Manor's Victoria Pedretti gives a sneak peek into the mysterious madness of the upcoming Netflix series with an exclusive clip.
---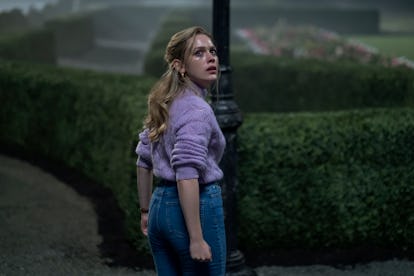 Image courtesy of Netflix.
In 2018, Netflix quietly released what would eventually go on to become a sleeper hit for the streaming platform: The Haunting of Hill House.
Based on the 1959 Shirley Jackson novel of the same name, Hill House was a scary interpretation of classic horror material with a contemporary twist. Its characterization of a family wrought with anxieties, addictions, tragedies, and traumas introduced what would become the first installment of an anthology series. Some of its main cast will return for the second installment, The Haunting of Bly Manor, but rest assured the similarities between the two pretty much end there.
Victoria Pedretti is one of the returning cast members for The Haunting of Bly Manor, though her character differs greatly from the woman she played in Hill House and the revelations about her in that first season (which will not be spoiled here, in case you were one of the few people who did not devour the show in one weekend two years ago) are wildly different, too.
This season, set primarily in the English countryside in the '80s, foregoes the typical jump-scares employed in Hill House, and the introduction of apparitions makes them seem less "traditionally scary," as Pedretti put it one afternoon on a Zoom call.
Pedretti plays Dani, an American babysitter who moves to London on a whim, and answers a wanted ad in the English papers for an au pair at a mysterious countryside estate called Bly Manor. It is there where she meets Flora and Miles, two pleasant but precocious British children whose parents have recently passed away. Their previous nanny died mysteriously, too, and upon first meeting the kids, it's clear they haven't quite gotten over it just yet. As is to be expected, there is more to the story there.
If Hill House is, at its core, all about the effects of intergenerational trauma and mental illness, then Bly Manor is tackling a different theme: Gothic romance and toxic relationships. "The truth of the matter is that we discuss trauma and addiction in this season as well, and family and complexities that can exist within that, but there is an added component of this Gothic, kind of tragic love story," Pedretti explained. "I think it ventures a little bit further from the intensely real, if that makes sense. It still hits you, but because it's not so set in the world we live in today—also, within that, there's a lot of romance to it."
Part of the ways in which this season veers slightly from the hyperreal and more toward the fantastical is through its use of the children's perspectives. There is agency given to Miles and Flora, and sometimes it is taken away by mysterious forces, but overall, it is through their eyes and voices that we learn about what really went down on the property of Bly Manor. And really, what is creepier than a couple of kids who can see things that adults can't?
"It can be disturbing to see children experience difficult things or act like adults," Pedretti said. "But kids legitimately do act like adults because they're called upon to behave as adults when they're not allowed to be children. Kids have the wisdom and the knowledge and they know so much. I think it disturbs us because we like to pretend like kids don't have this enormous capacity to understand what's going on in the world around them."
Bly Manor draws from the stories of Henry James—particularly The Turning of the Screw, a novella that was published in 1898. But Pedretti said it is through watching something like Bly Manor or another cinematic retelling of Gothic literature that she has actually been able to learn more about history and the world that is represented on screen. "Most of my understandings of many styles of literature is through watching film," the actress said. "I really, really struggled with reading, and I really struggled in school because of that. I didn't do well in history class, but I was definitely educated a lot about history through film, which would inspire further research. I think that's the mmost valuable thing: it piqued an interest. It gave me a place to connect and imagine," she went on. "But I don't think I ever really stopped there, whatever the subject matter might be. Whether or not it's actually laying out a historical event that changed the course of history, anything set in another time period can give you a peek into what it was like to live in another time and another place."
As the exclusive clip from Bly Manor below demonstrates, Pedretti's points about children and their agency are quite salient. "If you deny children their reality and tell them they don't understand and to not listen fully, that is a great way to perpetuate cycles of trauma," she said. "I think Dani really understands that. Somehow in the '80s she had intuited a level of conversation that we're having in psychology today. She's really present with these children. I don't know if this comes across, but she speaks more comfortably and at an adult and mature level to the children than she does to other adults," she went on. "And she knows that adults are more playing a game and that if she just is legitimately herself with them, she very quickly could find herself being rejected because she does possess a great level of gravity and strength. And yet she often makes herself smaller, I think, around other adults, because that's just how she's learned how to survive."
Related: New Faces: Victoria Pedretti, Object of Obsession on You