An American in Havana
One writer reveals her experience staying in a Cuban Airbnb.
---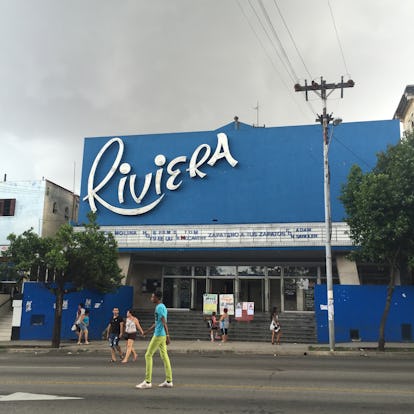 "The Americans are coming!" my cab driver exclaimed, as we trundled down Havana's Paseo del Prado in his bright turquoise 1951 Chevy convertible, past ornate buildings in various states of disrepair, some meticulously restored, others with boarded windows or laundry strewn from their crumbling balconies. A vast, empty construction site advertised the coming of a brand new five-star luxury hotel. It didn't seem likely to open for business any time soon.
The Americans are coming to Havana, albeit more slowly than all the recent news of might lead one to expect. While restrictions were eased at the beginning of this year, Americans traveling to Cuba, or traveling legally anyway, are still required to prove that they are there for a "legitimate" (meaning cultural, humanitarian, religious, educational, family) purpose, and perhaps the easiest way to do so is to book a spot on one of many so-called people-to-people exchange tours, which are scheduled with back-to-back state-approved interactions with local artists, architects, artisans and organic farmers. I was in Havana on just such a trip and experienced all of the above and then some, buoyed by seemingly endless stream of welcome mojitos at every stop. A lot of these scheduled interactions were highly informative and even entertaining, like a studio visit with Choco, an artist who in terms of local acclaim might as well be the Jeff Koons of Cuba, or a power point presentation by the very engaging Miguel Coyula, an architect and urban planner. (Thankfully, flamenco lessons did not appear on our agenda.) The key difference was that instead of staying in a hotel, our group, which had been invited to Cuba by Airbnb, was stashed in a handful of private apartments throughout Central and Old Havana.
Casas Particulares, legal bed and breakfasts regulated by the state, are everywhere in Cuba. Walk down virtually any street in Havana and you are bound to find at least one building bearing the blue and white Arrendador Divisa (translation: currency landlord) logo, which looks like an upside down anchor. Tapping into this existing network, Airbnb officially welcomed Cuba to its global community in April, with more than 1,000 listings ranging from a shared room in a cheerful looking hostel ($10/night) to a swank penthouse apartment complete with private swimming pool ($1,180/night).
My home for our 3-night stay was Casa Concordia, a 3 bedroom, 3 bathroom apartment in Central Havana, on the fifth floor of a handsome building I was told had been commissioned in the 1920s by the owners of the famed Art Deco Hotel Nacional as accommodation for long-term guests. With its well-maintained façade, painted a locally very popular shade of aqua and drizzled with thick, frosting like ornamentation, the building stood out from a lot of its neighbors by the mere fact that it did not appear to be on the verge of collapse. (One Cuban we met on our tour estimated that that some 3 buildings collapse in Havana daily). Nevertheless, I was daunted by the entrance, which was festooned with electrical wires and fed directly into a manually operated, elevator with a cage so rusty it feared it would disintegrate by the time it reached our destination. "We were going for the La Guarida effect," my host Kendra, who is an architect, told me referring to a Paladar (or privately run restaurant) just down the street, on the second floor of an otherwise fabulously dilapidated Colonial building, and made famous by the 1993 Oscar nominated-film Fresa y Chocolate. And it's true that after such an entrance, the apartment, which is bright and airy and tastefully restored with original tiles and woodwork, was a big reveal.
Old Havana is in the process of being restored to its Colonial splendor and already has signs of becoming like a lot of tourist sites around the world, with gift shops pedaling T-shirts, magnets, and artisanal crafts that look like they all came from the same factory and people hustling you to purchase cigars or to have your photo taken with women in Disney-like versions of the national dress. There was even one of those human "statues" stationed outside of the Church of St. Francis of Assisi. And the big fear is that when the Americans do come to Cuba in earnest, we will only spoil the city further with our Starbucks, McDonald's, and all the mod cons of capitalist society that the Cubans have for so long lived without.
For now Central Havana however is pleasantly gritty and resiliently local. And it was nice, after a long day of meaningful person-to-person cultural interactions, to be able to walk alone through the streets to my casa, sit on the balcony, and take in the city as it wound down for the night while enjoying a welcome home mojito. Indeed, as experienced guests will attest, Airbnb has always been about people-to-people exchange. I asked Ezio, an Airbnb host I met in Havana who is originally from Milan, if he missed Italian food. (The food in Havana is at best, hit or miss.) No, he insisted, explaining that chef at La California, a nearby Paladar had worked in the kitchen at the Hotel Splendido in Portofino on the Italian Riviera and that his pasta and pizza was as good as it is anywhere. Alas, it was not a stop on our official itinerary.
Photos: An American in Havana
A view of Central Havana from one of Casa Concordia's several balconies. Photo by the author.
Fidel is very much present in Cuba—in spirit anyway. Photo by the author.
The streets are teeming with classic American cars from the 50s, many, like this one, meticulously maintained. Photo by the author.
The entrance to La Guarida, a restaurant made famous by the film Fresa y Chocolate. Photo by the author.
The façade of Casa Concordia is a shade of aqua that is seemingly very popular in Havana. Photo by the author.
A view into Casa Concordia. Photo by the author.
The dining area at Casa Concordia where breakfast is served every morning. Photo by the author.
A view of Casa Concordia from the street. Photo by the author.
It is estimated that three buildings collapse daily in Havana. Photo by the author.
Poke your head into any doorway and you'll come across a view like this. Photo by the author.
A local theater. One could make an entire book just of photos of Havana's many fonts. They don't have to compete for attention with billboards and advertising. Photo by the author.