Hayley Williams Talks Delia's and Going Solo at New York Fashion Week
Hayley Williams debuted her solo single "Simmer" at Collina Strada's Fall 2020 fashion show.
---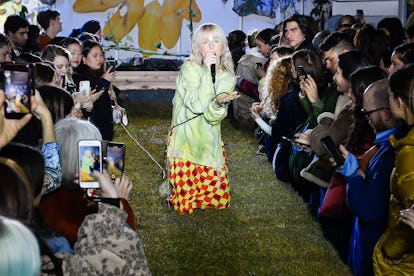 New York Fashion Week is always full of surprises, but truly no one expected Hayley Williams to appear, let alone lend her criminally underrated vocals to the finale of Collina Strada's fall 2020 "Garden Ho" show on Sunday night in the city.
If you were around in the mid-aughts, you were probably listening to the pop-punk icon sing lead vocals with Paramore. It was the odd band that transcended both genre and social strata—it didn't matter if you were emo or not, you were just as likely to hear "Misery Business" blasting from the digital jukebox at Hollister as you were to hear it oozing out of a Hot Topic.
Fifteen years and five Paramore albums later, Williams has finally embarked on a new project—a solo album titled Petals for Armor, due in May of this year. She's already released the first five songs of Petals For Armor on an EP titled Petals For Armor I, and at Collina Strada's show she performed her debut solo single, "Simmer."
After the models walked in Hillary Taymour's sustainable cult-favorite brand's typical assembly of tie-dye hoodies and freaky multicolored sneakers (with potted veggies, garden hoes, and reusable metal water bottles in hand, of course) Williams spoke with W backstage about her Fashion Week debut, shopping from the Delia's catalog, and why she's drawn to dark narratives.
Are you exhausted after that performance?
No, I'm just hungry. Fashion Week is exhausting for people, but I just went in for 10 minutes and came out. Hillary told me she slept for an hour last night, and I was like, "No, no, I can't do that on a show day, I would die."
Was this your first time performing your solo work in public?
Yeah. Especially for people who weren't expecting it—we sort of attacked them with it. But this was it. And it's my first time performing at Fashion Week, just in general.
What was your prior relationship to Fashion Week?
I'm usually just on social media. I'm one of those people who just sits at home and dreams and looks at everything. It's like when you were a kid and you were circling shit in the Delia's catalog that you knew you were never going to get. [Laughs.] That's my experience with Fashion Week.
Had you been to fashion shows before this, or sat front row before?
Just the other day was my first front row experience. We went to the Adidas show, which was very cool and very inclusive. I was excited to be there. I didn't expect to be seated front row at all, I just thought I was lucky if I get to see something cool. Before that, years and years ago, I went to one of Rachel Antonoff's first shows because I'm friends with her and Jack, and had been on tour with Jack. But even then, the way she set it up, it was kind of like a museum. So I walked through it and then I was done, you know? Now, to play one and see the inner workings of it and be backstage while all the models are getting ready was such a nice chaos that I really fed off of.
Would you want to be more involved in the fashion world now that you've had a taste?
You tell me! Should I or should I not?
Yes, please do! And some people overheard in the audience didn't seem to recognize you because they are used to seeing you with brightly colored hair. Do you think you have a newfound anonymity?
I've had this hair for a little while because we did After Laughter [Paramore's most recent album], and the first thing I noticed was the feeling when we were walking through somewhere in Nashville. Maybe we were at a show, we were going through a lot of shows before the record came out. No one was stopping me, and I really loved that, you know? And emotionally, for me, not being the character that a lot of people expect is really important for my own identity.
Do you think that you might start dressing differently in this new solo era?
Hmm, maybe. I will say, usually the influence and inspiration that comes out through the music is a very real-time thing for me. There are obviously artists I've drawn from since I was a teenager, but usually how I express myself every day is how I'm feeling anyway. So, for instance, with the EP that I just put out, which is only one part of the record, it's much more intense and dark, and there are a lot of heavier themes on it. I can feel myself reliving a lot of it, and I wake up and want to wear black every day. This show was so nice because I think Hillary has a dark edge to everything—and there's something that's very real about that—and there's a lot of texture but it's still colorful. For my first involvement in Fashion Week, this was such a perfect marriage.
How was it to play your new music?
It felt great! It felt really good. We did this basically just Joey and I; he's Paramore's touring bass player. He and I wrote a lot of the songs for this project. I brought him and we played the tracks. Had you told 16-year-old me that I would ever sing to a track or play to a track, I would have been livid, but it was so fitting. And it's also what people do here. So I had a little bit to learn, and once I accepted that and understood what it was going to feel like and what it was going to look like, I think I was all in. At that point it's an emotive performance, and it felt great.
On your last album with Paramore, After Laughter, there was a lot of that duality that you just made note of with regard to this Collina Strada show. The album cover and music videos were very bright, and if you listen to the songs, they sound very upbeat and pop-like, or almost happy, but if you read or listen to the lyrics, there are some very heavy themes. What's the ethos or message of your solo album, Petals For Armor?
The ethos is summed up best in the title. Even if you just look at the words, "Petals" and "Armor" are so opposite from each other. For me, the mantra of fighting through life with a new sense of vulnerability is really important. But I think being soft like that, in my experience, requires me to be very realistic about things and find time to still hope. I think it's been interesting going through therapy and learning a lot of things about myself and why my coping mechanisms are what they are, and all that. I just am drawn to dark narratives. I tend to cock my head and not really trust if things have this veneer. I like to earn things, and I also like to know that what's on the front of something isn't all; I want to know that there's stuff underneath there to dig into. Petals for Armor has a bit of all of it. There's self deprecation, which I'm very good at. There's also defiant angst and rage, but as it moves on it gets lighter. A bunch of real-life shit.
How did you meet Hillary Taymour?
Through Instagram, actually. I wore something. I think I was shooting with my friend Phoenix. He brought a Collina shirt for me and was like, "Hey, put this on, and let's go to the backyard and shoot some stuff." I tagged her, and we started talking. I was blown away when she asked me to do this, because we had not met in person.
When did you first meet?
We met last night when I went to her studio. [Laughs.]
What did you think about the music played during the show?
I loved it! It felt like the right kind of fucked up. I showed up and I was like, Yes, this is the right way to start Fashion Week. My Fashion Week career. It might be over, but I started it!