Family Values
Hayward is a new bag line with some very old and spectacular roots.
---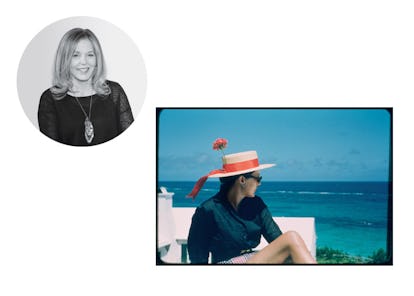 There are family trees, and then there's Marin Hopper's family tree. Her mother is the actress, author, and great American beauty Brooke Hayward; her father was the actor and director Dennis Hopper. Her great-grandfather Colonel "Fighting Bill" Hayward led the legendary all-black 369th Infantry Regiment and was a big-game hunter and an accomplished needlepointer. There are Fondas by marriage (her grandmother Margaret Sullavan was briefly wed to Henry; Jane is Marin's godmother) and Hemingways by association (her grandfather, the Broadway producer and mega-agent Leland Hayward, represented Ernest). So in 2006, when Hopper began to think about designing a line of handbags, she had an excess of low-­lying fruit from which to pick. "It's a family full of deeply eccentric people," she says. "I wanted to tap into this American kookiness." But if Hayward, as her burgeoning brand is called, has a muse, it is definitely Leland—a man, she says, "who liked to make things and make things happen."
Leland Hayward's grand passion was flying; at a time when most people chugged across the country on the Super Chief, he piloted his own plane. The only tie clip he ever wore was a gold propeller, which he commissioned, in multiples, from Cartier; his gold watch fob, with his name spelled out in the links, served as the prototype for the Hayward logo. Hopper was fascinated by this notion of extreme ­customization—the fact that once upon a time anyone (well, anyone with style and money to burn) could walk into Cartier with, say, an old leaf and ask, "Can you make this into a brooch for me?" Each Hayward bag feels like one of a kind. Exotic skins are worked to the suppleness of a favorite pair of jeans or are boldly hand-painted; the hardware is refined, but the rivets are intentionally left exposed.
And, in keeping with the family "kookiness," Hopper's approach to building a business has been idiosyncratic. She worked for many years as a consultant for Tod's and Hogan but was reluctant to exploit her Italian connections. It was important, she insisted, that Hayward stand for a moment in history when quality things were made in America, so she sought out a factory in Manhattan. And though she used to be the fashion director of Elle, she has been weirdly shy about courting press. Instead, she started slowly and small, overseeing every detail with her tirelessly enthusiastic husband, the producer John Goldstone, who now knows way too much about gussets and interfacing. The first official Hayward sale took place at the valet parking at Ammo, a hip Hollywood restaurant, after a friend spotted some sample bags in the trunk of Goldstone's car.
"We started in this Wild West way, selling to local folk," Hopper says. It all sounds very quaint, until you learn that by "local folk" she means women like Maria Shriver, DreamWorks cochair Stacey Snider, China Chow, Mariel Hemingway, various Annenbergs. Finally, Hayward's chic Double Dowel; the cool, slouchy Gaby; and the elegant Slim Clutch (Slim Keith has joined the family, as Leland's third wife) will be available at Haywardluxury.com. "When I moved back to Los Angeles, a lot of agents came to me with stories of my grandfather's famous style," says Hopper, explaining how simply by being his inimitable self, Leland had inspired a generation. Now it's Hopper's moment to do the same.