Meet He Cong, the Up-and-Coming Model Starring in Rihanna's Fenty Campaign
The 20-year-old Chinese model, who has walked for Chanel, Fendi, and Dolce & Gabbana, already has tricks for surviving fashion week.
---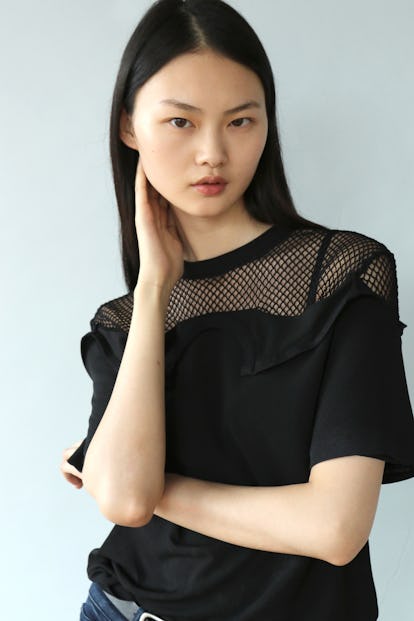 Although Rihanna won't be doing a full-on runway show again this season, she still caused a stir with her Fenty x Puma drop at Bergdorf Goodman. Hopeful shoppers lined up for hours to catch a glimpse of the pop star, and purchase a piece of her black-and-white athleisure collection, which Rihanna has described as a reflection of "Japanese street." For the campaign, however, she cast 20-year-old Chinese model He Cong to star alongside British-Korean model and artist Sang Woo Kim, who has worked with W magazine on the series "Do You Remember?"
This is just one of the events on Cong's schedule this week: the model also walked for Lacoste and Phelan. Despite a busy agenda, the Chinese model always stays true to her roots wherever she is, and enjoys a hearty meal of Chinese food after each show.
How would you describe your personal style? I like different styles every season, but usually it is simple, comfortable, and chic.
What do you like about the Fenty collection? Do you have a favorite piece? It's sporty and sexy at the same time. I like the look that Feifei Sun wore during the show, which was a black hooded sweater with a bustier and baggy pant.
Beauty and style icons: Freja Beha Erichsen is my style icon. And the Chinese actress Zhang Ziyi is beautiful, elegant, and smart.
Favorite show you walked last season: Burberry in London. The atmosphere, the collection, make up, and music was simply amazing.
Last purchase: Prada backpack.
Secret beauty weapon: I put spoon in the freezer and use it to reduce puffiness around the eyes.
Favorite Chinese designers: Luyan and Banxiaoxue.
After-show meal: This is the most important meal for me. After shows I am so hungry, so I will go straight to a Chinese restaurant.
Go-to shopping designation in China: Nanjing road in Shanghai. It's the earliest shopping street of Shanghai and it starts from Jing An temple and ends at the Bund. The street is also very lively and charming at night.
Always in your suitcase: A hair dryer because my mom always tell me that going to bed with damp hair is bad for your health.
Hair routine: I like to comb my hair and apply a leave-in conditioner at night and wash it off when I wake up in the next morning
If you weren't modeling, what would you be doing? I would be a kindergarten teacher as I love being with kids; they make me happy.