A First Look at I Am Heath Ledger, an Emotional New Documentary About the Late Actor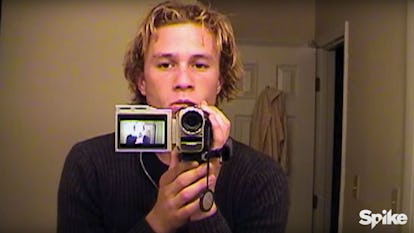 Spike/Youtube
It has been nearly 10 years since Heath Ledger's untimely death at the age of 28. While the Australian actor will always be remembered for his Academy Award-winning work on screen, TV network Spike has been working on a documentary film about the actor's life. The film, titled I Am Heath Ledger, won't premiere until later this month at the Tribeca Film Festival before making its television debut in May, but today the network released a first look at the emotional documentary. Featuring personal videos, film clips, and interviews with some of the actors close friends and collaborators like Ben Mendelsohn, Naomi Watts, Ang Lee, and Ben Harper, the trailer is quite the tearjerker.
It seems as though viewers will be given more than just a timeline of the star's short life. Delving into Ledger's heart (and, perhaps, what ultimately tore him apart), the trailer gives us a glimpse into his psyche. "He wanted fame," says filmmaker Matt Amato. "And then when he got it, he didn't want it." The film is directed by Derik Murray, who has previously helmed similar documentaries on the lives of Chris Farley and John F. Kennedy Jr.
I Am Heath Ledger will be shown at the Tribeca Film Festival in New York City on April 23. Shortly thereafter, the documentary will hit select theaters on May 3 and air on Spike TV on May 17.
Watch W's Most Popular Videos: