Hedi Slimane's Legal Drama with Saint Laurent and Kering Isn't Over
The former Saint Laurent creative director is going back to court.
---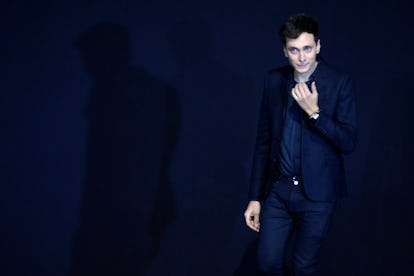 AFP/Getty Images
We all thought that the drama between the Kering Group, the parent company of Saint Laurent, and Hedi Slimane, the label's former creative director, was done. Slimane won a court judgement concerning the financial terms of his departure over the summer. Meanwhile, the brand's new creative director, Anthony Vaccarello, showed his debut collection in Paris last week. One in which he pointedly returned the "Y" back to "YSL" (Slimane has rebranded the house as simply "Saint Laurent" and did away with the classic logo).
Well, according to the French press, the courtroom drama is not quite over yet.
The Agence France-Presse reports that Slimane filed a new lawsuit against Kering Group yesterday.
He is now seeking another nearly €10 million that his legal team believes is owned to him for service during the last year of his contract, and is asking Kering to honor the terms of his original contract which apparently gave him a minority ownership stake in the Saint Laurent brand.
"The talented designer is demanding that Kering abide by a partnership agreement giving Slimane certain rights, notably the right of access to information, as a minority shareholder in Saint Laurent," reports AFP.
WWD reports that Kering had no comment on the new suit.
Slimane had already taken Kering to court earlier this year after his swift departure from the brand.
His original contract included a non-compete clause, meaning that he would have been forbidden from designing his own line or for another label for a certain amount of time after his departure. Kering actually decided to lift that clause as Slimane exited. To most people, that might be seen as a good thing as it gives them more freedom to plan their future.
Slimane, however, took the shocking twist of suiting to have the term reapplied to his contract, because that would mean Kering owed him $13 million. He ended up winning the suit, and signaled to the world that he wasn't planning on returning to fashion design anytime soon.
Further details of the lawsuit have yet to emerge, and as Kering is a public company, details of its contracts with design talent are not a public matter.
Slimane keeps a low profile even when he is leading a fashion house, but has been particularly quiet since leaving Saint Laurent. His only occasional dispatches to the public since have been postings of his black and white music photography to his website.