Hedi Slimane, Egg, Goes Off on Twitter, and Christopher Kane Talks Crocs
They're just defending their honor.
---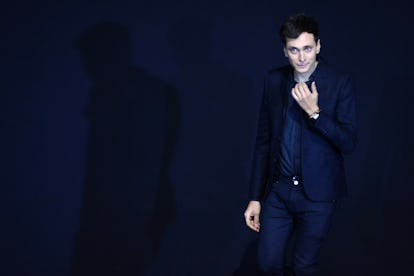 AFP/Getty Images
Blondeau, Thylane Moving on from her childhood modeling controversy; the 15-year-old could well be the next French It girl.
Brant II, Peter Maybe not actually doing his community service.
Coppens, Tim Self-care involves Byredo, Aesop, and regular trips to Chelsea Barbers for the Belgian designer.
Goepfert, Nadine A Berlin-based designer making garments out of memory foam — and she, too, has caught Solange's eye.
Kane, Christopher Regarding his decision to clad his models in Crocs: "I don't think anyone's got the right to say right or wrong, unless they're God." Bold words.
Kardashian, Kim Pausing production on Keeping Up with the Kardashians in the wake of her Paris robbery. Though there has been speculation that the robbery was a publicity ploy, this move would seem to put them to rest.
Slimane, Hedi Lest Anthony Vaccarello get all the attention, the former Saint Laurent creative director, a verified egg, just really wants credit for respecting the YSL logo.
Stewart, Kristen Why don't we take her seriously as an actress? It's high time.
See W's most popular videos: