A Battle of the Bodies
In case you missed them, here are the top style stories of the week.
---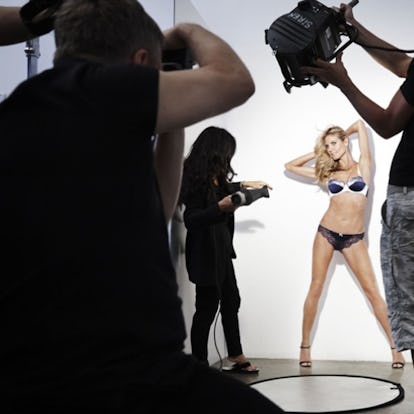 & Other Stories H&M's chic sister brand opens its first New York store and simultaneously launches e-commerce; over enthusiastic shoppers crash site, but apparently not opening party.
Assange, Julian The WikiLeaks founder wants to open a luxe fashion store. The word is out.
Beyoncé Cut dangerously short bangs; we're not crazy in love.
Bundchen, Gisele Proves that the "modern Chanel woman" has a lot in common with a classic Baywatch babe.
Chanel The luxury French fashion house demonstrates disapproval for parody sportswear with a lawsuit against label What About Yves.
Coach New designer Stuart Vevers recruited the cast of Peanuts for a cutesy collaboration.
Converse Converse suing 31 companies for trademark infringement. Has something in common with Chanel.
Delevingne, Cara Comes out as supporting the LGBTQ community on National Coming Out Day.
Estée Lauder The beauty industry giant announced plans to acquire boutique line Le Labo. Scented candles for all!
Farrell, Colin The Irish actor is the new face of D&G fragrance. What a fine choice.
Gaga, Lady Strutted through LAX, post-flight, wearing a silk halter jumpsuit. Halston would approve.
Galliano, John Hiring the A list for his Maison Martin Margiela makeover.
Hermès Forced to explain to customers why their Birkin bags smell like marijuana.
Hood by Air Designed $850 sheets. What would A$AP Rocky say about that?
Klum, Heidi To launch a collection of intimates with Elle Macpherson's former parent company. It's a war of the bodies.
Laura Ashley The brand's chairman learned, amidst a divorce, that his now ex-wife owns 1,000 pairs of shoes. Expressed horror at the lack of floral dresses in her wardrobe.
Mulberry Got in trouble with the royal family for taking a photo of a purse at Kensington Palace. Forever banned from Kate Middleton's wardrobe as punishment.
Simmons, Sophie The daughter of KISS member Gene Simmons launched a clothing line for women of all sizes. Including, gasp, a size 8.
Waterhouse, Suki Can now add "eye model" to her resume. Next up: hands.