Object Lessons
In Helen Marten's world, material reality is up for grabs. Meet an artist for the digital age.
---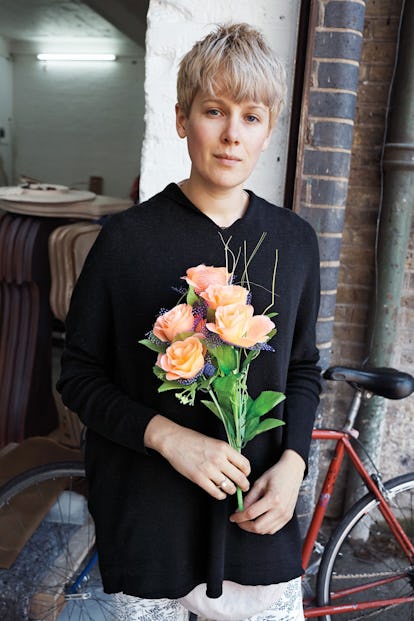 Photographer: Juergen Teller
Small and slight, with short blonde hair and an all-black wardrobe, the artist Helen Marten, 28, could pass for a Left Bank heroine—perhaps Jean Seberg circa 1960's Breathless—but with a bookworm's soul. When I meet her in London in May, she declares her studio off-limits because she is in one of her "hibernation periods," as she calls them, between exhibitions. The tables that fill her 1,600-square-foot workspace in East London stand empty, she says, and the cultural flotsam that she reimagines (and sometimes exactingly re-creates) in poetic, pictorial puzzles has yet to be gathered.
She tells me she's been reading and writing, in preparation for her solo show in August at the Fridericianum in Kassel, Germany, and for a group show focused on London artists opening in October at the city's Hayward Gallery. "I go through hundreds of notebooks full of writing and scribbles," says Marten, whose creative output includes sculptures that mix original and found objects, videos, text, and screen-printed paintings in a superflat cartoon style. Among her current obsessions is a picture of a fake reliquary she unearthed in her research on charnel houses. "It's an unbelievably baroque and weirdly erotic image of a skull covered in the most detailed jewelry," she enthuses. She's considering translating it into one of her screen prints, which in the past have depicted everything from Mozart to a cat walking on air.
Whether the topic is gravity and self-awareness in kids' cartoons or the merits of salad versus soup, Marten is, in conversation, intense, precise, and wry. Take, for example, her description of a trip to Bangkok she took in 2012 as a way to "refresh her eyeballs," before preparing for what would prove to be a career-changing exhibition at the Kunsthalle Zürich. A "sad breakup," she says, prompted her to travel solo and throw herself into the "frantic" city of "foliage versus people," where there's "cooking, selling, and shitting on the street"; where forks are made from bottle tops and bits of wire; and where the "cosmetic detail on ugly tower blocks turns the buildings into Disney caricatures." Thailand's tendency to "repurpose and re-manipulate everything," she recalls, dovetailed nicely with her own collision of the ready-made and the handmade. The show inspired by this holiday was an exuberant mix of real and fake, full of imitation doughnuts and bread, black furniture that seemed to melt from the walls where it hung, low-lying sculptures with faux-wood veneer, and those aforementioned screen prints of Mozart, from which she dangled empty liquor bottles. Nothing is what it seems, the work declared: Everything stands for something else. In place of solid, definite things, Marten gives us shape-shifters, forever open to endless interpretation.
"She's one of the first and finest artists who fully grew up in a digital, post-analog world," says Tom Eccles, the executive director of the Center for Curatorial Studies at New York's Bard College, who gave Marten her first solo show in the U.S., in 2013. "She asks very fundamentally what object-hood is now, whether it's in the world, on the screen, or somewhere in between." For Oreo St. James, her debut at London's Sadie Coles gallery earlier this year, she attached bulky semiabstract ceramic torsos to assemblages of found and made objects, sending viewers down a rabbit hole of associations. The deliciously titled Candy Mandible, Mrs, a chunky pink-glazed ceramic crotch embedded with real hair, came adorned with a Halloween bat and a "wound" made from embroidered silk. Making sense of her sculptural language, Coles says, "is akin to reading a slightly surreal pulp novel involving a convoluted and unsolvable sequence of mysteries—set in an unidentifiable urban realm somewhere in the almost-graspable future. Its hybrid language is recognizable, yet inescapably alien."
As the daughter of a biologist and a chemist, Marten grew up in the industrial town of Macclesfield, near Manchester, and had to find her way to a life in art. Her twin sister, she points out, is an accountant. "We're different brain hemispheres," Marten jokes. Yet art and writing have been a constant in her life for as long as she can remember. Studying in London was a no-go, she says, because "all the art schools seemed to be about the posture of being an artist." So Marten enrolled in the Ruskin School of Drawing & Fine Art, a college enmeshed in all the tradition of its parent university, Oxford. There she discovered Robert Venturi, Denise Scott Brown, and Steven Izenour's seminal analysis of the Las Vegas strip, 1972's Learning From Las Vegas, which prompted the 19-year-old Marten to visit the book's main sites, among them Yesco, the electric-sign company that boasted 10 football fields of neon under one roof. "The trip was a giant roller coaster of possibility," she says.
Those possibilities started to become a reality in 2010, when one of her former teachers, the sculptor Richard Wentworth, championed her work in The Guardian. She was included in a group show at London's Lisson (also Wentworth's dealer), where she caught the eye of the vanguard Italian gallery T293, and soon thereafter was taken up by the curator Beatrix Ruf, who organized her breakthrough show at Kunsthalle Zürich, where Ruf was then director. Prestigious prizes now litter Marten's CV.
For her upcoming shows in Kassel and London, Marten is planning to offset a new series of beaten-metal vessels and knotty puzzles of assembled objects with flat screen prints of skulls. "We now live between virtual, physical, and emotional parallel spaces," says Stephanie Rosenthal, the chief curator at Hayward Gallery. "Helen's work feels very important, because she reflects where we are. It's like a hyperlink that opens up spaces to somewhere else."
In the videos she creates with the animator Adam Sinclair, whom she affectionately describes as "a genius boy in a bedroom who works in his pajamas," everyday objects, like a clock or an umbrella, become sinister, funny, or beguiling, with narration provided by friends and family, including Marten's 91-year-old grandmother. Her latest, Orchids or a Hemispherical Bottom (2013), a surreal parade of toys, fruit, and a giant butt wreathed in flowers and set to a soothing voice-over recalling vintage British children's TV, was an acclaimed highlight of the 2013 Venice Biennale.
Nevertheless, Marten says that, in retrospect, she is "mortally ashamed" of the videos. "Because of them, the physical work got dragged into something about technology." She bridles against the post-Internet art tag that's been applied to her and its suggestion that her interest lies primarily in the virtual rather than in physical objects. Having grown up in the digital age, Marten says that the Internet and its visual offerings are simply something she can take for granted. "We have a lot of similar concerns," she concedes of peers like the video artist Ed Atkins, whose animations mine the dark side of digital culture, and the current Turner Prize nominee James Richards, who is known for his video collages. "But they manifest themselves in very different ways."
With their puns and jokes, Marten's sculptures aren't obviously angsty about consumer culture and mass production—they invite us to play games. The videos she is so eager to dismiss contain gags and silly voices; one of her first pieces, Dust and Piranhas, even features an intentionally "dumb rap" that the language-loving artist composed herself. For all of Marten's seriousness of purpose, her meteoric rise hasn't spoiled her sense of fun. "The fact that this would ever be a viable profession never seemed like an option for me," she says, commenting on her Macclesfield childhood. "I didn't think, I'm going to be an artist when I grow up." She pauses. "When I grow up! If I grow up. Ever."
The artist Helen Marten outside her London studio.

Photographer: Juergen Teller
Material for a sculpture on a chair in Marten's studio.

Photographer: Juergen Teller
Geologic Amounts of Sober Time (Mozart Drunks), 2012, at Kunsthalle Zürich. Copyright the artist, courtesy Sadie Coles HQ, London.
Photographer: Juergen Teller
Evian Disease, at Palais de Tokyo, Paris, 2012. Copyright the artist, courtesy Sadie Coles HQ, London.
Managing director: Georg Rulffes. Photography assistant: Maxim Kelly.