Helena Bordon: It Girl, It Trend
Meet Sao Paulo's rising style icon
---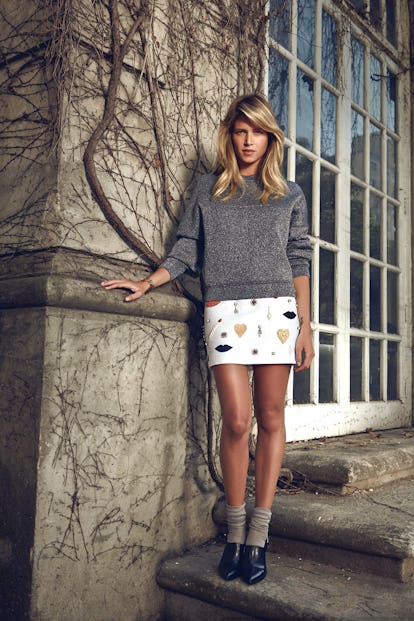 Photographer: Fabio Bartelt Styled: Felicia Garcia-Rivera
Sao Paulo, Brazil, native Helena Bordon began her fashion training earlier than most, thanks to her mother, Donata Meirelles, the former international director of the fashion emporium Daslu and the current style director of Vogue Brazil. When Helena was 7 years old, she started accompanying Mom on trips to Europe, attending Chanel shows and meeting designers like Valentino. She and her best friends, Luciana and Marcella Tranchesi, would pretend they were shopping for their imaginary store and stage fashion shows with Meirelles's Fendi baguettes and Hermès Birkins. Now, the three are the owners of the Brazilian fast-fashion label 284, which they launched in 2008. "I think I had nowhere else to run," says Bordon, 27, of her career path.
Bordon is 284's de facto creative director, scouring the globe and street-style blogs for inspiration, and she recently designed a gypsy-themed capsule jewelry collection for the Brazilian company Luiza Setúbal's LOOL. She shares her personal style picks (she's a huge fan of J Brand and Current/Elliott denim) and tips from her many travels, like a recent vacation to Mykonos and Capri, on her eponymous blog. This fall, she gave the blog an overhaul, transforming it into more of an online magazine and adding e-commerce. "I always wanted to do my own brand," says Bordon, who, with more than 185,000 Instagram followers­, is practically a brand in and of herself. "You always have to be different or else you're just going to be one more."
Photos: Helena Bordon: It Girl, It Trend
Bordon wears Alexander Wang sweatshirt and shoes; Stella McCartney skirt; Cartier bracelets; Maria La Rosa socks. Beauty note: Give gams a deep glow with Clarins Self Tanning Instant Gel.

Photographer: Fabio Bartelt Styled: Felicia Garcia-Rivera
"I just love this bronzer for perfect, sun-kissed skin." BareMinerals Ready Bronzer in the High Dive.
Burberry Prorsum trenchcoat.
"Santo Grão makes the best cappuccino in town."
"When I was little, my friends and I would put on pretend fashion shows."
Givenchy by Riccardo Tisci necklace.