Fabulous Dead People: Hélène Rochas
Hélène Rochas survived the Occupation of Paris, the death of Dior, Cuisine Minceur, Pierre Cardin's hijacking of Maxim's, Ultrasuede, the Hustle—and only just barely, the early spread of AIDS.
---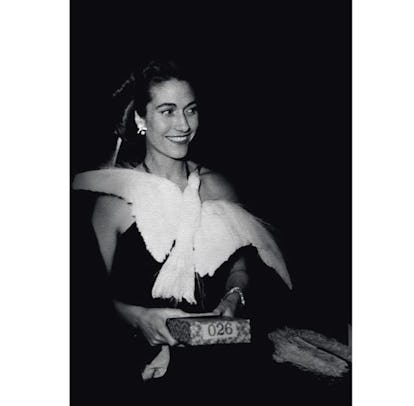 By Christopher Petkanas
Hélène Rochas survived the Occupation of Paris, the death of Dior, Cuisine Minceur, Pierre Cardin's hijacking of Maxim's, Ultrasuede, the Hustle—and only just barely, the early spread of AIDS. How she became the poster girl for why a woman might not want to take a bisexual male lover was the most flammable cafe-society story of the eighties. Of course, the one it ended tragically for was Tina Chow.
Save for this episode, Rochas—who died last year at age 84, and whose estate is to be auctioned by Christie's in Paris on September 27—would be remembered only as the high-performing executive who ran the Rochas perfume franchise following the death of her couturier husband Marcel in 1955, and as a bulletproof socialite on the New York-Paris/de la Renta-Rothschild axis. As a hostess she liked to slightly overburden her 64" oval Louis-Philippe mahogany dining table (estimate: $6,700-$11,000), squeezing around Yves Saint Laurent, assorted Brandolinis, the decorator Francois Catroux and other bold-faced bodies until they were literally plate rim to plate rim. Rochas knew that coziness would not only lift the atmosphere of her dinner parties but heighten the gossip.
Not surprisingly she had firm ideas about fashion ("There are dresses that reassure, and dresses that paralyze," she once said somewhat ominously), the table arts (silver chargers below 18th-century blue-and-white Chinese porcelain), flowers (white), menu composition (sorbet, never sherbert), and grooming ("I was the first woman to use spring water as a face wash"). Especially grooming. Rochas's toilette had a professional finish she made look as easy as popping the cap off a lip brush. She had the best hair, adapting it to the style of the moment, like the sixties flip, without looking ridiculous or like it cost her more effort than sewing on a button. Coming of age in a period of hats and gloves and veils, when "late day" meant a very certain kind of dress or suit, served Rochas her entire life. Guy Laroche's designs were "rational," she asserted. Spoken like a true clotheshorse.
Devotion to the fine print of living well brought Rochas bouquets that practically arranged themselves. "Charme fou." "Refinement in the least detail." "Elegance elle meme." To Hubert de Givenchy she was a "maitresse de maison exemplaire." Frederic Mitterand, the former French culture minister, says it could not have been easy being Rochas, not in a world "where kindliness is considered a weakness, courtesy a form of condescension, and good taste a mark frivolity." No one could ever seem to find a bad word to say about La Belle Hélène (unless it was her daughter-in-law Carole, who thought the sale catalog would be a good place to mention their clashes). Above the fray, Rochas wore her remarkable beauty lightly. Which could be irritating if you were climbing the ladder yourself.
Nee de Brignolles to a World War I hero and France's first diplomaed woman dentist, Rochas was a hopeful actress toughing it out as a petit rat in the Paris Opera's dance school in 1942. She and a friend were catching the last Metro of the night when they ran into a man the friend knew: Marcel Rochas. Hélène was 18, he was 40 (and twice-divorced). Within months they were married, setting up housekeeping in the over 4,000-square-foot rez-de-jardin of 40 rue Barbet-de-Jouy in the seventh arrondissement with a romantic view over hedges of the Invalides dome. Georges Geoffroy, prince of High Style decorators and period interiors, did the honors. Nearly seven decades later Hélène was still getting her mail at the same address.
The young bride was a valuable ambassadress to the Rochas company, but even with her behind him Marcel was stuck in fashion purgatory between footnote and front-line player. Opening his couture house in 1925, he went on to create jackets with flame-licked lapels and "witty" trompe-l'oeil pockets in the form of coin purses. More than fifty years before Saint Laurent's Braque collection, he designed an evening dress with a huge three-dimensional bird streaking across its bodice. But if you think of Marcel Rochas at all you probably think of overlaid lace; Schiap owned Surrealism.
Hélène was offered the role in Casque d'Or that would make Simone Signoret a star but had become too vital to the Rochas operation to be spared. In 1953 the couture division was shuttered, leaving the fragrances, which Hélène showed an impressive talent for managing. Catnip to the women's magazines, she was hailed as France's first CEO in a jupe. Oddly, though, considering how international the perfume business is, not to mention her social orbit and the fact that she kept a Catroux-decorated pied-a-terre on Fifth Avenue, Rochas was hobbled by poor English. When we first met, thirty years ago, I had no French. I was in her boudoir to ask her about her ivory-and-sharkskin Ruhlmann dressing table. It was agony.
By 1965 Rochas was on her way to divorcing her second husband, the theatrical impresario Andre Bernheim, and improving her already remarkable posture with yoga. It was also the year of her epic My Fair Lady Ball. As Jean-Louis de Faucigny-Lucinge noted in "Legendary Parties: 1922-1972," "The presence of Cecil Beaton," who had done the costumes for the movie, "guaranteed stylistic correctness": a late-Edwardian parade of wasp-waists, high-buttoned shoes, suffragettes agitating for the right to wear trousers, costermongers in regulation vests and caps, and Jacqueline de Ribes as the most unlikely of trollops in a tangle of beads, her dress torn just so.
A few months after the Fair Lady event the party moved to Munich, with Rochas chartering two Caravelles to carry 150 friends to Oktoberfest. One way or the other, she was always in the news. Soon she was hiring Jean-Pierre Basile to decorate her office on the rue Francois Premier in an aggressive pop idiom, posing in a short color-blocked Courreges dress with a schoolgirl collar in "my private moon ship" as if it were her natural habitat. Anyone else making the same move to keep up might have seemed desperate or opportunistic; Rochas made her new interest in carpeted walls and Vasarely metal cube sculptures more than plausible: she made it credible.
The office never got much use. In 1970 Rochas and her two children by Marcel cashed in, selling their 80% interest in the family brand to a French pharmaceutical giant for $40 million, though Hélène would be hired back twice. To celebrate she commissioned Andy Warhol to do the four now-famous portraits of her, paying $40,000 (in the sale, each is estimated at $270,000-$400,000.) Warhol thought Rochas and Sao Schlumberger were social rivals, and bet his business partner Fred Hughes that Schlumberger would cancel her portrait if word leaked that he was doing Rochas's. He needn't have worried.
In her new post-executive life Rochas was able to devote herself more fully to her lover Kim d'Estainville, toying with then abandoning the idea of funding a magazine he would edit. She and d'Estainville, who was 12 years her junior, had been a couple since at least 1969 and would remain one until the early eighties. D'Estainville grew up in Paris the son of a French father and an English mother and attended all the right prep schools. He sometimes used the title count and had been a roving correspondent for Paris Match. Playboy was an old-fashioned term even in d'Estainville's peak years, but it really did fit. He was good-looking. He had style. He was slippery. D'Estainville called himself "a light businessman." He co-produced Equus in France with Pierre Berge and co-owned the modish Paris shop Hemispheres. Cleverly for the times, it sold American, Brooks Brothers-style classics. D'Estainville and Rochas lived together, summering on her yacht or at his villa on the Cote d'Azur, watching the Grand Prix in Monte Carlo from a front-row table on the Hotel de Paris terrace.
It all came to a crashing close when Rochas is said to have picked up the phone at home and overheard a conversation between d'Estainville and another man that left nothing to the imagination. To make matters worse, the other man was one of her closest friends. Hélène showed Kim the door and eventually took up with Stavros Niarchos. The fashion icon and jewelry designer Tina Chow never hid that she was suffering from AIDS, but when she died in 1992 her family took the extraordinary measure of issuing a statement that said her illness might be traced to "an extremely brief affair with a biseuxal man in Paris who has since died" of the disease. Vanity Fair identified him as Kim d'Estainville.
In an act of dissembling that is perhaps easy to forgive, Rochas publicly rejected any connection between d'Estainville and Chow's deaths, exclaiming, "Mais quelle idée!" Privately friends fretted, "But Hélène, it could have been you!" Found among her possessions was a signed Warhol Polaroid of a shirtless d'Estainville lounging poolside at the Hotel Cipriani in Venice in 1972 ($1,200-$2,000). Warhol captioned the picture "cruel destiny."
Miscarriages of affection weren't a one-way street. People failed Rochas, and she failed others. Her daughter Sophie attributed her mother's dismal parenting to careerism. Having no illusions about who she was and what she was good at, madame could only agree.
Photo: W: Conde Nast Archive; all others: Christie's Images Limited 2012