Why Did Audiences Hate Hereditary, the Supposed Horror Movie of the Year?
It's been touted as the scariest horror movie in years—so why did it get a D+ from CinemaScore?
---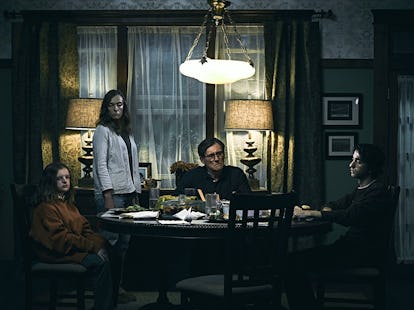 Courtesy A24
When it premiered in the Midnight section of the Sundance Film Festival back in January, Ari Aster's directorial debut Hereditary, starring Toni Collette, received radiant if freaked out reviews from the Park City audience. (Its cast, too, has remarked on how making the movie was an utterly chilling experience.) Now, it's finally in theaters, and, well, the actual paying audience has not been quite so impressed.
On Saturday, the movie poll service CinemaScore, which aggregates reviews from audiences exiting a film on its opening night, stamped Hereditary with a D+ review. It might come as a bit of a surprise, considering how unequivocally positive early critics' reviews had been. But so much of Hereditary's early hype focused on how scary and teeth-gnashing ominous the whole thing is. Since CinemaScore only polls audiences on opening night—those who are most keen on seeing a movie—it's possible the terror was oversold, leading to a less-than-glowing reception when the twists finally played out on screen for an audience who was prepared to be sent home babbling. In fact, horror films typically receive lower scores on CinemaScore than their comedic and dramatic counterparts; of the 13 recent films to receive an F CinemaScore (a distinction so rare, it merited lists when Jennifer Lawrence's Mother! was honored with an F), 12 of them are horror films.
CinemaScore's ratings frequently also indicate box-office promise, but, as IndieWire pointed out, there are notable exceptions. The Witch, the Robert Eggers film that made a star and future scream queen of Anya Taylor-Joy, received a C- CinemaScore rating and subsequently raked in $40 million worldwide. (The Royal Tenenbaums also received a C-, and it's now regarded as one of Wes Anderson's defining films.)
Considering Hereditary has already earned $5 million on its $10 million budget, and it's projected to bring in $12 million on opening weekend alone, Hereditary could be another The Witch—a film that's not necessarily a crowd-pleaser, but, positioned properly, still finds its audience. (Both are released by A24, the distributor that also put out Moonlight, Ex Machina, Green Room, and Good Time.)
And, as anyone who has tried to play down a bad report card with their parents knows, a D+ isn't so far off from a C-, which isn't so far off from a C. If it's not an F, it's still a pass.